In this current climate of reckless horror by the Republican-infused anti-democratic horse shit, this is probably the most-frightening example since the plot against Michigan Gov. Gretchen Whitmer (h/t LG&M):
PA State Senate GOP Majority Leader @SenatorKimWard says she only signed a letter asking Congress to throw out her state's electoral votes because "if I would say to you, 'I don't want to do it,' I'd get my house bombed tonight." https://t.co/xG1wqc0Gwo

— Frank Luntz (@FrankLuntz) December 9, 2020
Quick summary via The Daily Beast this afternoon:
The Republican leader of the Pennsylvania State Senate said she feared she'd "get my house bombed" if she didn't go along with President Trump's scheme to overturn presidential election results in the state, according to The New York Times.
Kim Ward made the comments in reference to a letter sent by 64 Republicans in Pennsylvania's state legislature to its congressional delegation, urging them to prevent the state's Electoral College votes from going to Joe Biden.

"If I would say to you, 'I don't want to do it,'" Ward said about the letter. "I'd get my house bombed tonight."
Ward did not sign the letter, as she told the Times she wasn't shown it before it was sent.
The Electoral College votes on Monday, as nearly every state — including Pennsylvania — has certified their results from November's election.
Further from the NYT earlier today:
Despite his clear loss, Mr. Trump has shown no intention of stopping his sustained assault on the American electoral process.
But his baseless conspiracy theories about voting fraud have devolved into an exercise in delegitimizing the election results, and the rhetoric is accelerating among his most fervent allies.
This has prompted outrage among Trump loyalists and led to behavior that Democrats and even some Republicans say has become dangerous.

Supporters of the president, some of them armed, gathered outside the home of the Michigan secretary of state Saturday night.
Racist death threats filled the voice mail of Cynthia A. Johnson, a Michigan state representative.
Georgia election officials, mostly Republicans, say they have received threats of violence.
The Republican Party of Arizona, on Twitter, twice called for supporters to be willing to "die for something" or "give my life for this fight."

"People on Twitter have posted photographs of my house," said Ann Jacobs, the chair of the Wisconsin Elections Commission, who alerted her neighbors and the police about the constant threats.
She said another message mentioned her children and said, "I've heard you'll have quite a crowd of patriots showing up at your door."
…
"They're getting more angry, and we've been getting emails all the time, all hours of the day and night," said Jennifer O'Mara, a Democratic state representative in Pennsylvania.
She said her staff had been subjected to threats, as had her Republican colleagues.
"A lot of calls are saying we won't be forgetting."

Jocelyn Benson, the secretary of state in Michigan, said she had just finished putting up Christmas decorations with her 4-year-old son when she heard dozens of Trump supporters shouting outside her home.
Some chanted "Stop the Steal" and demanded an audit of Michigan's election results, which showed Mr. Biden winning by roughly 154,000 votes.

"Ever since the president first tweeted at me and every time there is an additional attempt to spread false information, you see an uptick in the threats," Ms. Benson said in an interview on Tuesday.
"And now apparently, they're in front of my house, in the dark of night, in this very private, quiet residential neighborhood. We are concerned not only for the safety of my family, but my neighbors as well."
…
Darrin Camilleri, a Democratic state representative in Michigan, said he had received one email that said, "Be prepared to take your last meal," and another that read, "We're looking forward to bring back firing squads."

Mr. Camilleri said his parents were also receiving harassing and threatening calls.
"We've sent more than 20 death threats to the House sergeants to look into," he said.
Shit from the mouth of theT-Rump right ito the ears of violent assholes. Despite court rulings from all sectors of the country, including this yesterday when SCOTUS denied a Pennsylvania petition, and in a one short line refusal to boot.
And the threats cross party lines, GOPers getting menacing notices, too.
We be fucked…even after Jan. 20 — now 41 days, 21 hours, 16 minutes away…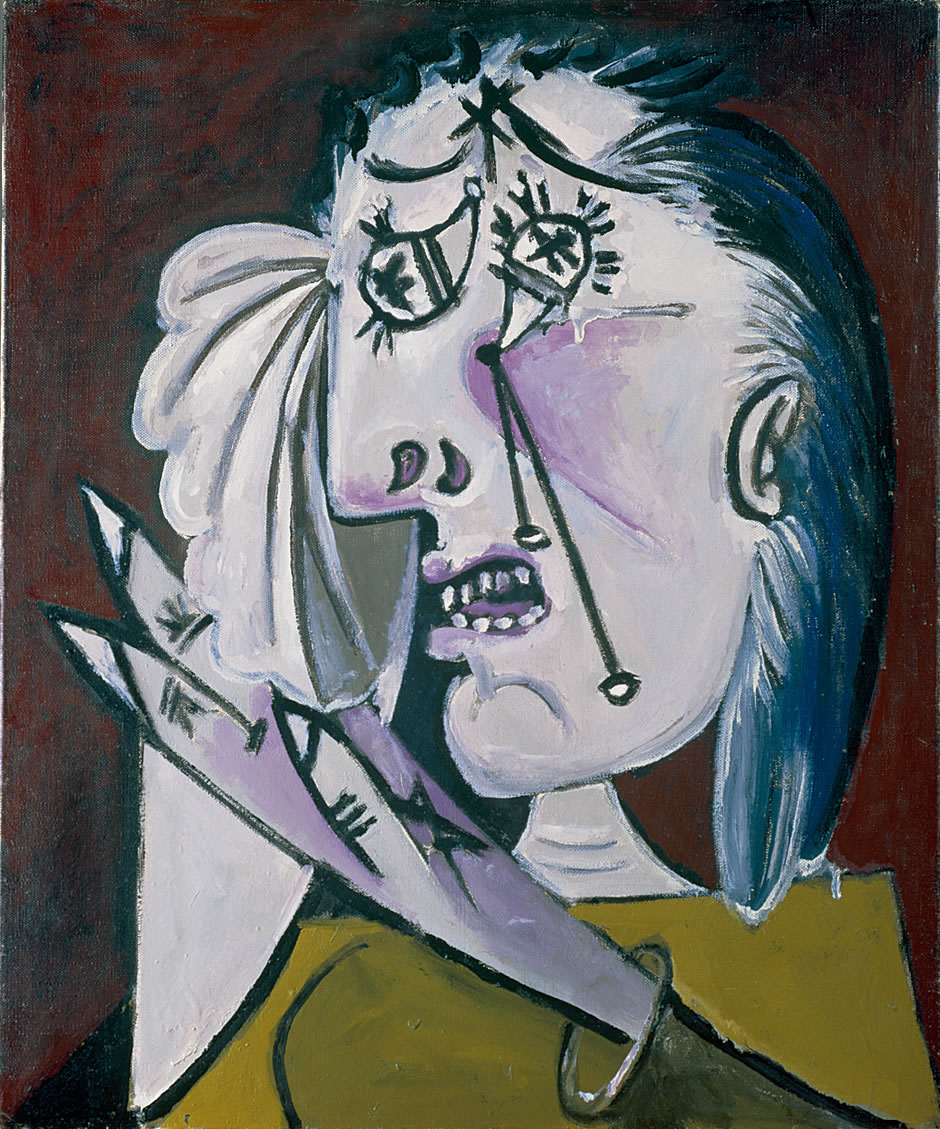 (Illustration: Pablo Picasso's 'The Weeping Woman [La Femme qui pleure],' found here).