In our way-modern world social media opens shit up (except in the T-Rump's case, closes it down) and exposes reality, as identifying the assholes from Wednesday's insurrection encounter at the nation's Capitol, leading to arrests and worse — family members going WTF.
Best shot (h/t tweet BJ):
"Guess who can still tweet motherfuc-" pic.twitter.com/RPUWk5sCw7

— Chris Jackson (@ChrisCJackson) January 9, 2021
And social media has also brought home, literally, in real-time how shit happens — this story last night at BuzzFeed emphasizes the speed of awareness and reveals the lying and double-standard of T-Rump followers:
Helena Duke, 18, thought it was odd when her mom shut off her location on a phone-tracking app that they share earlier this week.
Her mom, Therese Duke, had told her vaguely that she was taking Helena's aunt for a procedure.
But Helena suspected that her Trump-supporting mom may have secretly traveled to Washington, DC, for the delusional last-ditch "Stop the Steal" rally.

On Thursday morning, Helena's cousin had sent her a viral video of a physical encounter on the streets of DC filmed Tuesday, the night before the Capitol was raided.

Watching the clip, Helena identified her mom, her aunt Annie Lorenz, and her uncle Richard Lorenz as part of a group of white people confronting a Black woman who had hit Therese in the face after she had tried to grab her.

"My initial reaction was more like, Oh my gosh, I was right. I was actually right about them being there," Helena told BuzzFeed News.
"It was very surreal because it was an insane video, first of all, and then it was the revelation that, Oh, that's my mother. That's her."

The Black woman in the video had tweeted that a group of five people were harassing her for a long time and had tried to take her belongings from her hands and her pockets. (She declined to comment on the incident to BuzzFeed News without legal representation. Helena's family members did not respond to emails and calls requesting comment.)
Helena tweeted out the IDs of her mom, aunt and uncle, which scared and pissed them off — don't let on we're pieces of shit — Helena on her mother:
"Before President Trump was elected, she was a Democrat for the majority of her life," Helena said.
"And then, I don't know what happened. Something switched in her brain, and she went through a very dramatic change to very far right."
And in conclusion:
Helena said she is upset at her family members' actions and her mom's hypocrisy.
She added that when her mother discovered last year that she'd participated in a Black Lives Matter march, she told her she was no longer welcome in the home.

"She told me she thought Black Lives Matter was a violent organization and they would be inciting violence," she recalled.

"I always felt almost heartbroken over how they viewed the world and how skewed it was and how they wouldn't allow me to express my views. But showing that they can act in such a horrible way is just really appalling to me," she said.
"I am honestly very disappointed to have to be part of this family that is so…just, very not welcoming or supportive. I don't feel safe being part of this family."
Odd and ludicrous how T-Rumpers are, and even those who directly worked in the White House. Olivia Nuzzi has a great piece from yesterday at New York Magazine on these type folks, one in particular, a senior member of his administration — snips:
"This is confirmation of so much that everyone has said for years now — things that a lot of us thought were hyperbolic. We'd say, 'Trump's not a fascist,' or 'He's not a wannabe dictator.' Now, it's like, 'Well, what do you even say in response to that now?'"
…
"I went through Access Hollywood, Charlottesville –— all of these insane things. There's some degree of growing accustomed to the craziness. It's not like my heart is racing, like, Oh God, how am I supposed to react to this? It's just more that I'm depressed. For people who devoted years of their lives to dealing with the insanity in an attempt to advance a policy agenda that you believe in, all of that has been wiped out. The legacy of the Trump administration is going to be that the president sparked an insurrection and people died because he tried his best to not abide by the Constitution and the tradition of a peaceful transition of power that's been the norm since our founding. Nothing else is even going to be a side note."
…
"There's not a single person I have talked to at any level, from 23-year-old assistants to members of the Cabinet, who are not disgusted and ashamed with what has happened," the senior administration official said, adding that the conversations among remaining officials were about how to handle the next 12 days before Joe Biden's administration — and whether to continue to be a part of the transition of power at all.
"It's different for everybody. If you're a regular domestic-policy staffer in the West Wing or the EEOB, the implications of you quitting are different than if you're a senior national security official, or you're tasked with contributing to the continuity of government."

"We are in a terrible spot," the official said.
"You can't just say, 'Well, this is outrageous and I quit' in this situation."
Yet they have quit, in large numbers, from Cabinet members, comm directors and staff yokels, they leaving a nasty, sinking ship.
And a majority of Americans believe the T-Rump should go now, not in 12 days or whatever, but now:
Fifty-seven percent of Americans want President Trump to be immediately removed from office, a @Reuters / Ipsos poll shows https://t.co/Ymai1Zru5J pic.twitter.com/luCc2tKauy

— Reuters (@Reuters) January 8, 2021
Also from the same poll: 'Fully 79-percent of all respondents — including two-thirds of Republicans and Trump voters — described the Capitol mob as "criminals" or "fools."'
Plus even if the T-Rump claims to have "a very good brain," officials say wait a sec:
The Wagner College Board of Trustees met in a special session to review the honorary degree granted to Donald J. Trump in 2004. Today, the board voted to rescind that degree. pic.twitter.com/A3DHiwjU7G

— Wagner College (@WagnerCollege) January 8, 2021
T-Rump, you've been social-media-tweeted out  — and don't come back…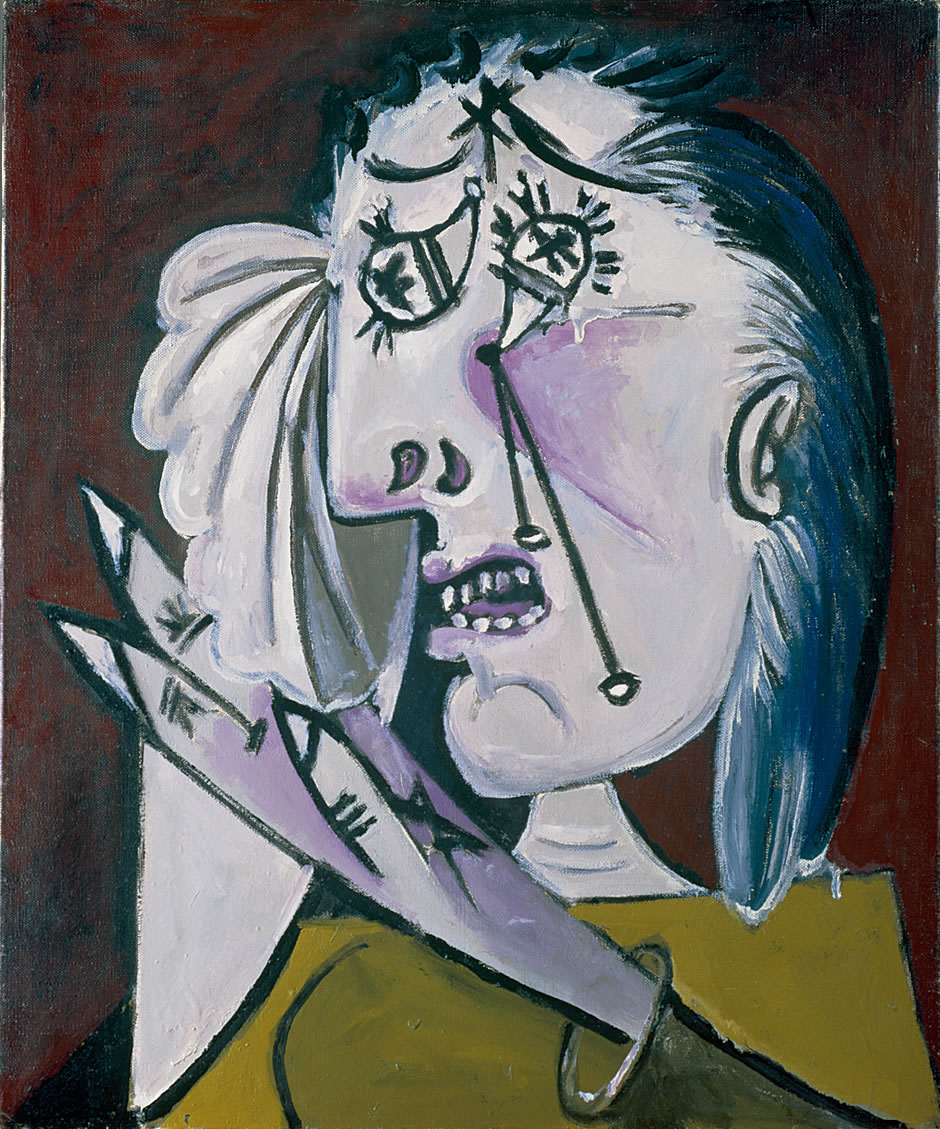 (Illustration: Pablo Picasso's 'The Weeping Woman [La Femme qui pleure],' found here).