Although all the screaming in the news cycle right now is primarily US domestic bullshit, any emphasis on the ugly elephant in the room (not the GOP) right now, which is climate change, goes near-about unnoticed, further creating a whiplash diaster still barreling headfirst toward a fatal, horrible conclusion.
In a world staggered by a planet-sized pandemic and unhinged by the T-Rump's horrid, criminal antics, there's not much room to fight a crisis that will eventually kill us all.
Even as the climate becomes hotter, and hotter:
The latest statistics from the @WMO on record high temperatures point to a persistent long-term global heating trend.

The global community needs to buck this trend by actively pursuing the goals of the #ParisAgreement ? pic.twitter.com/s9NgIZqPAc

— UN Climate Change (@UNFCCC) January 14, 2021
Last year was not only terribly unique for COVID-19 infestation, and a shitload of ugliness, but 2020 was probably the hottest calendar time on record — although it might tie with 2016 for heat, say experts, but it revealed the unlivable consequences approaching quickly. And all the repercussions like forest fires, drought, sea-level rise, weather craziness, all coming at us like an unmanned locomotive.
And today more worrisome data to flush the bowels — via the Guardian this morning:
Last year was by a narrow margin the hottest ever on record, according to Nasa, with the climate crisis stamping its mark on 2020 through soaring temperatures, enormous hurricanes and unprecedented wildfires.

The average global land and ocean temperature in 2020 was the highest ever measured, Nasa announced on Thursday, edging out the previous record set in 2016 by less than a tenth of a degree.

Due to slightly different methods used, the US National Oceanic and Atmospheric Administration (Noaa) judged 2020 as fractionally cooler than 2016, while the UK Met Office also put 2020 in a close second place.
The European Union's climate observation program puts the two years in a dead heat.
…
The world's seven hottest years on record have now all occurred since 2014, with the 10 warmest all taking place in the last 15 years.
There have now been 44 consecutive years where global temperatures have been above the 20th-century average.

Scientists said average temperatures will keep edging upwards due to the huge amount of greenhouse gases we are expelling into the atmosphere.
"This isn't the new normal," said Gavin Schmidt, director of Nasa's Goddard Institute for Space Studies.
"This is a precursor of more to come."
…
"Global warming won't necessarily increase overall tropical storm formation, but when we do get a storm it's more likely to become stronger," said Jim Kossin, an atmospheric scientist at Noaa.
"And it's the strong ones that really matter."

Wildfires, fueled by vegetation parched by prolonged heat, ravaged huge areas of California and Australia last year, while the Arctic experienced astonishing temperatures well above average.

"This year has been a very striking example of what it's like to live under some of the most severe effects of climate change that we've been predicting," said Lesley Ott, a research meteorologist at Nasa.
The conclusion kicker: '"We are headed for a catastrophic temperature rise of 3-5C this century," warned António Guterres, secretary general of the UN. "Making peace with nature is the defining task of the 21st century. It must be the top priority for everyone, everywhere."'
Adding to the fright — this from today's The Washington Post on the same shit:
Experts said that another year as hot as 2016 coming so soon suggests a swift step up the climate escalator.
And it implies that a momentous new temperature record — breaching the critical 1.5 degrees Celsius (2.7 degrees Fahrenheit) warming threshold for the first time — could occur as soon as later this decade.

Particularly striking is the unassuming way that 2020 joined the ranks of the very hottest years.
Unlike 2016, it did so without any substantial boost from an El Niño.
The El Niño phenomenon, part of a natural climate cycle with global consequences, spreads unusually warm waters across the tropical Pacific Ocean and generally unleashes hotter temperatures as a result.
We've 5 days, 20 hours, 50 minutes until we can even start to do something, anything…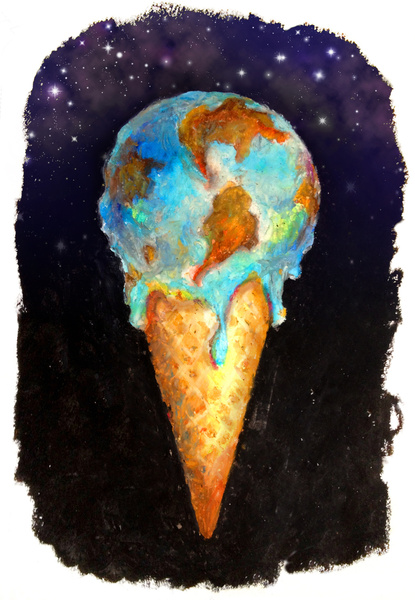 (Illustration found here).