As Wednesday comes closer and closer, one wonders how life will be without T-Rump as president — will there be a massive, collective sigh of relief?
Blood pressures go down?
Aspects of the T-Rump as private citizen needs more than a second-or-third thought, actually he doesn't need to be thought of at all.
However, how will Joe Biden's adminstration handle the orange turd as he floats around Mar-a-Lago? Especially with national security issues — Ron Klain, Biden's incoming chief of staff said today they could nix T-Rump from receiving intelligence briefings as a civilian (CNN): '"We'll certainly look for a recommendation from the intelligence professionals in the Biden-Harris administration once they're in place and act on that recommendation…So obviously, we don't have those intelligence professionals in place yet. (I) hope the Senate moves to confirm them quickly and then we'll look what they recommend in terms of intelligence sharing going forward."'
Adam Schiff wasn't so circumspect, though, saying T-Rump needs to be cut-off:
"There's no circumstance in which this president should get another intelligence briefing," Representative Adam Schiff said Sunday on CBS's "Face the Nation." "I don't think he can be trusted with it now, and in the future." https://t.co/UYDoa4QIHz

— Ag Science Writer (@agsciencewriter) January 17, 2021
Schiff, chairman of the House Intelligence Committee, didn't mince words — from CBS News this morning:
"There is no circumstance in which this president should get another intelligence briefing — not now, not in the future," Schiff said in an interview with "Face the Nation."
"I don't think he can be trusted with it now, and in the future he certainly can't be trusted."
…
Schiff noted that in the course of his presidency, Mr. Trump has politicized intelligence, which is "another risk to the country."

"Indeed, I think there were any number of intelligence partners of ours around the world who probably started withholding information from us because they didn't trust the president would safeguard that information, to protect their sources and methods," he said.
"And that makes us less safe."
Klain and Schiff both seem to have been influenced by Sue Gordon, Deputy Director of National Intelligence from August 2017 to August 2019, and started her career nearly 40 years ago with the CIA — briefed Jimmy Carter, Ron Reagan, and on up. She appears to be way-extremely quaified, and fair, with the national interest at heart.
In an op/ed in The Washington Post last Friday, Gordon made it pretty-absolutely clear: No security/intelligence briefings for T-Rump after the noon hour on Wednesday, and maybe including right now. In the traditional past, these briefings were '…a matter of respectful convention and were granted by the new president to the old.'
Before times:
But convention left the premises a long time ago with President Trump, and his demonstrated approach to national security and intelligence suggest that a more purposeful decision must be made about providing intelligence to this soon-to-be former president.
My recommendation, as a 30-plus-year veteran of the intelligence community, is not to provide him any briefings after Jan. 20. With this simple act — which is solely the new president's prerogative — Joe Biden can mitigate one aspect of the potential national security risk posed by Donald Trump, private citizen.

For four years, as president, he has received — or had opportunity to receive — every single piece of information and analysis that the intelligence community produced, regardless of compartment or classification.
It is hard to overstate the value of what he has read and heard.

His post-White House "security profile," as the professionals like to call it, is daunting.
Any former president is by definition a target and presents some risks.
But a former president Trump, even before the events of last week, might be unusually vulnerable to bad actors with ill intent.
He leaves, unlike his predecessors who embraced the muted responsibilities of being a "former," with a stated agenda to stay engaged in politics and policy.
No departing president in the modern era has hinted at or planned on becoming a political actor immediately after leaving office.
Last Augusr, NPR interviewed Gordon. Go read.
A good background-detail at The New York Times from last August– a deep discussion on the prosess pulling together a National Intelligence Estimate, including Russian interference with the 2020 election. T-Rump shit on the intelligece community. Also go read the whole thing, too, but this snip is an indication of Gordon's judgment: 'The depth of Trump's animosity has been known since before his inauguration. What has not been known is the full extent of how this suspicion has reshaped the intelligence community and the personal and professional calculations of its members, forcing officials to walk a fine line between serving the president and maintaining the integrity of their work.'
Also check out USAToday from November 2019 for a (partial) list of T-Rump's security blunders.
T-Rump's mark on America is deep and will be long lasting…
'Understand you've had enough…'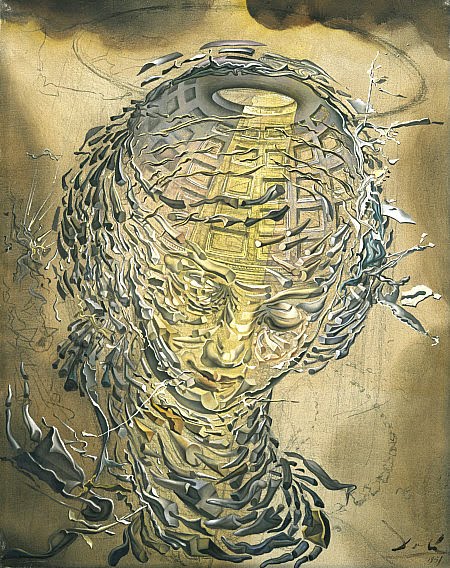 (Illustration: Salvador Dali's 'Tête Raphaëlesque éclatée [Exploding Raphaelesque Head],' found here).