I just couldn't help myself, but make a call-out to the way-most inarticulate and on-its-face foolish reply from an elected official in an era of insanity in said elected officials. And it's kind of personal as I'm originally from Alabama — hey, everybody's got to be from somewhere.
(Great h/t to tengrain):
GOP Sen. Tommy Tuberville says he doesn't know anything about Marjorie Taylor Greene because bad weather has prevented him from reading the newshttps://t.co/vLNcKTvv0N

— Jesse Lehrich (@JesseLehrich) February 3, 2021
Details via BusinessInsider yesterday:
Republican Sen. Tommy Tuberville of Alabama said Tuesday that he can't comment on allegations against Georgia Rep. Marjorie Taylor Greene because bad weather has prevented him from reading the news.

"I haven't even looked at what all she's done," he told the CNN producer Ted Barrett.
"I'd have to hold back a statement on that. Travel in this weather it's been a little rough looking at any news or whatever."

Tuberville, who ousted former Democratic Sen. Doug Jones last year, seemed to be referring to the snow that Washington, DC, has gotten over the last few days.

The newly-sworn-in senator, who was previously a college football coach, denied attending a meeting at the Trump International Hotel in Washington, DC, with members of then-President Donald Trump's inner circle to discuss how to overturn the 2020 election results on January 5, the day before the Capitol insurrection.
But photos posted on social media appear to show him at the hotel that day.
And, of course: 'Tuberville's aides didn't immediately respond to Insider's request for comment.'
How could one respond to such shit?
Regarding nutcase Greene, House Democrats will supposedly vote tomorrow on whether to kick the Georgia half-wit off committee assignments after GOP leadership still has their collective heads up their asses on action to somewhat muzzle the vicious half-baked shit coming out of her yap.
Kevin McCarthy is a spineless asshole (via CNN this morning): 'Another Republican member familiar with the process, had a more colorful assessment: "Either he has sh** the bed on this thing or he shows he's going to get us through this. We have to deal with our own House. We have to clean up the mess in our own House."'
Greene in a nutshell (per PolitiFact yesterday):
Greene, who describes herself as a business woman who has run a construction company and a CrossFit gym, was one of 147 Republicans who voted in favor of objections to the results of the presidential election in early January and has falsely claimed there was widespread voter fraud.
She has praised QAnon, a baseless conspiracy theory that claims Democrats and Hollywood celebrities are Satan-worshipping, cannibalistic pedophiles.
Greene has also floated theories that mass shootings were staged to challenge Second Amendment rights and that Hillary Clinton murdered her political opponents.
Other than all that shit — and "a bullet to the head would be quicker" than removing House Speaker Nancy Pelosi, D-Calif., and that "through removal or death, doesn't matter, as long as she [Pelosi] goes" — she's fine…
"She turned me into a newt…"
"I got better…"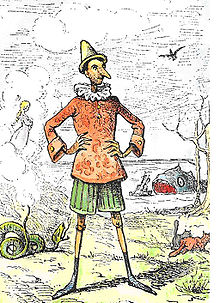 (Illustration: 'Pinocchio,' by Enrico Mazzanti (1852-1910), found here).