As we cruise through these crazed and perlious times, music helps us cope. And sometimes certain songs more than others show the way to the proverbial light at the end of the tunnel. In a sense, a kind of anthem for a time.
In the last few years I sort of gyrated betweena tunes set for the period I'm then living through — in the haggard early years of the T-Rump days, I fell back to a 90s song from 'Collective Soul,' "Shine" — made me feel better:
Usually intertwined with another 90s favorite group, 'Enigma' with a variety of songs, like this, "Age of Loneliness:"
A coule of years ago, I fell in love with the Annie Lennox/Dave Stewart unplugged version of their 80s hit, "Here Comes The Rain Again" — so much so, I just had to hear it two-three times or more a day for a long time:
The last few months, it's been the old '4 Non Blondes' tune, also from the 90s, "What's Up," except performed by 'The Running Mates,' a husband/wife duo who do a lot of covers — their unplugged, acoustic version seems to capture the moment (in December, I posted a showcase of their music):
Lyrics torch it:
25 years and my life is still
Tryin' to get up that great big hill of hope
For a destination

I realized quickly when I knew I should
That the world was made up of this brotherhood of man
For whatever that means.

And I try
Oh my God, do I try
I try all the time
In this institution

And I pray
Oh my God, do I pray
I pray every single day
For revolution
An the chorus:
And so I cry sometimes when I'm lying in bed
Just to get it all out, what's in my head
And I, I am feeling a little peculiar

And so I wake in the morning and I step outside
And I take a deep breath and I get real high
And I scream from the top of my lungs
"What's going on?"
Climbing that great, big hill of hope…for a destination…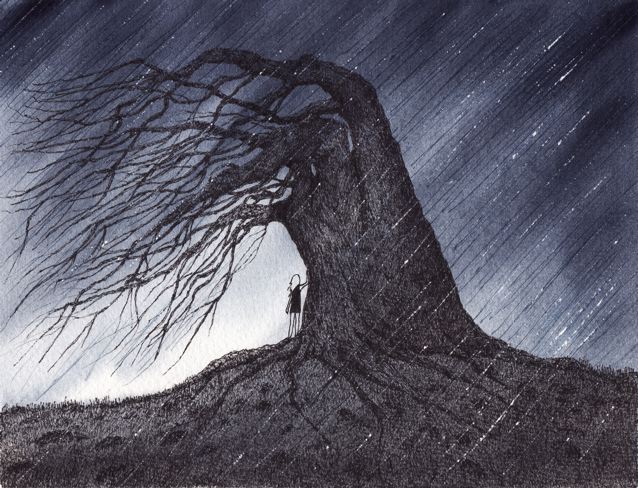 (Illustration: 'Shelter in the Storm," found here).