Despite the deadly lure of doomscrolling even on this holiday Thursday in California's Central Valley, I'm thinking rudimentary musical thoughts of the imagination — sunshine right now in late afternoon, a welcome respite and clears perceptions of gloom after nearly three full days of Tule fog, our area's seasonal shitsville-weather period, a depressing gray stretch of time.
We've got about three months of it left, we're just starting.
Today's particular post is the sequel to the one at the end of last month, without a news content and no pseudo-intellectual whining (no mention of what's-his-fuck/ass-name) — this is all music, or near-abouts.
Anyhow, the awful contrast between holidays and a repulsive information cycle the last few days requires no further promotion at least for a little while.
In the last two or three months, I've become quite fond and appreciative of The Running Mates, a husband/wife duo who perform apparently mostly covers, with orginal material, too, but it's the covers that really hit the mark, for me, anyway. — they seem to capture a sought-after sense for 2020, an acoustical touch update for some way-old songs, recreated for a more personal, confidental setting (maybe like a small coffee shop — currently verboden!) and supplies an emotional bonding that sometimes even the great originals can't give right now.
The 'Mates" also have a YouTube site here — and live-streamed a Christmas Eve session this afternoon here.
First off, a couple of songs found in the 1967 film, "The Graduate" — both by Simon & Garfunkel. "The Sound of Silence" was about two years old when the movie came out, but fit the opening credits like a warm glove (original found here):
Next, "Mrs. Robinson," which was released in the summer of 1967, a few months ahead of the movie, but it was still neat, even if I didn't then understand who the fuck was 'Mrs Robinson' (original found here):
And this sad, tragic lament of a relationship turned shitty — "Linger" (original by The Cranberries found here):
And two dreams, one a rain/thunder weep, "Dreams" (original by Fleetwood Mack found here):
Another set of "Dreams," a clear-skies love song (original by The Cranberries found here):
And another sad lament, "Free Fallin'" (original by Tom Petty found here):
And the first tune from the 'Mates' that caught my fancy, "What's Up" (original by 4 Non Blondes found here):
Just remember when shit gets bad in the coming, immediate future:
"Twenty-five years and my life is still
Trying to get up that great big hill of hope
For a destination"
And cut…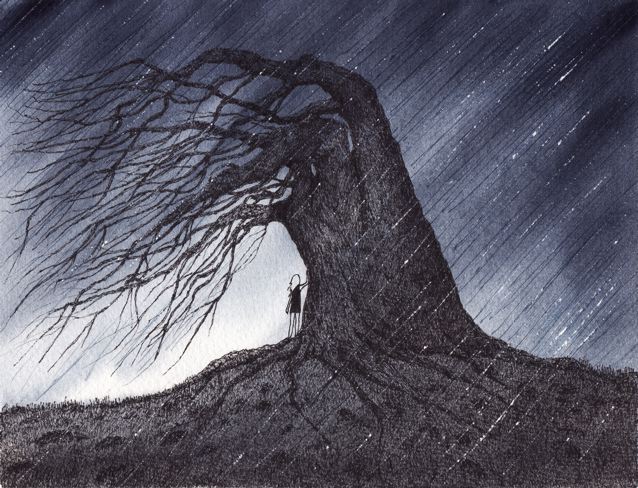 (Illustration: 'Shelter in the Storm," found here).