As we continued on down the line, fallout from the shitty Senate vote on T-Rump this afternoon will continue to flourish as reality strikes into the empty lies of Republicans who cast their lot with the loser president hiding in Florida.
And there'll be more of episodes like Nancy Pelosi crashing a press briefing by House impeachment managers to present a take on MoscowMitch:
"It had not been my intention to come to this press availability," Pelosi said as she spoke to reporters on the fifth and final day of the Senate proceedings.
"But what we saw today was a cowardly group of Republicans who apparently have no options because they were afraid to defend their job — respect the institution in which they serve."

"But why I came over was because I listened to Mitch McConnell," Pelosi continued.

McConnell took the Senate floor shortly after Democrats failed to earn the two-thirds votes needed to convict the former president — and the Republican leader argued Congress no longer had jurisdiction over Trump's actions because is no longer president.

Pelosi angrily recounted the events of January where McConnell, who was still Senate majority leader at the time, refused to accept the impeachment article against Trump before Joe Biden's inauguration.

"So for him to get up there and make this indictment against the president and then say, 'but I can't vote for it because it's after the fact.' The fact that he established. The fact that he established that it could not be delivered after the inauguration."
Watch:
Earlier, right after the vote, Pelosi issued a statement nailing the spineless GOP on the proceedings, including this at the end:
"On January 15, the House Impeachment Managers were gathered to deliver the Article of Impeachment. They were told that because the Senate was closed the Article could not be received. It is so pathetic that Senator McConnell kept the Senate shut down so that the Senate could not receive the Article of Impeachment and has used that as his excuse for not voting to convict Donald Trump.

"Tragically, Senate Republicans who voted not to convict chose to abandon the Constitution, the Country and the American people with this vote. Thank God for the judges and Republican elected officials across the country who pushed back against Donald Trump's attempted overturning of our election which fueled the insurrection."
And so it goes..
"I'm not even registered…"
"Well, get registered, pal, vote against this turkey. He's dangerous."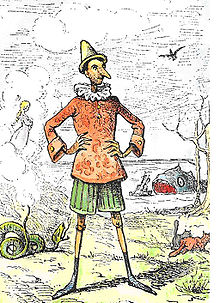 (Illustration: 'Pinocchio,' by Enrico Mazzanti (1852-1910), found here).