(Illustration by Joe Ciardiello and found here).
Encamped in the bowels of Florida for more than a month now, the T-Rump is slowly dumping-up on his emperor's gilded throne of leisure and acting like his vainglory asshole-self — meeting some and not others. He gave the cold shoulder to Nikki Haley last week. Steve Scalise, however, did get a meeting , and MoscowMitch has vowed to forever-never say T-Rump's name:
The Kentucky Republican is "not going to bend the knee" and travel to Mar-a-Lago, a close McConnell associate told CNN, adding that McConnell will "probably never speak" to Trump again if he can avoid it.
"He's also never going to mention Trump again," said this person.
Maybe MoscowMitch might re-think that, as apparenty the kingmaker is readying the tools of MAGA (cruelty is the point) to make waves in GOP circles. T-Rump is living the life, though, about like normal for him, except now he's a even bigger bullshit, phony Mafia chief and an emperor warrior of the insane — Charlotte Klein at Vanity Fair today notes the setting:
Post-presidential life appears to be offering Donald Trump exactly what he wanted while in office: all of the power and none of the details of governance.
No longer needing to even pretend to do his job, Trump's days are reportedly filled with regular golf games, copious amounts of television, and standing ovations upon arrival for dinner on Mar-a-Lago's outdoor patio.
The former president appears to be relishing in the selective communication now available to him: he has consistently rejected meetings with everyone from 2024 hopefuls to Senate GOP candidates and has instead met only with golf friends, members of his Palm Beach club, and "folks with the ability to contact him themselves," senior Trump adviser Jason Miller told Politico.
"If you're Trump, you don't gotta play nice with these people anymore. You don't have to do the whole fake political thing where you pretend to like people you don't actually like," one person close to Trump noted.
…
Trump is also said to be enjoying the attention his sporadic announcements have garnered in the press and looking for ways to exert online influence without Twitter, from which he is permanently banned.
Last week, he reportedly met with former campaign manager Brad Parscale to discuss that social media conundrum, as well as online fundraising efforts to support his post-presidential activism.
Already, Save America, his new leadership PAC, has raised over $30 million, and he has lately used it as a tool to communicate with the public, such as to attack Senate Minority Leader Mitch McConnell in a statement that promised to fight the top Republican's 2022 midterm picks.
According to Axios, he is expected to channel similar energy during his speech at the Conservative Political Action Conference (CPAC) in Florida this week, which will be his first public appearance since leaving office.
Trump reportedly plans to attack President Joe Biden's "disastrous" immigration plan and will pledge to remain a central figure in the Republican party and its fight against Biden.
Although Klein mentions T-Rump's growing legal problems from DOJ/Congress over the insurrection/riot, and cases on T-Rump family businesses in New York and election bullshit in Georgia, but I don't think those will have any play until later on down the line, leavig T-Rump right now to act the vengeful piece of shit against everybody.
Odd the political climate with Republicans, they've seemingly currently engaged in an internal war of T-Rump vs anti-T-Rump, and as he sits upon the gilded throne in the bowels of Mar-A-Lego, it appears he still does have kick with a big chunk of the GOP — per a Suffolk University/USAToday poll released Friday, nearly half of Republicans would jump to a T-Rump party.
Highlights from USAToday:
By double digits, 46-percent-27-percent, those surveyed say they would abandon the GOP and join the Trump party if the former president decided to create one.
The rest are undecided.
…
Half of those polled say the GOP should become "more loyal to Trump," even at the cost of losing support among establishment Republicans.
One in five, 19-percent, say the party should become less loyal to Trump and more aligned with establishment Republicans.
…
They express stronger loyalty to Trump the person (54-percent) than they did to the Republican Party that twice nominated him for the White House (34-percent).
…
Trump voters are prepared to punish those who crossed him.
Eight in 10 say they would be less likely to vote for a Republican candidate who supported Trump's impeachment, as 10 representatives did in the House.
An equal portion, 80-percent, say the seven Republican senators who voted to convict Trump were motivated by political calculations, not their consciences.
Remember, though, as you can see, these are not anywhere-near fact-based, bright people:
Trump doesn't need to form a third party, says Francis Zovko, 63, a Republican from Jefferson Hills, Pennsylvania.
"I think he's just going to, you know, take over the Republican Party, much as he did in 2016," the systems analyst says.
"They all kind of thought he was a big joke, and by the end, they weren't laughing anymore."
…
Most Trump voters embrace a version of events on Jan. 6 that has been debunked by independent fact checkers and law enforcement agencies.

Asked to describe what happened during the assault on the Capitol, 58-percent of Trump voters call it "mostly an antifa-inspired attack that only involved a few Trump supporters."
That's more than double the 28-percent who call it "a rally of Trump supporters, some of whom attacked the Capitol." Four percent call it "an attempted coup inspired by President Trump."
…
"There were a variety of people who were there," says William Case, 40, an electrician and independent voter from Vacaville, California.
"I mean, outside there was a bunch of Trump supporters that didn't go in, but there's video proof of other groups that did, antifa being one of them. There were also reporters that broke in and followed everybody."
A large, thick section of America is really, really fucked up.
Reminds me of a clip from "Blazing Saddles" I use a lot to dark-humor illustrate the horror of MAGA hatters:
Except these 'morons' are armed and they don't give a shit:
Same energy. pic.twitter.com/tLBumyCZ9m

— Shannon Watts (@shannonrwatts) February 21, 2021
And here we stand…and so it goes…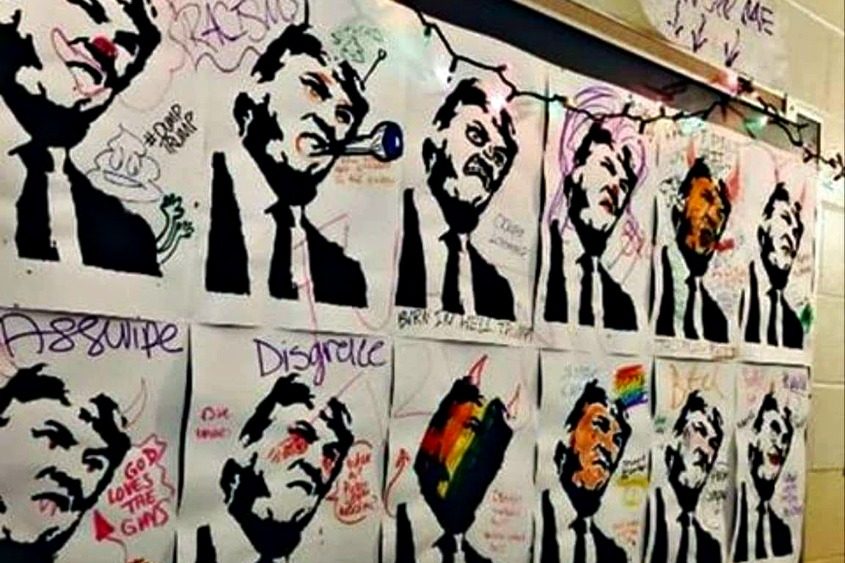 (Illustration is of a New York state high-school student exhibit: 'The piece was displayed during student-driven art show at Shenendehowa High School. It consisted of at least 12 identical black-and-white pictures of Donald Trump. There was also a sign above the pictures that read, "Draw on Me." Using markers from the art classroom, some students opted to scribble critical messages and profanities on the pictures' — and found here).