Among the many villainous Republican attributes is corruption in the power of an office — from the top down, from T-Rump all the way to bottom feeders (h/t tweet Vixen Strangely):
GOP Corruption Update (Just Tonight)

FL Governor Ron DeSantishttps://t.co/q6PsCkjp5c

GOP Secretary Chao (& McConnell)https://t.co/ivCkUqU3NV

Top GOP Member on Judiciary Committee, Jim Jordanhttps://t.co/Zn1gJK2nSl

Frmer GOP President Donald J. Trumphttps://t.co/WoMJthDKWk

— Jesse Ferguson (@JesseFFerguson) March 4, 2021
In the case of Ms Chao (MoscowMitch's wife), there's a retroaction whammy — via CNN last night:
The Transportation Department's inspector general asked the Justice Department in December to consider a criminal probe into then-Secretary Elaine Chao over her alleged misuse of office, documents made public Wednesday said, including her alleged use of staff for personal tasks like sending Christmas ornaments to family.

The Justice Department and the US Attorney's Office in Washington, however, declined to pursue the case in the final weeks of the Trump administration, stating there "may be ethical and/or administrative issues to address but there is not predication to open a criminal investigation," according to Transportation Department Deputy Inspector General Mitch Behm's 38-page report detailing his office's extensive ethics concerns surrounding Chao's conduct.
"We concluded that a formal investigation into potential misuses of position was warranted," Behm wrote in a letter accompanying the report.
…
A spokesperson for Chao said the Justice Department's decision not to pursue the case "exonerates" Chao.
Yet last night not so fast:
Chao faced swift backlash from Democrats on Wednesday evening after the inspector general report became public.
"The DOT Inspector General's report, in addition to documents we obtained, demonstrate that Secretary Chao used her official position and taxpayer resources for the benefit of herself and her family," House Oversight Chairwoman Carolyn Maloney, a New York Democrat, said in a statement.
As time goes on, an investigation into Chao's shit may/may not go forward, depending on problems with getting Joe Biden's agenda through Congress and the GOP-inspiried bullshit it entails. One must remember, Republicans have no real care for anything but power.
And as always they are bigly hypocrites when pointing fingers, even from within their own ranks — from The Washington Post this morning and a way-prime example:
North Carolina's Republican Party acted quickly last month to censure one of its most senior members, Sen. Richard Burr, for voting to convict President Donald Trump in his second impeachment trial. Burr's vote was "shocking and disappointing," said Michael Whatley, chairman of the state party.

But the state GOP has shown no interest in exploring a similar action against one of its youngest elected leaders, Rep. Madison Cawthorn, a pro-Trump freshman who is accused by a number of women of sexual harassment and has a record of making false statements and baseless claims.

"I don't want to talk about that on the record," Whatley said twice in a brief phone conversation when asked about Cawthorn.

Similarly, top members of the national Republican Party have said nothing publicly about the Cawthorn case.
A spokesman for House Minority Leader Kevin McCarthy (R-Calif.) did not reply to a request for comment.

The contrasting approach to Burr and Cawthorn starkly illustrates the dichotomy within the Republican Party as it navigates its future after the Trump presidency. Those who are perceived as attacking Trump are being disowned by the party's leaders. Those who are seen as embracing the former president — notwithstanding serious allegations such as those against Cawthorn — are embraced or at least tolerated.

"It is what you would expect from a Trumpified party," said Peter Wehner, a former official in the administrations of Ronald Reagan, George H.W. Bush and George W. Bush.
"One of the regrettable lessons Republicans have learned from the Trump years is there's no need to apologize. The shame or embarrassment can get in the way of your political ascendancy. They don't feel the need to explain themselves because might makes right."
Cawthorn is, of course, an enormous asshole and a not-so-good bullshit artist, and although the Post story above details some of the Cawthorn case, another Post report from last month carried this:
Cawthorn said a close friend had crashed the car in which he was a passenger and fled the scene, leaving him to die "in a fiery tomb."
Cawthorn was "declared dead," he said in the 2017 speech at Patrick Henry College.
He said he told doctors that he expected to recover and that he would "be at the Naval Academy by Christmas."

Key parts of Cawthorn's talk, however, were not true.
The friend, Bradley Ledford, who has not previously spoken publicly about the chapel speech, said in an interview that Cawthorn's account was false and that he pulled Cawthorn from the wreckage.
An accident report obtained by The Washington Post said Cawthorn was "incapacitated," not that he was declared dead.
Cawthorn himself said in a lawsuit deposition, first reported by the news outlet AVL Watchdog, that he had been rejected by the Naval Academy before the crash.

Shortly after the speech, Cawthorn dropped out of the college after a single semester of mostly D's, he said in the deposition, which was taken as part of a court case regarding insurance.
Later, more than 150 former students signed a letter accusing him of being a sexual predator, which Cawthorn has denied.
And we're back to where we started — the shithead fits the GOP like a nasty, vile glove…
"You're more than anything to me now…" Michael didn't say…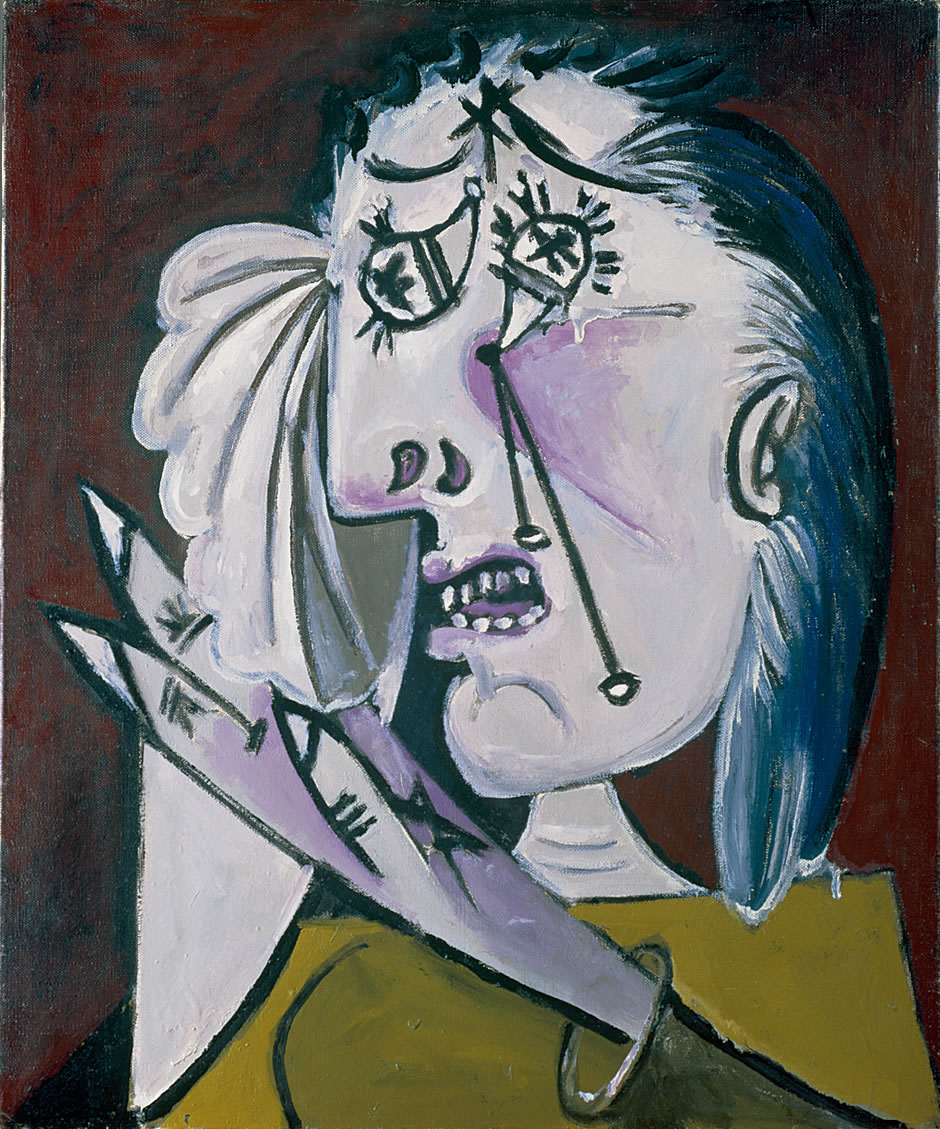 (Illustration: Pablo Picasso's 'The Weeping Woman [La Femme qui pleure],' found here).