Our nation can rest easier now that Joe Biden held his first press conference this afternoon, and from all indications he aced his initial session with reporters — one outstanding item missing, however, was inquiries on the pandemic, which most-likely suggested the fight against it was going smoothly (as much as anything that's killed a half-million Americans).
Although I didn't see it, the news write-ups gave Joe a thumbs up, including his grasp on Republicans nationwide attempt at voter suppression:
President Biden compares Republican efforts to restrict voting in many states to Jim Crow laws that enforced racial segregation in the South.

"What I'm worried about is how un-American this whole initiative is," he says. "It's sick." https://t.co/pMGX9DNjaT pic.twitter.com/zSjb779qZD

— CNN (@CNN) March 25, 2021
One review of Joe's presser from David Smith at the Guardian this afternoon:
Has the fever in American politics finally broken? After a sickness that lasted four long years, it seems the patient is on the road to recovery.

That was the impression of Joe Biden's first presidential press conference on Thursday.
For a start, there were no lies or insults or speculations about the medicinal benefits of bleach.
Sometimes Biden was earnest, sometimes he was dull, sometimes he offered an avuncular chuckle.
He was solid.

But equally telling were the questions from 10 reporters in the White House press corps. No look-in for the coronavirus pandemic, which has killed half a million Americans. Not much about the fragile nature of democracy except for Republicans' assault on voting rights — a phenomenon that predates Donald Trump.

Instead the main focus at the hour-long event were hardy perennials about the US-Mexico border, the war in Afghanistan, relations with China, infrastructure, the next election and the filibuster, a Senate parliamentary procedure unlikely to excite the rest of the world.

In short, it was another victory for Biden in his quest to snap American political life back to normal and create the perception that the Trump years were a nightmare from which America has awoken.
He seeks to replace it with a group yawn. That is why cable news ratings and news site traffic have plummeted since January.
That is why people in Washington speak of having weekends again instead of jumping at every presidential tweet.
…
One matter that animated Biden was voting rights. He described Republican efforts to make voting harder as "despicable" and warned: "This is gigantic what they're trying to do … What I'm worried is about how unAmerican this whole initiative is. It's sick."

Not so long ago, Trump had ruled the gilded East Room like a monarch. Now it was almost possible to forget him. Almost. One journalist noted that at this stage of his presidency, Trump had already set up a campaign for his re-election. Why hasn't Biden done the same?

"My predecessor needed to," the president quipped.
"My predecessor. Oh God, I miss him. The answer is yes. I plan to run for re-election. That's my expectation."
And this take per Politico on lack of COVID-19 questions:
During the first news conference of his presidency, Joe Biden was never asked about the issue that likely got him elected and, in all likelihood, will be the defining crisis of his time in office.

Over the course of 62 minutes on Thursday, the Covid-19 pandemic never arose, except for in the president's remarks at the start of the event, touting the accomplishments his administration has made in the U.S.'s year-long fight.

The absence of the issue from the news conference illustrates the degree to which a host of other challenges have begun to dominate Biden's time in office: a surge of migrants crossing the southern border, back-to-back mass shootings and efforts to restrict voting in Republican statehouses.

Some Democrats were incensed that Covid never came up. But others, including Ron Klain, the White House chief of staff, publicly pushed the notion that the lack of discussion was merely a reflection of Biden's discipline in handling the pandemic.
The president and his team have set expectations low and routinely cleared them, all the while trying to create a deliberate contrast with the chaos that defined the four years of Donald Trump's presidency.
Plus, this look at Fox News coverage of the presser by Aaron Rupar at Vox:
Fox News carried Biden's news conference live, but did so above a series of loaded chyrons that offered viewers alarmist language about policy concerns like Central American immigration. These were largely a continuation of the way the network has been covering administration policy.

But the press conference will make it tougher for the network to insinuate that Biden is hiding something. His responses to questions were largely coherent and thorough — undercutting claims Sean Hannity has been making on a nightly basis about Biden hiding because he's in decline.
And so, in a remarkable flip-flop from Hannity's line, anchor Sandra Smith's immediate post-news conference spin was to read part of a tweet from Ari Fleischer, former press secretary for President George W. Bush, attacking Biden for being too prepared.

"Past White House press secretary Ari Fleischer noting the use of notes that the president used throughout that news conference, often referencing them, at times appearing to read directly from them," Smith said.

Again, Biden was damned if he came prepared, and damned if he didn't.

Biden took about 10 questions, all of them from reporters working for mainstream outlets like CNN and PBS.
Conspicuously, he did not take a question from Fox News.

Unsurprisingly, Fox News made a fuss about this after the press conference.
The network displayed a chyron that read, "BIDEN SNUBS FOX NEWS DURING FIRST NEWS CONF," and anchor Dana Perino complained that "Peter Doocy is not [CNN reporter] Jim Acosta. He's got good questions."
Boo-hoo whining — it's all they have…
Joe's complete press conference, if you'd have a mind to…
"Come on…"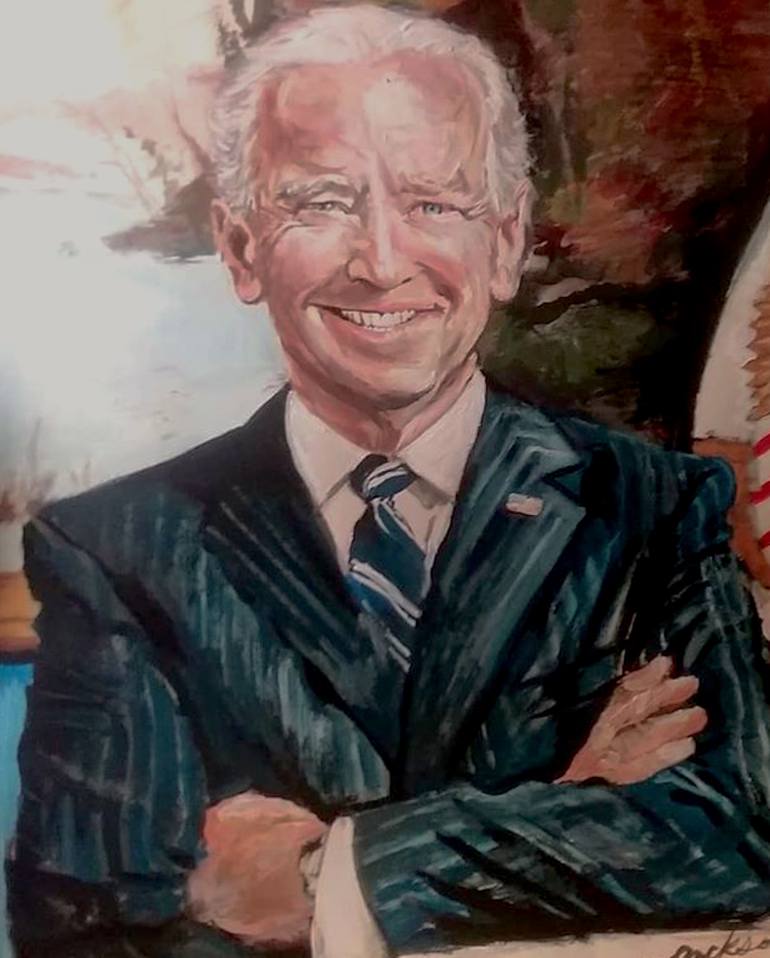 (Illustration: 'Joe Biden,' acrylic by Billy Jackson, and found here).