In the scope of human events, it becomes near-about impossible to understand how vile and shitty people are when they continually disclose that they're even worse than how shitty you figured they were at the outset.
Yet then they twist a bit, display characteristics beyond-dreadful than the horrifically-bad you assumed just minutes earlier, thusly, you're stuck on an obscene merry-go-round of descending repulsiveness.
So it is with the T-Rump scaming the ignorant:
A 63-year-old cancer patient in Kansas City named Stacy Blatt told the Times that he gave $500 to the campaign in September, despite living on less than $1,000 a month, and was completely blindsided by what followed.

"That single contribution — federal records show it was his first ever — quickly multiplied," the report stated.
"Another $500 was withdrawn the next day, then $500 the next week and every week through mid-October, without his knowledge — until Mr. Blatt's bank account had been depleted and frozen.
And as stated, it does get worse:
Trump made widespread use of prechecked boxes to automatically enroll donors into repeating donations — unless they opted out.

In Sept., as Trump faced a cash crunch, those recurring donations began withdrawing *every week*.

Many donated unknowingly:https://t.co/vu10yWJaEs pic.twitter.com/VNfb8Aen3Z

— Shane Goldmacher (@ShaneGoldmacher) April 3, 2021
Shitty details from The New York Times this afternoon:
Contributors had to wade through a fine-print disclaimer and manually uncheck a box to opt out.

As the election neared, the Trump team made that disclaimer increasingly opaque, an investigation by The New York Times showed.
It introduced a second prechecked box, known internally as a "money bomb," that doubled a person's contribution.
Eventually its solicitations featured lines of text in bold and capital letters that overwhelmed the opt-out language.

The tactic ensnared scores of unsuspecting Trump loyalists — retirees, military veterans, nurses and even experienced political operatives.
Soon, banks and credit card companies were inundated with fraud complaints from the president's own supporters about donations they had not intended to make, sometimes for thousands of dollars.

"Bandits!" said Victor Amelino, a 78-year-old Californian, who made a $990 online donation to Mr. Trump in early September via WinRed.
It recurred seven more times — adding up to almost $8,000.
"I'm retired. I can't afford to pay all that damn money."

The sheer magnitude of the money involved is staggering for politics.
In the final two and a half months of 2020, the Trump campaign, the Republican National Committee and their shared accounts issued more than 530,000 refunds worth $64.3 million to online donors.
All campaigns make refunds for various reasons, including to people who give more than the legal limit. But the sum the Trump operation refunded dwarfed that of Joseph R. Biden Jr.'s campaign and his equivalent Democratic committees, which made 37,000 online refunds totaling $5.6 million in that time.

The recurring donations swelled Mr. Trump's treasury in September and October, just as his finances were deteriorating.
He was then able to use tens of millions of dollars he raised after the election, under the guise of fighting his unfounded fraud claims, to help cover the refunds he owed.
…
"It's unfair, it's unethical and it's inappropriate," said Ira Rheingold, the executive director of the National Association of Consumer Advocates.

Harry Brignull, a user-experience designer in London who coined the term "dark patterns" for manipulative digital marketing practices, said the Trump team's techniques were a classic of the "deceptive design" genre.

"It should be in textbooks of what you shouldn't do," he said.

Political strategists, digital operatives and campaign finance experts said they could not recall ever seeing refunds at such a scale.
Mr. Trump, the R.N.C. and their shared accounts refunded far more money to online donors in the last election cycle than every federal Democratic candidate and committee in the country combined.
…
"You don't realize it until after everything is already in motion," said Bruce Turner, 72, of Gilbert, Ariz., whose wife's $1,000 donation in early October became $6,000 by Election Day.
They were refunded $5,000 the week after the election, records show.

Around the same time, officials who fielded fraud claims at bank and credit card companies noticed a surge in complaints against the Trump campaign and WinRed.

"It started to go absolutely wild," said one fraud investigator with Wells Fargo.
"It just became a pattern," said another at Capital One.
A consumer representative for USAA, which primarily serves military families, recalled an older veteran who discovered repeated WinRed charges from donating to Mr. Trump only after calling to have his balance read to him by phone.
Nasty-ass essence from Jason Miller, T-Rump's main-shit-fucker and scheming gofer:
"Our campaign was built by the hardworking men and women of America," Mr. Miller said, "and cherishing their investments was paramount to anything else we did."

Asked if Mr. Trump had been aware of his operation's use of recurring payments, the campaign did not respond.
What a bunch of sorry, pieces of shit. Go read the whole story (behid a paywall, but click on the tweet link and maybe you'll get through like I did) about a shitload of poor, dumb-ass people dim-witted enough to send that corrupt asshole money and get screwed out of it. No matter their politics and mental framework, it's still a way-despicable thing to do.
Reveals the real bottom-feeder cruelty of the T-Rump.
Yet the way-frightful aspect of this entire horror story is being stupid-blind — bottom line via Jonathan Chait at New York Magazine, also this afternoon:
It is a testament to Trump's grifting genius that his victims continue to venerate him. Goldmacher's story contains this utterly perfect sentence, describing one of the victims who was tricked into giving the campaign more than ten times what he intended to donate: "Like multiple other donors interviewed, though, he held Mr. Trump himself blameless, telling the Times, 'I'm 100 percent loyal to Donald Trump.'"
How/why these people operate is beyond my humble comprehension…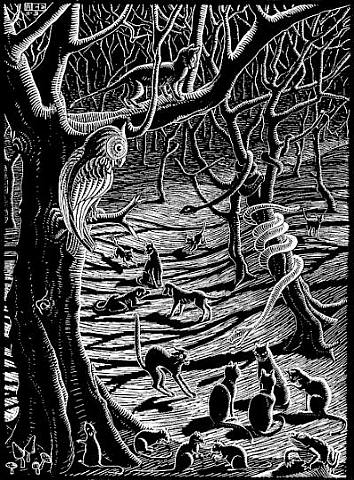 (Illustration: M.C Escher's 'Scholastica,' found here)