America woke up this morning to another freaking mass shooting — this one late last night in Indiana (CBS):
A 19-year-old gunman opened fire at a FedEx facility in Indianapolis late Thursday night, killing eight people before dying of a self-inflicted gunshot wound, authorities said.
Police identified the suspect as Brandon Scott Hole, a former FedEx employee.
Beyond the horror/terror of the shooting, a frightening point is how short a time span to create such carnage:
The FedEx shooting "probably only lasted one to two minutes," the deputy chief of criminal investigations for Indianapolis police said, adding that the suspect exited his vehicle and immediately began shooting while in the parking lot.https://t.co/X62Edr7XZc pic.twitter.com/dyMeYoKAbU

— New Day (@NewDay) April 16, 2021
Deputy Chief of the Indianapolis Metropolitan Police Department Craig McCartt earlier today on the duration of the incident (CNN):
"Preliminarily, the information we have, that it was very short. He came into the parking lot, exited his vehicle … and quickly began shooting … immediately started shooting … I think that it only lasted one to two minutes, from what we're hearing …"
Just a couple of minutes. From the Rockefeller Institute of Goverment factsheet on mass shooting: 'The event occurs within a single 24-hour period, though most attacks typically last only a few minutes.'
Either with a rifle (as now reported the FedEx shooter used) or a handgun, it doesn't take much time to shoot a shitload of people, especially in a crowded store or at a school.
And what's worse, the mass-shooting trend appears to be getting way-recently worse (CNN this afternoon):
Starting on March 16, when eight people were killed at three Atlanta-area spas, the US has had at least 45 mass shootings, according to CNN reporting and an analysis of data from the Gun Violence Archive (GVA), local media, and police reports.

The US has seen at least 147 mass shootings in 2021, according to data from the GVA, a non-profit based in Washington.
CNN considers an incident to be a mass shooting if four or more people are shot, wounded, or killed, excluding the gunman; so does the GVA.
The article also has a list of the shootings if you want to scroll down memory lane. And Scott Lemieux at LG&M this morning binds the numbers chart more tightly:
Mass shootings in American public places resulting in eight or more fatalities, by decade:

1950s: 0

1960s: 1

1970s: 0

1980s: 6

1990s: 6

2000s: 7

2010s: 19

Last 30 days: 3
Of course, this is eight deaths and not the noted four as defined as a mass shooting, but still…WTF!
Finally, this story of a soft drink possibly keeping a guy alive — via The Washington Post live blog this afternoon:
An Indianapolis FedEx employee was 10 minutes late to his 11 p.m. shift Thursday night. He thinks stopping to buy a Pepsi before work might have saved him from being a victim of a mass shooting.

The employee asked to be identified only by his first name, Tim, because his company had not authorized him to speak to the media. He said he and other colleagues tried to enter their gate to go to work Thursday night, but were told they could not enter. They were evacuated as police responded to an active shooter at the scene.

Police identified former FedEx employee Brandon Hole, 19, as the gunman who killed at least eight people and wounded others before shooting himself at the scene.

"If I had been 10 minutes early to work, could it have been me?" Tim asked aloud.
"Only the good Lord knows."

When his phone buzzed with a new message, he began to tear up. It was from his 7-year-old daughter.

"Are you ok, daddy? I love you."

"When I get home tonight, I'm going to wrap up my little girl and actually tell her how much I love her," he said, crying.

He texted back three words to answer her question.

"Yes I am."
Good fortune, but guns…
You know what's better than flags flying at half staff? Sensible gun control.

— Molly Jong-Fast? (@MollyJongFast) April 16, 2021
WTF…yeah!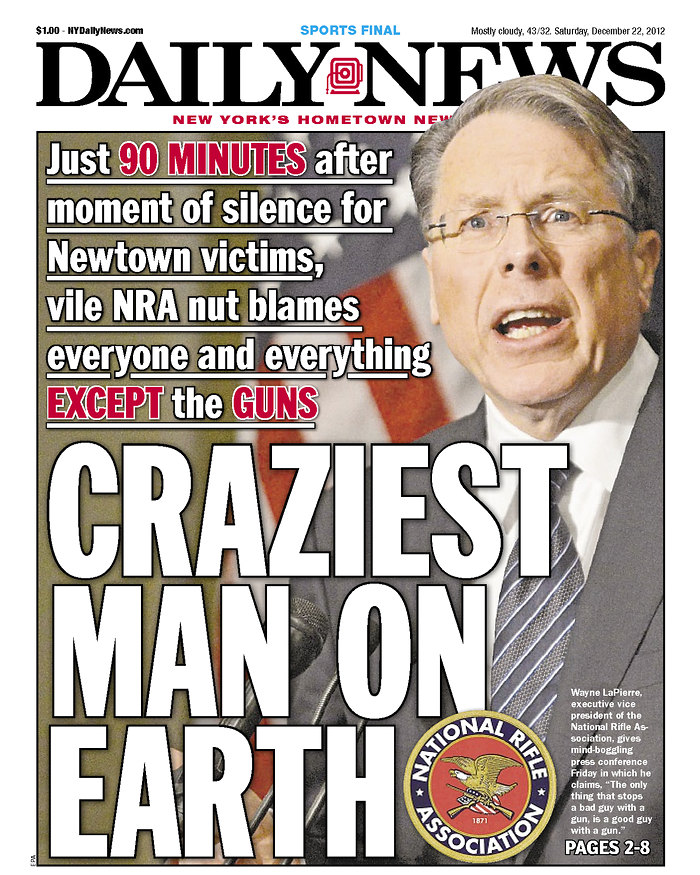 (Illustration: Gutless gun-crank and asshole grifter, Wayne LaPierre, found here).