As I noted in my post this morning, Joe Biden's speech to Congress last night was a rousing success on many levels and the polling in the aftermath shows the hard results — Americans who watched Joe perform, loved it.
Hence, Republicans are having a hard tine grappling with it, as it has become way-obvious they are in the minority in everything.
Even worse news for them (and especially for the T-Rump), stocks are soaring (MarketWatch this afternoon): 'The S&P 500 index and Dow Jones Industrial Average roared higher over President Joe Biden's first 100 days in office, outmatched in the same stretch only in 1933, when Franklin D. Roosevelt held office.'
Today marks Joe's 100th day in office.
And in the day after the speech, polling looking good:
In general, did you approve or disapprove of the President's speech tonight?

Approve 85%
Disapprove 15%@YouGovAmerica/@CBSNewsPoll, Among #SOTU watchers,https://t.co/EGpvEe1nvD

— Political Polls (@Politics_Polls) April 29, 2021
In context of Biden's humanity:
In the speech tonight, did you think Joe Biden was…, Yes/No

Presidential: 89%/11%
Caring: 89%/11%
Inspiring: 84%/16%
Bold: 80%/20%
Unifying: 77%/23%
Realistic: 75%/25%@YouGovAmerica/@CBSNewsPoll, Among #SOTU watchers,https://t.co/EGpvEe1nvD

— Political Polls (@Politics_Polls) April 29, 2021
And the speech left viewes feeling better about future shit:
About half of Americans who watched President Joe Biden's address to Congress had a very positive reaction to the speech, and 71% said they walked away feeling more optimistic about the country's direction, according to a CNN Poll conducted by SSRS. https://t.co/ESX3TvJrDv

— CNN (@CNN) April 29, 2021
Per CNN this morning:
By a wide margin, speech-watchers said that Biden's policy proposals would move the country in the right direction (73-percent) rather than the wrong direction (27-percent). In a survey conducted before the speech, the same people were a bit less bullish that Biden would lead in the right direction (67-percent right direction, 33-percent wrong direction), and that movement came from the independents and Republicans who watched the speech.
Among Republicans, the share saying Biden's policies would move the country in the right direction grew from 13-percent pre-speech to 27-percent post-speech, while among independents, that percentage rose from 61-percent to 73-percent.

That perception carries through to the major issues covered in the speech.
More than 8 in 10 said Biden's proposals on the coronavirus pandemic would move in the right direction (86-percent), and 74-percent said the same about racial injustice.
Around 7 in 10 said the President's policies on the economy (72-percent), gun laws (70-percent) and taxes (70-percent) were steps in the right direction. Slightly fewer said the same about immigration (65-percent).
And Biden's focus on those issues appeared to hit the right mark for speech-watchers.
Overall, 68-percent said Biden has had the right priorities so far as president, while 32-percent said he has not paid enough attention to the most important problems.
On the ecomony and the history of bullshit data, even Republicans agreed with Biden that Regean-era financial schematics has failed and really needs an overhaul. According to a new poll, anyway — per Reuters this afternoon:
A majority of Americans support measures favored by President Joe Biden to substantially redistribute U.S. wealth, according to an Ipsos poll for Reuters released on Thursday, including tax hikes on the wealthy and a higher minimum wage.

The national opinion poll also found that Republican voters were divided over the "trickle-down economics" championed by their party's leaders since President Ronald Reagan some 40 years ago.

In his speech to Congress on Wednesday night, Biden attacked trickle-down economics as an idea that has never worked. The poll was conducted after the speech.

According to the Ipsos poll, 51-percent of adults agreed with the statement that "trickle-down economics have never worked in America," while 26-percent disagreed.

Among Republicans, four in 10 agreed that it was a failed theory, while three in 10 disagreed.
Among Democrats, seven in 10 agreed that trickle-down economics never worked, while two in 10 disagreed.

Overall, 73-percent said they approved of Biden's economic message to Congress on Wednesday, according to the poll.
A study last year reported 'trickle-down economics' is truly bullshit: '"Our results have important implications for current debates around the economic consequences of taxing the rich, as they provide causal evidence that supports the growing pool of evidence from correlational studies that cutting taxes on the rich increases top income shares, but has little effect on economic performance."'
Against that backdrop, the right-side of the American brain went a bit even-worse bonkers last night after Biden condemned the Jan.6 insurrection/riot in truthful, unfliinching terms:
Goes to show who is on which side — via Salon this morning:
The "civil war" comment in particular sparked anger among right-wing pundits and Trump allies, who were quick to point out various foreign attacks that have taken place on American soil.

"Biden says the January 6 protest was the worst attack on our democracy since the Civil War. Surprisingly, the room did not break into uncontrolled laughter at this ridiculous claim," pro-Trump pundit Dinesh D'Souza tweeted, along with a video where he calls the Jan. 6 ransacking of the Capitol a "walk-through."

Right-wing radio host Eric Metaxas responded, "FACT: The "worst attack on our democracy since the Civil War" was when Democrats STOLE AN ELECTION from #WeThePeople — and then dared to pretend WE were the threat to democracy. Shame on them. They will not get away with this. Many are praying. God sees."

Trump campaign flack Steve Cortes added: "So…Pearl Harbor, presidential assassinations, 9-11…all less threatening to our democracy than a bunch of unarmed fur hat hooligans?"

Daily Wire founder and conservative pundit Ben Shapiro snarked, "He should know better than this, considering he's old enough to remember all the intervening events since the Civil War."
Enough is enough as it goes on and on.
They don't understand — a nice oddity seeing Joe as president after years and years and years in politics, apparently underneath all along, he's a bit like Jimmy:
Not about the grown-ups…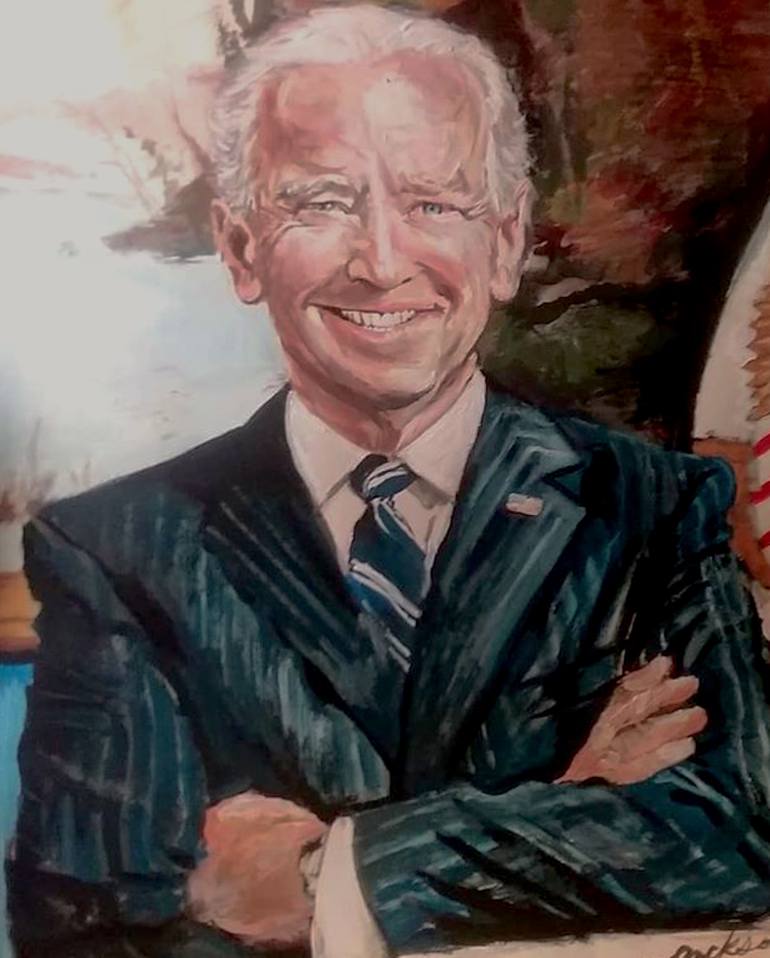 (Illustration: 'Joe Biden,' acrylic by Billy Jackson, and found here).