Although we here in the US of A are seemingly getting a handle on COVID-19 — supposedly 70-percent of our adult population could be vaccinated by this summer — such a stance can't be felt worldwide.
If the world can't return to a so-called 'normal,' nobody ever will.
Anthony Fauci in an interview at the Guardian at the end of April:
"The only way that you're going to adequately respond to a global pandemic is by having a global response, and a global response means equity throughout the world.
"And that's something that, unfortunately, has not been accomplished. Often when you have diseases in which there is a limited amount of intervention, be it therapeutic or prevention, this is something that all the countries that are relatively rich countries or countries that have a higher income have to pay more attention to."
However, one of my own fears — not based on any science, and despite optimistic outlooks from Fauci and others, including the CDC — is that COVID will never fully go away, even here in America, where there's such bullshit distrust of being vaccinated, it's totally ridiculous and way dangerous.
Even against the grain of that chunk of MAGA-hatters who are anti-vax, in order to get a full grip on the worse global disaster in more than a 100 years, poor or indisposed countries need the vaccine, and it's up to us to make it happen (h/t tweet BJ):
Who's been vaccinated?
The world's rich. pic.twitter.com/fChNlf1XwE

— ian bremmer (@ianbremmer) May 28, 2021
This is a scenario scripted-out a while ago. Health officials knew going into the vaccination cycle, the rich would prevail over the poor, and without the jabs (both, not just one), there would continually be surges, outbreaks and medical problems until such a course is accomplished, though, it'd be still a hard road to get there.
Background via Science Magazine last Wednesday:
In January, the director-general of the World Health Organization (WHO), Tedros Adhanom Ghebreyesus, issued a blunt warning.
The world was "on the brink of a catastrophic moral failure," he said.
Wealthy countries were buying up available COVID-19 vaccines, leaving tiny amounts for others—a replay of what happened during the 2009 influenza pandemic.
"The price of this failure will be paid with lives and livelihoods in the world's poorest countries," Tedros said.

He was right. Today, some rich countries are vaccinating children as young as 12 years old, who are at extremely low risk of developing severe COVID-19, while poorer countries don't even have enough shots for health care workers.
Nearly 85-percent of the COVID-19 vaccine doses administered to date have gone to people in high-income and upper middle–income countries.
The countries with the lowest gross domestic product per capita only have 0.3-percent.

Tedros lambasted the "scandalous inequity" again in his opening speech at the World Health Assembly on 24 May.
By September, at least 10-percent of the population in every country should be vaccinated, he said.

Disparities in global health are nothing new. Lifesaving therapies such as monoclonal antibodies are unavailable in large parts of the world.
Even vaccines and drugs that cost pennies to make don't reach millions of people who need them. But the COVID-19 crisis has exposed the inequities in a distinct, acute way.
As normality is returning to vaccine front-runners such as Israel, the United Kingdom, and the United States, India's health system is buckling under soaring case numbers — and the world is still recording almost 5 million cases and more than 80,000 deaths every week.

The moral argument aside, there's a very practical reason to try to distribute vaccines more equitably: No part of the world can feel safe if the pandemic rages on elsewhere, posing the risk of reintroduction and spawning potentially more dangerous viral mutants.
Efforts to equalize the situation include:
COVAX was formed in April 2020 to avoid exactly the scenario playing out now. Jointly run by WHO, the Coalition for Epidemic Preparedness Innovations (CEPI), and Gavi, the Vaccine Alliance, the organization aimed to bring together countries to invest in several vaccine candidates that it would then distribute equitably among participants.
High-income countries, companies, and philanthropic organizations would foot the bill for the 92 poorest countries.

At first it appeared to be working: Almost every country in the world has signed up and COVAX began to deliver its first vaccine doses on 24 February, just 2 months after vaccinations started in Europe.
But COVAX lacked the money to compete with rich countries that cornered the market early on by striking purchase deals with vaccinemakers.
"It was slower than anyone would have wanted in making deals," says Nicole Lurie, U.S. director of CEPI.
"That's been a real frustration."

Another major blow came in March, when skyrocketing COVID-19 cases at home led the Serum Institute of India—which COVAX banked on as its main supplier — to halt exports of its vaccine, made in collaboration with AstraZeneca and the University of Oxford.
Exports may not resume until the end of the year.
"We're in a bit of a crisis," says Seth Berkley, who heads GAVI. COVAX will be 190 million doses short by the end of June.
"We're now trying to fill that hole," he says. As of 23 May, 125 countries had received just 68 million vaccine doses from COVAX.
Expanding production:
To date, all manufacturers combined have distributed fewer than 2 billion doses of COVID-19 vaccines, most of which require two shots. But much more vaccine is on its way.
Many of the 14 manufacturers of authorized products continue to build new plants, contract with other manufacturers, and iron out production glitches.

Pfizer and BioNTech hope to produce about 3 billion doses by year's end, one-third of which they plan to offer to COVAX or directly to low-and middle-income countries. Moderna has ramped up to 1 billion.
Three billion more doses could come from the conglomerate organized by AstraZeneca and Oxford, which includes Serum and several other vaccinemakers.
Three China-based companies say they can collectively pump out 3 billion doses of their vaccines this year, and Johnson & Johnson hopes to add another 1 billion doses of its single-shot vaccine.
Some 850 million doses of the Russian Sputnik V vaccine could come from the Gamaleya Research Institute of Epidemiology and Microbiology and its contract manufacturers.
And companies such as Novavax, CureVac, and Clover Biopharmaceuticals all have vaccines in efficacy trials and are hoping for market authorizations in the months ahead.
Sharing knowledge:
Allowing more companies to follow the vaccine recipes developed — and sometimes fiercely protected — by a few could also boost output. AstraZeneca and Oxford provided a license for their vaccine to Serum, and then helped the company learn to manufacture it in India, an intensive process known as technology transfer.
Most vaccine companies have shied away from such deals, however.
Building plants worldwide:
Freeing up IP could allow existing plants to produce vaccines that are now off-limits. But in the long term, additional manufacturing plants will be needed to serve the needs of the have-nots—not just for this pandemic, but for future ones as well.
COVID-19 variants and waning immunity to the virus each could create an annual need for several billion vaccine doses. And if a new disease surfaces, the world could find itself again needing billions of doses of new vaccines.

The inequitable way COVID-19 vaccines have been rolled out underscores the limits of a system that concentrates manufacturing power in a few locations, says Leena Menghaney, who heads Doctors Without Borders's Access Campaign for South-East Asia.
The bulk of COVID-19 vaccine doses so far have been made in the United States, China, India, and Europe—and all have felt pressured to vaccinate their own people first.
"Once we're done with ours we'll give it to you: That argument is very much in your face and it's the subtext of the whole conversation," Menghaney says.
End point from Mark Feinberg, who heads the International Aids Vaccine Initiative:
"The challenge that's being taken on here is unprecedented: You want to vaccinate everyone on the planet. That has never been done before … You might say: If we do this in 3 years that's an accomplishment that is unprecedented in the history of the human race. But if you actually think about the tragedy that COVID is imposing, that seems like a really long, long time."
And here we are…in context of my fear stated above — 'No part of the world can feel safe if the pandemic rages on elsewhere…'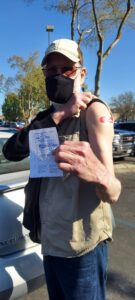 (Illustration out front: A pix of me right-after getting my first Pfizer dose in March — got the second jab less than a month later, unlike a way-shitload of people around the world).