Here we are again, another Monday and with it another book detailing the horror of the T-Rump getting way-fucking flummoxed by the COVID-19 pandemic, brushing-aside warnings with narcissistic ignorance, allowing the virus to run rampant across the US, now having killed more than 600,000-plus Americans within a short, year-and-a-half  — in irony of all slingshot, back-stabbing ironies, he believed it wasn't all the COVID cases or the dying, but because "testing is killing me:"
"Testing is killing me!" Trump reportedly exclaimed. "I'm going to lose the election because of testing! What idiot had the federal government do testing?"

"Uh, do you mean Jared?" Azar responded.

(from @yabutaleb7 and @damianpaletta's new book)https://t.co/uu85plUyuf

— Aaron Blake (@AaronBlake) June 21, 2021
If there's any kind of history to be written decades from now, unless there's a huge bout of lying or maybe mis-informed disbelief present, T-Rump won't be looked upon with any kind of positive spin — he'll rank right there with the all-great monsters, Hitler, Stalin, other lesser-known psychotic murderers and such. Although he walked into a Republican party already geared for his arrival, T-Rump closed the deal for pure chaos. In everything, which actually means, every-fucking-thing!
Including the killing of people.
And the new book, "Nightmare Scenario: Inside the Trump Administration's Response to the Pandemic That Changed History," by Washington Post journalists Yasmeen Abutaleb and Damian Paletta, is also another opus with an 'insider' viewpoint, joining a shitload ot others (one previewed just last week), though, 'Nightmare' is seemingly a way-more incubus-like tale with a terrible, genocidal-like aspect.
Some snips from a summary of 'Nightmare' at the Post earlier this morning:
In the early days of the coronavirus pandemic, as White House officials debated whether to bring infected Americans home for care, President Donald Trump suggested his own plan for where to send them, eager to suppress the numbers on U.S. soil.

"Don't we have an island that we own?" the president reportedly asked those assembled in the Situation Room in February 2020, before the U.S. outbreak would explode.
"What about Guantánamo?"

"We import goods," Trump specified, lecturing his staff.
"We are not going to import a virus."

Aides were stunned, and when Trump brought it up a second time, they quickly scuttled the idea, worried about a backlash over quarantining American tourists on the same Caribbean base where the United States holds terrorism suspects.
…
The book offers new insights about Trump as the president careened between embracing miracle coronavirus cures in his quest for good news, grappling with his own illness — which was far more serious than officials acknowledged — and fretting about the outbreak's implications for his reelection bid.

"Testing is killing me!" Trump reportedly exclaimed in a phone call to then-Health and Human Services Secretary Alex Azar on March 18, yelling so loudly that Azar's aides overheard every word.
"I'm going to lose the election because of testing! What idiot had the federal government do testing?"

"Uh, do you mean Jared?" Azar responded, citing the president's senior adviser and son-in-law, Jared Kushner.
Just five days earlier, Kushner had vowed to take charge of a national testing strategy with the help of the private sector, Abutaleb and Paletta write.
…
Public health experts contend it was inadequate testing that allowed the novel coronavirus to spread largely undetected across the United States in early 2020, making contact tracing and isolation all but impossible in the early days of the outbreak and fueling the first staggering wave of infections, hospitalizations and deaths.

Trump's rages frequently distracted senior officials and slowed the national response, the authors found, with the president touting his hunches and eventually turning to handpicked advisers including the radiologist Scott Atlas, who had no infectious-disease or public health experience.
But the book also depicts the president as ineffectual and out of touch while his health and national security officials tried to manage the worsening outbreak.
…
Trump also would call for firing Robert Kadlec, the HHS emergency preparedness chief who signed off on the Diamond Princess evacuation.
Later, he would push to replace Food and Drug Administration Commissioner Stephen Hahn when the agency chief refused to expedite vaccine approvals before the election and deferred to career FDA officials instead.

Both men would stay on for the duration of Trump's presidency, along with Anthony S. Fauci — the longtime infectious-disease expert who became a top target of Trump and his allies but whose public popularity helped insulate him.
Rather than fire Fauci, White House officials increasingly tuned out the advice from him and other top health officials, the book says, with Trump instead leaning on Kushner, an array of economic advisers and other trusted allies who lacked infectious-disease expertise.
And the ending take-away:
The authors also look back for lessons that could inform the government's response to future crises.

"One of the biggest flaws in the Trump administration's response is that no one was in charge of the response," Abutaleb and Paletta write.
"Was it Birx, the task force coordinator? Was it Pence, head of the task force? Was it Trump, the boss? Was it Kushner, running the shadow task force until he wasn't? Was it Marc Short or Mark Meadows, often at odds, rarely in sync?"

"Ultimately, there was no accountability, and the response was rudderless," they conclude.
Horrifying, you get the gist. In the 'accountability' index, T-Rump will way-most-likely never face any kind of official reckoning for what he did last year and his arrogant incompetence in dealing with the onslaught of COVID — the story will be told via after-the-fact re-telling in 'insider' books, or maybe from a judicial commission or two, but no accountable judgment/punishment will ever come forth in our lifetimes. And like his entire life, T-Rump will escape any consequences.
A glimmer of hope from the New York legal cases — no jail time, but maybe some way-steep fines — but in reality, I personally doubt it.
T-Rump and enigma of mea culpa:
"Je ne dors plus
(The time has come)
Je te desire
(The time has come)"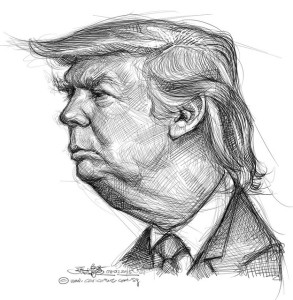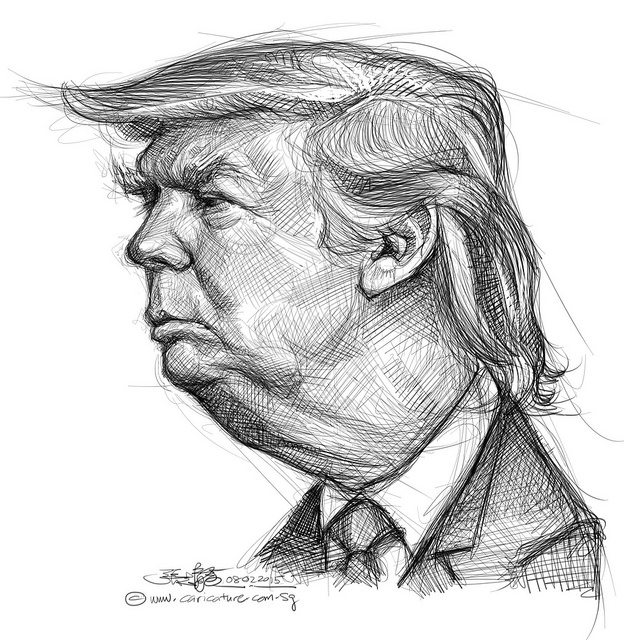 This is my favorite of the T-Rump mugs, though, 'favorite' does not mean in any form or fashion, as in, 'my favorite movie,' or 'my favorite song.'
It's more of an anti-appreciation/like.
And aptly titled, 'Basic Shapes,' by caricaturist/illustrator Chong Jit Leong (and found here), and displays the elemental form of a purloined sociopath — a bloated profile of flatulent bile and arrogant ignorance.