Starting to get warmer this mid-morning Tuesday here in Califoria's Central Valley — we're temp-wise forecast for triple-figures again by mid-afternoon, but the bad heat seems past us, for right now. Low-90s reportedly rest of the week and on into the weekend.
Added distress for my elderly-eradicated brain today is the current news on that shithead COVID-19 Delta variant, an ominous signal (Scientific American this morning):
"It is the most hypertransmissible, contagious version of the virus we've seen to date, for sure — it's a superspreader strain if there ever was one," says Eric Topol, a professor of molecular medicine and an executive vice president at the Scripps Research Institution.
The U.S. is poorly prepared, he says. Less than half of the nation's population is fully vaccinated—and that number is much lower in some states, particularly in the South and Mountain West.
"We've been warned three times by the U.K.," Topol says, referring to previous surges in early 2020 and last winter. "This time is the third warning."
An anxiety brought on by unimmunized, way-possibly-duped dullards:
With more than half of the US population still not fully vaccinated, according to the CDC, health experts and officials worry that regions with low amounts of virus protection could see surges in the fall and winter. https://t.co/WZXbK4gNVj

— CNN (@CNN) June 29, 2021
Details via CNN this morning:
The more dangerous and more transmissible Delta variant has spread to almost every state in the US, fueling health experts' concerns about Covid-19 spikes.

The variant is expected to become the dominant coronavirus strain in the US, the director of the US Centers for Disease Control and Prevention said.
And with half the US still not fully vaccinated, doctors say it could cause a resurgence of Covid-19 in the fall — just as children too young to get vaccinated go back to school.
…
But the spread of coronavirus is outpacing vaccinations, the World Health Organization said.
And the longer coronavirus spreads among unvaccinated people, the more opportunities it has to mutate into more troubling variants.
Now the Gamma variant has been shown to be more resistant to vaccines and antibody treatments.
Last week, the WHO said even those who are fully vaccinated should wear masks in places with high rates of Covid-19 spread.
Many states have not reinstated mask mandates for the upcoming school year, including New Jersey — where masks will not be required "unless the district decides to make it protocol," Gov. Phil Murphy said Monday.
But that could change if the situation gets worse, he said.
Yes, that's the perturbation — 'if the situation gets worse.'
And COVID has shown to be really shitty, though, because of vaccines, a kind of controllable shitty. Even with the key root word, 'vaccine,' there's more than physical-body health in play here — there's also the mental health angle. In Red states jabs are way down, Blue states up — lies and fright vs factual truth.
Yesterday in The New York Times on the sticking point for areas lacking vaccination:
There is a political angle to these trends, of course.
The places with the lowest vaccination rates tend to be heavily Republican.
In an average U.S. county that voted for Donald Trump, only 34-percent of people are fully vaccinated, according to New York Times data.
In an average county that voted for Joe Biden, the share is 45-percent (and the share that has received at least one shot is higher).
No wonder, then, that the number of new cases keeps falling in Biden counties, while it has begun to rise in Trump counties.
We're in a dangerous pickle. T-Rump and Republicans are killing us on many different levels.
In California, despite some high vaccination rates, Delta is already disturbing, especially down south in once-way-hit-hard LA Basin — via The LA Times last night on the issuance of a county-wide recommendation returning to wearing masks indoors — less than two weeks after a mask mandate was lifted, and the state 'opened' up:
Monday's announcement is one of the clearest signals yet of just how seriously health officials are taking the strain, and the danger it poses, particularly to those who have yet to be inoculated.

Officials have said the available vaccines appear to offer strong protection. But there's significant concern that those who have yet to receive all their required shots, or any doses at all, remain vulnerable to the Delta variant — which may be twice as transmissible as the conventional coronavirus strains.

More than 3 in 5 Californians have gotten at least one vaccine dose to date, but fewer than half are fully vaccinated, according to data from the U.S. Centers for Disease Control and Prevention. California has one of the nation's highest vaccination rates, and that has many experts confident the Delta strain won't cause the kinds of COVID-19 surges seen over the last year.

While not a new mask mandate, L.A. County is urging that, as a precaution, "people wear masks indoors in settings such as grocery or retail stores; theaters and family entertainment centers, and workplaces when you don't know everyone's vaccination status."

"Until we better understand how and to who the Delta variant is spreading, everyone should focus on maximum protection with minimum interruption to routine as all businesses operate without other restrictions, like physical distancing and capacity limits," officials wrote in a statement.
And the root of actual concern:
Of the 123 people in L.A. County confirmed to have been infected with the Delta variant thus far, 110 were unvaccinated and three were partially vaccinated. There were two hospitalizations among people in this group.

Cases involving the variant have been found in 10 fully vaccinated individuals, none of whom ended up needing hospital care.

"For the very small numbers of people that may end up in fact with a breakthrough vaccination case, they really did not have serious illness," L.A. County Public Health Director Barbara Ferrer noted last week.

At this point, she added, "This is a pandemic of unvaccinated people."
Bottom line — get fucking vaccinated!
Good endings, maybe — a somewhat optimistic note or two from the above linked Scientific American story (major personal point, I'm fully vaxxed via Pfizer):
Fortunately, vaccination appears to provide good protection against Delta—although one dose seems to offer less protection than it did against other variants.
A preprint study by Public Health England found that two doses of the Pfizer-BioNTech vaccine and two doses of the AstraZeneca vaccine were 96 percent and 92 percent effective, respectively, at preventing hospitalization in people infected with Delta.
That result is comparable to the level of protection seen against other variants.
…
Experts say the Delta variant poses a relatively low threat to fully vaccinated people.
"You should not worry at all" if you have had two doses of the Pfizer-BioNTech or Moderna vaccine, Topol says.

Less is known about how well the Johnson & Johnson vaccine protects against the Delta variant.
And immunocompromised people still need to be somewhat careful even if they are vaccinated because they may not have developed strong immunity from the vaccine.
Reports of a recent outbreak in Israel suggest that some fully vaccinated adults who had gotten the Pfizer-BioNTech vaccine were still infected, prompting the country to reimpose indoor mask mandates.

But in the very rare cases where vaccinated people have gotten COVID, the data show it is much less likely to be severe.
"We haven't seen any variant that has overridden our vaccines," Topol says.
Again, maybe with more emphasis this time — get fucking vaccinated!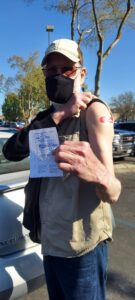 (Illustration out front: A pix of me right-after getting my first Pfizer dose in March — got the second jab less than a month later, unlike a way-shitload of people — displaying the only-real method-means to make life anywhere 'normal' again).