In the long-short run, conservatives/Republicans are destroying America on many levels, from the ballot box to the classroom, but maybe the worse strike is death — fighting the fighting of a deadly virus that's already killed more than 600,000 Americans is perhaps the most-immediate concern.
Evident in yesterday's antics at the nutjob CPAC convention in Dallas: 'On day two of the conference, Saturday, journalist and writer Alex Berenson — an outspoken anti-vaccination advocate — discussed a lack of vaccinations in the U.S., earning cheers from the crowd.'
Really mind-blowing any exhilaration at all on what is a death warrant for a shitload of people, and the normal response comes from Anthony Fausci:
Fauci calls anti-vax cheers at CPAC "horrifying" https://t.co/T5Re2bEA6T pic.twitter.com/8R099u52Y8

— Rolling Stone (@RollingStone) July 11, 2021
Fauci is baffled by the cruel nonsense — via The Daily Beast this afternoon:
During an appearance on CNN's State of the Union, Biden chief medical adviser Dr. Anthony Fauci lamented over the "inexplicable pushing back" against the vaccines from certain sections of the population.
Furthermore, he took issue with accusations that the Biden administration was going to go door-to-door to force people to get vaccinated.

"We've got to put aside this ideological difference or differences thinking that somebody is forcing you to do something," Fauci said.
"The public health officials, like myself and my colleagues, are asking you to do something that will ultimately save your life, and that of your family and that of the community."

He added: "I mean, it's ideological rigidity, I think. There's no reason not to get vaccinated."

Anchor Jake Tapper then brought up the CPAC crowd cheering on the government falling short of its vaccine goals, noting that Berenson is someone who "just says things that are not true about the vaccine" before asking Fauci for his reaction to the moment.

"It's horrifying," the U.S. National Institute of Allergy and Infectious Diseases director exclaimed.
"I mean, they are cheering about someone saying that it's a good thing for people not to try and save their lives!"

Fauci continued: "It's almost frightening to say, 'Hey, guess what? We don't want you to do something to save your life. Yay!' Everybody starts screaming and clapping. I just don't get that. I mean, and I don't think that anybody who is thinking clearly can get that. What is that all about? I don't understand that, Jake."

Tapper, meanwhile, pointed out that while conservatives are becoming increasingly hesitant to getting vaccinated, many on the other side of the political spectrum are pushing for businesses and public schools to mandate vaccines.
"I know you've been very clear that the government isn't mandating vaccines, but do you think it's generally a good idea for businesses or schools to require vaccinations?" Tapper wondered aloud.

"I have been of this opinion, and I remain of that opinion, that I do believe at the local level, Jake, there should be more mandates," Fauci replied.
"There really should be."
Yet we have a huge chunk of Americans who would fight/and/or ignore those mandates. And this entire brand is pushing lies, pure and simple, lies that are so obvious it's more than "almost frigtening" as Fauci quipped, that "anybody who is thinking clearly" would believe such shit — of course, conservatives aren't thoughful about any fucking thing.
Despite a clean, plain view of reality, this lie-thrust comes from the unhinged top:
"There was such love at that rally … the love in the air, I've never seen anything like it" — Trump has completely rewritten the history of the deadly January 6 insurrection he instigated pic.twitter.com/wpX4fvXaqT

— Aaron Rupar (@atrupar) July 11, 2021
Arrogance of lying without a twitch of care. Especiially in the face of reality: 'Calling into Maria Bartiromo's show, the former president started with his usual fibbing about crowd size — he claimed "over a million people" attended his speech at the White House just before the attack on the Capitol Building (attendees numbered closer to 30,000).'
And what the eyes see, and ears hear:
Here we are…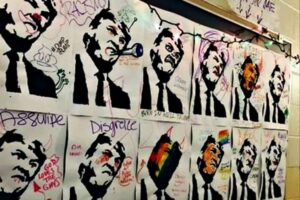 (Illustration out front is of a New York state high-school student exhibit: 'The piece was displayed during student-driven art show at Shenendehowa High School. It consisted of at least 12 identical black-and-white pictures of Donald Trump. There was also a sign above the pictures that read, "Draw on Me." Using markers from the art classroom, some students opted to scribble critical messages and profanities on the pictures' — and found here).