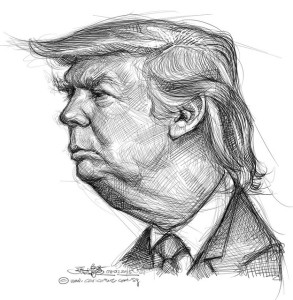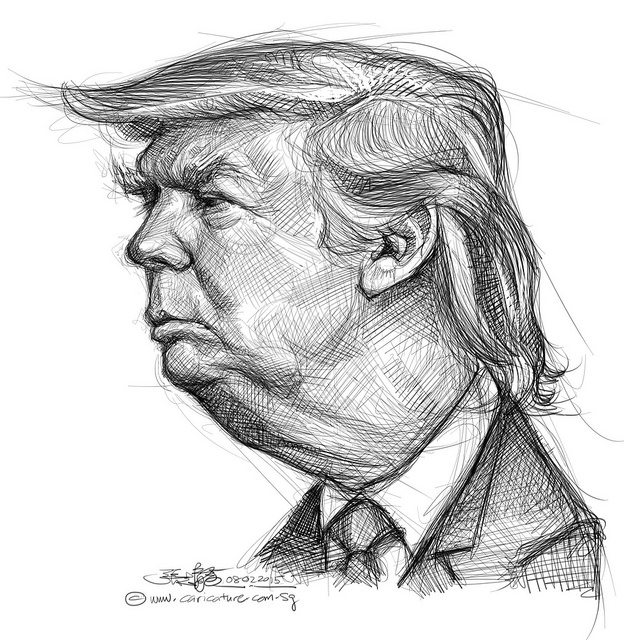 Despite being out of office/power for six months, the T-Rump continues to be a center of attention, though, all the notice is horrifying — even knowing full-well with a shitload of evidence he just might be one of the worse human beings who's ever lived, reports surface he's somehow worse.
T-Rump's mug to the left is to me the epitome of his image — aptly titled, 'Basic Shapes,' by caricaturist/illustrator Chong Jit Leong (and found here), it displays the elemental form of a purloined sociopath — a bloated profile of flatulent bile and arrogant ignorance.
And the couldn't-care-less pawn of all nefarious enterprises/operations, including Putin's Russia.
State of the T-Rump's persona is a lifetime-long creation, building from childhood, as a loutish teenager, young asshole multi-millionaire to an incredibly-dangerous piece of old-age shit with the terrible ability to cause great harm to a whole-lot of people. One wonders at America's operational status when such a dreadful person could win the Oval Office,
One partial explanation comes from the Russkies. Apparently what we'd 'figured' was true for years, was in actuality, true. Shocked — not:
Kremlin papers appear to show Putin plot to put Trump in power | First Thing https://t.co/8klAXvTIL3

— The Guardian (@guardian) July 15, 2021
In an exclusive at the Guardian this morning:
Vladimir Putin personally authorised a secret spy agency operation to support a "mentally unstable" Donald Trump in the 2016 US presidential election during a closed session of Russia's national security council, according to what are assessed to be leaked Kremlin documents.
…
Western intelligence agencies are understood to have been aware of the documents for some months and to have carefully examined them. The papers, seen by the Guardian, seem to represent a serious and highly unusual leak from within the Kremlin.

The Guardian has shown the documents to independent experts who say they appear to be genuine. Incidental details come across as accurate. The overall tone and thrust is said to be consistent with Kremlin security thinking.
The whole piece is a must-read, core psycho point: There is a brief psychological assessment of Trump, who is described as an "impulsive, mentally unstable and unbalanced individual who suffers from an inferiority complex".
And possible existence of the fabled 'pee tape,' or something just as bad:
There is also apparent confirmation that the Kremlin possesses kompromat, or potentially compromising material, on the future president, collected — the document says — from Trump's earlier "non-official visits to Russian Federation territory."
The paper refers to "certain events" that happened during Trump's trips to Moscow. Security council members are invited to find details in appendix five, at paragraph five, the document states. It is unclear what the appendix contains.
As I mentioned, go read the whole thing, although not shocking or surprising, it does piss me off. Assholes were receiving Russian assistance in so many ways, like was reported three/four years ago.
And now add all the horrid shit from a 'landslide' of books recently on the T-Rump's last year/days in office, depicting a heartless, cruel incompetent asshole without any regard for America, its citizens, or its laws. If you've been paying attention (doomscrolling) the last few weeks you're aware of all those 'insider' titles — and yes, 'landslide' was one — and the 'nightmare' the country experienced — and yes, again, there was a 'nightmare' book — yet currently not a dream from which we can easily awaken.
In just the last couple of weeks, excerpts/reviews what-not of five different books pin-pointing the horrible legacy of the T-Rump have hit the airwaves/Interwebs, and the details are sickening.
Stephen Collinson at CNN, also this morning, in an analysis of all these books notes the overriding narrative correctly:
Furthermore, Trump's behavior as depicted here is familiar from other new accounts of how a defeated President lashed out like a toppling dictator late last year.
In those books, which back up contemporary reporting, including by CNN, Trump comes across as delusional, self-pitying, desperate, angry and vindictive, seeking to save his political skin while ignoring the democratic will of voters, all while negligently refusing to deal with the real emergency — the murderous and worsening coronavirus pandemic that would claim its 400,000th victim before he left office in January.

The books and media accounts are sketching the kind of historical record that Trump's pliant Republican allies on Capitol Hill sought to prevent by killing off a bipartisan plan for an independent commission into the January 6 insurrection.
The new accounts add to a staggering anecdotal, journalistic, legal and political narrative — augmented by Trump's own public inflammatory remarks and actions — of the most aberrant and dangerous presidency of modern times and maybe ever.
And here we are.
We need a 'dead zone' worker:
Or else…