this
A major item, but lost in the endless shit-pile of all kinds of news stories — on some peripheral edge, I think maybe I'd seen a headline with the word, 'chip,' in it:
The chip shortage could fairly be described as a crisis—millions of willing consumers unable to buy, thousands of dealerships going broke because they have no inventory, hundreds of plants slowing or stopping new vehicle production. It's a huge news story—and hugely undercovered.

— Tim Alberta (@TimAlberta) July 22, 2021
Apparently, so bad: 'The Biden administration is developing plans to quickly spend $52 billion to deal with semiconductor supply issues if Congress passes a bill funding such efforts, U.S. Commerce Secretary Gina Raimondo said on Thursday.'
The 'chip problem' right now looks-like to be centered with auto manufacturing, a cause-and-effect off the COVID pandemic — good read on the subject at IEEE Spectrum from late last month — some snips:
Before we get into how the shortage will end, it's worth summing up how it began. With panic, lockdowns, and general uncertainty rolling across the globe, automakers cancelled orders.
However, those conditions meant a big fraction of the workforce recreated the office at home, purchasing computers, monitors, and other equipment. At the same time entire school systems switched to virtual learning via laptops and tablets.
And more time at home also meant more spending on home entertainment, such as TVs and game consoles. These, the 5G rollout, and continued growth in cloud computing quickly hoovered up the capacity automakers had unceremoniously freed.
By the time car makers realized people still wanted to buy their goods they found themselves at the back of the line for the chips they needed.
…
Despite the auto industry's desperation, there's no great rush to build new 200-mm fabs.
"The return on investment just isn't there," says Morales. What's more there are already many legacy-node plants in China that are not operating efficiently right now, but "at some point, they will," he says, further reducing the incentive to build new fabs.
According to the chip manufacturing equipment industry association SEMI, the number of 200-mm fabs will go from 212 in 2020 to 222 in 2022, about half the expected increase of the more profitable 300-mm fabs.
…
One potential hiccup on the road to ending the shortage is that some of the skyrocketing demand appears to be from customers that are double-ordering to bulk up on inventory, says Jim Feldhan, president of Semico Research.
"I don't know of any product that needs twice the amount of analog" as the year before, he says.
But manufacturers "don't want a 12-cent part to hold up a 4K television," so they're stocking up.
So it's just cars right now, so no worry — famous last words?
First the trucks — from The Drive yesterday:
GM will scale back production at several plants, as there simply aren't enough parts to build trucks around the clock at the moment. Flint Assembly will go down to one shift for the next week, while Fort Wayne Assembly will be idled during the same period.
Silao Assembly in Mexico will also idle next week, with all three plants hoping to return to normal operations on August 2.
The factories are responsible for building GM's full-size pickup trucks — the Chevrolet Silverado and GMC Sierra.
These make up a major portion of GM's sales each year, so the effect of the closures will be keenly felt over the coming months.
Another auto sector financial problem — the last one wasn't nice.
Meanwhile in DC, Republican shit continues. The bill Gina Raimondo spoke of above, 'CHIPS For America Act,' right now appears to be lost in the confusing, half-witted operation of Congress working to pass some kind of infrastructure plan, apparently, the chips bill is tied to that, and of course, Republicans are the hold-up.
The CHIPS act was passed as part of the National Defense Authorization Act; a measure to begin allocating the funds has passed the Senate and awaits action in the House.
Just today, a list of tech companies and manufacturers dispatched a letter to Congressional leaders (both Democrat/Republican both House/Senate) on how the 'need is urgent' to pass the chips legislation.
However, there's an idiotic rumpus on Capitol Hill right now so whatever happens legislation-wise could be a bit dicey as the drama plays itself out, though sadly, whatever will morph into a new, shiny object of chaos instigated by Republicans.
A prickly pisser is the unmitigated gall:
Every single Democrat — both in the House and the Senate — has already said that they're vaccinated. https://t.co/yvgUIDlplK

— Kyle Griffin (@kylegriffin1) July 22, 2021
Although some Republicans recently have changed their stance on vaccinations — just for show — the situation has been known for nearly three months (Mother Jones in May): The stark divide on COVID vaccinations that has embroiled the country is also apparent on Capitol Hill, where 100-percent of Democrats in the House and Senate have said they are vaccinated, while dozens of their Republican colleagues either haven't gotten a jab or refuse to talk about it.
Sucks…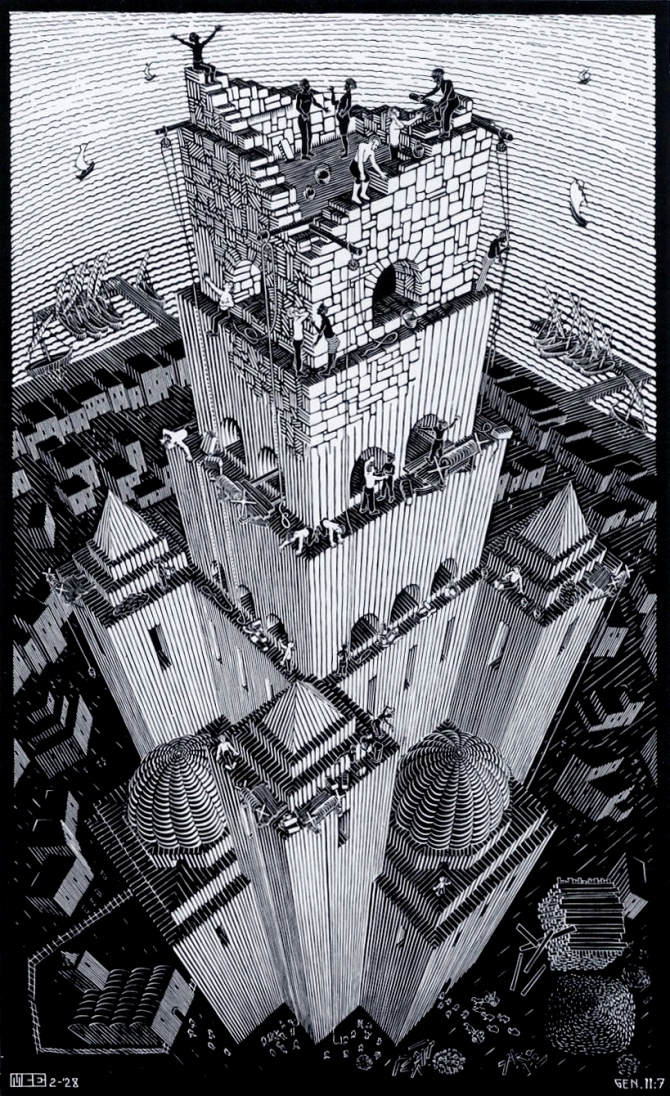 (Illustration out front: 'Tower of Babel,' a 1928 woodcut by M. C. Escher, found here)