In search of soul, the T-Rump took his Big Lie bullshit on the road today, with an appearance in Phoenix, titled as obvious as possible, "Rally to Protect Our Elections," which leaves an acid taste in the mouth when read, to hear it spoken could cause immediate, acute diarrhea.
Beyond back-slapping some Republican assholes running for office, it was the 'normal' crusade of lies piled on top of each other — first he took the stage on the drama-cheap:
An introduction befitting a president (if that president is Dwayne Elizondo Mountain Dew Herbert Camacho) https://t.co/L8v5kAC803

— Anthony Zurcher (@awzurcher) July 24, 2021
No wonder — this couple earlier outside the Arizona Federal Theatre is icing on the cake to way-dreadful irony:
As they waited in line close to the entrance, Mardi and Mickey Keilman said they're big supporters of Trump and Arizona gubernatorial candidate Kari Lake.
"We like both of their policies," Mardi Keilman said. "We're in desperate need to secure our borders. What are we supposed to do with all these people?"
…
Both Mardi and Mickey Keilman said people should also "stop listening to the fake news" and mainstream media. "I don't care if they say something bad about conservatives and Trump, but make it accurate," Mickey Keilman said.
WTF? 'Accurate?' T-Rump does absolutely nothing but lie.
Some MAGA hatters at the rally today, however, are not concerned about 'accuracy' at all:
"I love Donald Trump," Glendale resident Ashley Chalupnik said.
"Maybe I'm being silly, but I consider him family. I think he holds a lot of my values and my family's values. Christianity, supporting the Jews, just putting America first."

Several in attendance say that since Trump left office, they feel less comfortable.
And they want that comfort back, both at the national level and here in Arizona.
For them, Trump being re-elected in 2024 would go a long way towards making that happen.

"Even if I didn't believe about the election being stolen, I would still want Trump," one Trump supporter said.
"I would want our country to get back on track."
Big problem — they most-likely wouldn't react like this:
No matter what, the emperor is always wearing clothes…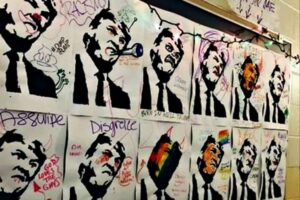 (Illustration out front is of a New York state high-school student exhibit: 'The piece was displayed during student-driven art show at Shenendehowa High School. It consisted of at least 12 identical black-and-white pictures of Donald Trump. There was also a sign above the pictures that read, "Draw on Me." Using markers from the art classroom, some students opted to scribble critical messages and profanities on the pictures' — and found here).