Serious news all day — this morning testimony/a review of a terrible-ass insurrection; while this afternoon a slide back in the struggle to get a grip on the COVID-19 virus — the former, all politics and dying, and the latter, horribly also all politics and dying.
Republicans and the T-Rump have a lot to answer for in both cases.
In the COVID shit, masks are really needed by even vaccinated people, according to the Centers For Disease Control, because of the surge of the Delta variant, which asshole ant-vaxxers, science deniers who won't get vaccinated are flooding the virus market. Our situation is now one being "a pandemic of the unvaccinated," but still way-affecting the vaccinated.
CDC Director Rochelle Walensky: "It is not a welcome piece of news that masking is going to be a part of people's lives who have already been vaccinated," Walensky acknowledged. "This new guidance weighs heavily on me."
People who live in high-transmission communities should wear masks in indoor public spaces, even if they've been vaccinated, Walensky announced this afternoon:
CDC recommends vax'd folks wear masks indoors in places with "substantial" and "high" transmission.

"Substantial": 50-100 cases per 100,000 people over seven days

"High": More than 100 cases

If your county is orange or red on this map, it would qualify. https://t.co/nYNQ0Zacms pic.twitter.com/Co1ipTUbhJ

— Dan Diamond (@ddiamond) July 27, 2021
According to the color scheme of transmission levels at the link above:  Red — high; orange — substantial; yellow — moderate; and blue — low. You see a lot of red, and small samples of blue.
Here in California's Central Valley, we're orange with a few flourishes of red. Despite being fully-vaxxed for nearly four months now, this whole time I've always worn a mask when going into any public, enclosed spaces, grocery stores, shops, what-not. This new advisory won't affect me as much it's just depressing as shit that a small, but certain slice of our citizens are shitting on everyone else who wants to get rid of this fucking pandemic.
E.J. Dionne at The Washington Post a couple of days ago sees the data having a red (as in Republican) coating:
Infuriatingly, there are still Republicans — Rep. Marjorie Taylor Greene of Georgia and Sen. Ron Johnson of Wisconsin among them — who continue to reinforce right-wing vaccine skepticism.
The doubts they and others are spreading on Fox News (even if some in Fox News's ranks, including Sean Hannity, seem to be repenting) and on other pro-Trump outlets have created a toxic vaccine gap.

Data from the Centers for Disease Control and Prevention show that as of July 23, the 20 states with the highest vaccination rates (counting the District of Columbia as a state) all voted for President Biden.
A Kaiser Family Foundation analysis of CDC data found that as of July 6, the average vaccination rate in counties that voted for Biden was 46.7-percent.
In counties that voted for Donald Trump, the vaccination rate was 35-percent.

This, sadly, should be no surprise.
An Associated Press-NORC poll released Friday found that among Democrats, only 18-percent were "not very" or "not at all" confident in the effectiveness of vaccines; among Republicans, 42-percent expressed such doubts.

Three states — Florida, Texas and Missouri — accounted for 40 percent of new covid cases last week.
It's the new political geography of sickness and death.
Although there's been a turn-around with some GQPers on getting their idiot-people vaccinated, will it be enough?
Just to be even more clear — T-Rump and his people carry a big part of our current mess. And in T-Rump, also all those insidious, right-wing news sources, Fox News, OAN, Newsmax, and so forth, which have pitched an anti-vax message and offered 'questions' on reality in the science of the COVID pandemic. Even as they try to turn the Titanic, shit doesn't work too quickly.
Especially if the shit has been on sight for a while.
Now science proves science — people who got their COVID info from T-Rump last year are anti-vaxxers and markers — via PsyPost yesterday:
New research has found that watching Donald Trump's White House briefings was associated with reduced intentions to follow public health guidelines intended stop the spread of COVID-19 in 2020.
The study, published in the journal Health Communication, indicates that the type of media that people consume during the pandemic is related to their beliefs about COVID-19.

"This study was designed at the early stage of COVID-19 when the world witnessed massive infodemic and politicization of public health issues," said study author Myojung Chung, an assistant professor of journalism and media advocacy at Northeastern University.

"In particular, even official sources were not always trustworthy, occasionally spreading ungrounded information.
The situation made us curious how health information from different media outlets or sources leads to different health perceptions and behaviors."

"This study found that depending on the main information source during the COVID-19 pandemic, people differently perceive the risk and show different levels of intentions to adopt risk preventive behaviors. Such results suggest that in times when there can be abundant false and misleading information, the importance of accurate, fair, and balanced risk information comes to the fore. Also, this study informs average news consumers of the necessity of balanced media use during public health crises like COVID-19."

Those who frequently consumed conservative media and used Trump's briefings to obtain information were less likely to view coronavirus as a severe health problem, less likely to view public health advice as effective, and less likely to view public health advice as easy to follow.
This, in turn, was associated with reduced intentions to wear a mask in public, frequently wash hands, maintain social distance from others, and stay home if feeling unwell.

"This study was conducted when Donald Trump from the Republican Party was the U.S. president. We are curious how the results would be if this study was conducted in the current administration with a Democratic president," Chung said.

Those who got their COVID-19 information from liberal media, health organizations' briefings and traditional media were more likely to view coronavirus as a severe health problem and more likely to view public health advice as easy to follow.
This, in turn, was associated with increased intentions to adopt risk preventative behaviors.
Participants who used liberal and traditional media also viewed themselves as being at greater risk of being infected by the deadly virus, while those who used social media to get information about COVID-19 perceived themselves as being less at risk.
And here we are — backsliders…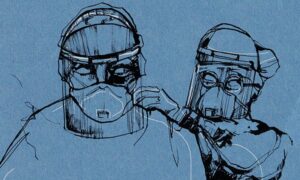 (Illustration out front: 'This Is Why Nurses Do What They Do,' by visual journalist Emily Thomas, and found here.)