Our most-immediate problem as a country right now (beyond an insurrection, coup, and bat-shit crazy conspiracies) is getting a handle on the COVID pandemic, but as with just about all the most-nagging issues it's fucking-ass Republicans.
COVID, especially the Delta variant, is a hard bitch: 'Even in California, a state with a vaccination rate well above average, the number of people hospitalized with Covid-19 has nearly doubled in the past two weeks, according to a New York Times database. The Centers for Disease Control and Prevention's map of coronavirus spread shows California bathed in orange and red, signaling the highest levels of transmission.'
A glimmer of light in there is vaccinated folks have way-less chance of serious illness, and an oft-used phrase once again from Dr. Timothy Brewer, an infectious-disease expert at UCLA: '"The good news is: The vaccines are working."'
Horror zones in the now "pandemic of the unvaccinated" and its Republica enablers:
Could have been prevented with a safe free vaccine https://t.co/o8jomIR3xT

— Molly Jong-Fast (@MollyJongFast) August 6, 2021
Texas and Florida, big red balls of deadly bullshit — Eric Lutz at Vanity Fair this morning took a look the dipshit-sized order from the two state's GQP governors — some snips:
Thanks to Ron DeSantis, the profoundly cynical and incorrigibly smug Florida governor, the Sunshine State had lead by a nose in this race to the bottom.
DeSantis has mocked public health officials as caseloads skyrocketed, pursued an idiotic offensive against Biden, and enacted rules designed to prevent mask and vaccine requirements and to forbid municipalities from instituting their own COVID safety measures.
"We think that's the most fair way to do it," DeSantis said last week, introducing an order making masks optional in schools.

But Texas, led by Greg Abbott, who has also banned local COVID ordinances, has come roaring back.
On Thursday, the state released a new guidance that somehow makes DeSantis's effort to block cruise ships from requiring vaccines seem smart: Under recommendations from the Texas Education Agency, schools do not need to conduct contract tracing and do not need to let parents know if a student has tested positive for the virus.
If a student does come into contact with an infected person, a parent can still send them to school under the new guidance.

The moves by Florida and Texas, which come as other states are tightening precautions while the delta variant surges across the country, are perhaps best described as pro-COVID.
Not only are they declining to push vaccinations, as other government and business officials are doing with increased urgency, the two governors are actively standing in the way of precautions to at least limit the spread of the virus, which they've cavalierly downplayed.
"This is our COVID season," DeSantis shrugged Thursday.
…
The Biden administration, meanwhile, may be about to take its most dramatic step yet: According to the Washington Post, the president is considering a plan to withhold federal funds from institutions, from businesses to universities, in order to compel vaccinations.
The move, which would impact millions of Americans, has the potential to reach the one-third of adults who haven't been vaccinated in a way that existing incentive programs have not. It would also reflect the gravity of the moment in a way that promising free weed for shots doesn't.
"We keep referring to this COVID thing like it's an emergency," Ezekiel Emanuel, a bioethicist at the University of Pennsylvania, told the Post, "and then we don't behave like it's a wartime emergency."
How else would you deal with such ignorant and immeasurable cruelty?
In the scheme of things, it's really a wonder that we're allowed to even advance this far — shows people can come somewhat together in a crisis, even from shitty health care systems. Despite the so-called wealth, according to a new report, the US sucks the worse in the rich-country league for health care and we've been shitty at it a long time — via The Hill today:
The U.S. health care system ranked last among 11 wealthy countries despite spending the highest percentage of its gross domestic product on health care, according to an analysis by the Commonwealth Fund.

Researchers behind the report surveyed tens of thousands of patients and doctors in each country and used data from the Organization for Economic Cooperation and Development and the World Health Organization (WHO).

The report considered 71 performance measures that fell under five categories: access to care, the care process, administrative efficiency, equity and health care outcomes.
Countries analyzed in the report include Australia, Canada, France, Germany, the Netherlands, New Zealand, Norway, Sweden, Switzerland, the United Kingdom and the U.S.

Norway, the Netherlands and Australia were the top-performing countries overall, with the U.S. coming in dead last.

The U.S. ranked last on access to care, administrative efficiency, equity and health care outcomes despite spending 17 percent of GDP on health care, but came in second on the measures of care process metric.
The nation performed well in rates of mammography screening and influenza vaccination for older Americans, as well as the percentage of adults who talked with their physician about nutrition, smoking and alcohol use.
Last graph, the bottom line for the future, too: 'The poor performance is nothing new, as the U.S. has landed in last place in all seven studies the Commonwealth Fund has released since 2004.'
And, again, here we are…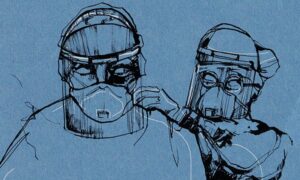 (Illustration out front: 'This Is Why Nurses Do What They Do,' by visual journalist Emily Thomas, and found here).