Forest-fire skies this late-afternoon Sunday here in California's Central Valley — brown-stained air from the wildfires south of us in the Sequoia National Park, which keeps a lid on any clean sunshine.
Reportedly, the fires (three total) are growing, but have stayed fairly-clear of the giant sequoia trees found in the park.
Meanwhile, on the lying-as-breathing Republicans continue with the overwhelming, shameless flood of lies and bullshit pouring from the T-Rump rally last night in Georgia, not only putting democracy in jeopardy, but killing thousands of Americans needlessly.
Masks, like vaccines, make a way-massive difference between living and dying. The CDC again:
School districts without masking policies are more likely to have COVID-19 outbreaks than those that require masks, according to studies released by the CDC. https://t.co/OLn65pGx0q

— Kyle Griffin (@kylegriffin1) September 26, 2021
Although this story should have been one of those 'goes-without-saying' thingies, due to the lies and misinformation and just-plain bullshit, on-the-record realities at least show proof — via The Washington Post last Friday afternoon:
The Centers for Disease Control and Prevention on Friday offered more evidence that school mask requirements can help keep children healthy and in classrooms, showing lower spikes in pediatric coronavirus cases and fewer school outbreaks in places that require them.

In an analysis of 520 U.S. counties, the CDC found that pediatric cases rose more sharply in places without school mask requirements.
And in a separate report that looked at Arizona's two most populous counties, the agency found that schools without mask requirements were 3.5 times as likely to experience an outbreak than schools with them.

Though polls show that a majority of parents support mask requirements — and despite recommendations from pediatricians and the CDC — schools remain bitterly divided over whether to implement them.
Opponents of mask mandates say parents should get to decide whether their children wear them.

The pandemic has already taken a toll on the new school year. In a third report, the CDC said more than 900,000 students in 44 states had been affected by closures between Aug. 1 and mid-September. Many schools are contending with challenges on multiple fronts, including outbreaks that force staff to quarantine and staff shortages that make it difficult to find replacements.
This won't really help stop the tide of lies about masks:
Because the data was limited to so few counties, and because it reflected all pediatric cases — and not just those of school-aged children — the agency said that "the results may not be generalizable."
Still, the agency said: "School mask requirements, along with other prevention strategies, including COVID-19 vaccination, are critical to reduce the spread of COVID-19 in schools."
…
Danny Benjamin is a pediatrics professor at Duke University who co-led the North Carolina study. He said the new CDC report, despite its limitations, represents an "a meaningful contribution" to the existing body of research.

"It's the first publication with the delta variant in American schools that compares schools with and without a mask policy," Benjamin said.
But he added that the question of whether students should wear masks in schools should be settled by now.
"To me, the question as a researcher is answered," Benjamin said.
Yet not so in real-world time — the Republican party as a whole is making COVID linger and linger, and at this speed, we'll never be able to get rid of it or keep the infection numbers way-low like the measles or polio. Indeed seemingly a death cult in the works, with the GQP killing its own people — the MAGA hatters are the ones dying. A shitload of those at T-Rump's rally last night will soon be dead — horrible but true.
Bill Schneider, an emeritus professor at the Schar School of Policy and Government at George Mason University, and author of "Standoff: How America Became Ungovernable," took a deep dive into pandemic snag-points at The Hill this morning, and guess what? T-Rump Republicans are killing us — snips:
Why is the U.S. falling behind the rest of the developed world in COVID-19 vaccinations?
As of mid-September, according to Oxford University, 63-percent of Americans had been fully or partially vaccinated. That's lower than Canada (75-percent), France (74), Italy (73), the U.K. (71), Israel (69), Germany (66) and Japan (66).

A lot of the explanation is political. In the July Kaiser Family Foundation (KFF) COVID-19 Vaccine Monitor, 86-percent of Democrats said they had received at least one shot.
Among Republicans, the figure was 54-percent. That's a huge difference between the two parties (more than 30-percent).
Education was also significant. College graduates were 81-percent vaccinated, while non-college graduates were 61-percent vaccinated — a 20-point gap.
Differences by sex and race were smaller (under 10-percent).

Two factors appear to be driving vaccine hesitancy in the U.S. — ideology and education. Less educated Americans can be described as skeptical. Conservatives are hostile.
Skepticism is diminishing as deaths continue to mount.
But ideological hostility is resistant to change. It originates in politics and can only be defeated politically, as it was this month in California.
…
Those who said they would "definitely not" be vaccinated were mostly white, male, Republican and intensely opposed to vaccination mandates.
What turns them off are "mandates" more than "vaccines."
After all, a majority of Republicans — including Donald Trump — have been vaccinated (54-percent in the July KFF survey).
They acted to protect themselves, which shows that they are not stupid.
They're just asshole liars and cruel, traits that spiked Democratic turnout for our recall election last week — health matters here on the Left Coast:
"We said yes to science," California Gov. Gavin Newsom (D) said after decisively beating the effort to recall him this month. "We said yes to vaccines. We said yes to ending the pandemic."
President Biden said in California, "This vote is a resounding win for the approach [Gov. Newsom] and I share. … Americans are unifying behind taking these steps to get the pandemic behind us."

That was true, at least in California, where Democrats outnumber Republicans by nearly 2 to 1. In the exit poll, the pandemic was the top issue to California voters, and those concerned about it voted 80 percent against recalling the governor.
Nearly two-thirds said Newsom's mandate policies were "about right" or "not strict enough."
…
Newsom defined the race as a referendum on extremism. "This is about weaponizing this office for an extreme national agenda," Newsom said.
Presumably, he was referring to the "extreme" laws Republican state governments have been passing all over the country — not just laws banning vaccination mandates and mask wearing but also laws restricting voting rights and curbing abortion rights.
Not time to be quiet:
And here we are, once again…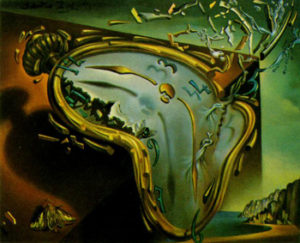 (Illustration out front: Salvador Dali's 'Soft Watch at the Moment of First Explosion,' found here).