(Topside Note: Great-big thank-you this morning from this humble, tiny blog to Tengrain [Mock, Paper, Scissors] for a shout-out at Crooks&Liars' blog line-up — super-nice way to start the day).
---
As we stare down a possible economic collapse/catastrophe due to the foolishness of a debt ceiling muck-a-muck, the violent, crazy side of right-sided society will create more of this type shit in the days ahead.
Although US Capitol Police found no weapons in an SUV illegally parked in from of the Supreme Court building, it was a bit dicey for a few minutes:
Officer Bell said the suspect told them "the time for talking was done" when the officers first approached the illegally parked car

— Haley Talbot (@haleytalbotnbc) October 5, 2021
Details via CNBC just minutes ago:
U.S. Capitol Police said Tuesday they extracted a man from an SUV parked in front of the Supreme Court building and placed him in custody.
"Everyone is safe," police said in a tweet.

The suspect, identified as Dale Paul Melvin, 55, of Kimball, Michigan, was arrested for failure to obey and assault on a police officer, police said later Tuesday.
He had previously traveled to the Capitol complex in August "and made concerning statements," police said.
The incident did not disrupt the court's proceedings, which began shortly after officers responded to the suspicious vehicle.

The SUV, a Chevy Tahoe, was illegally parked outside the Supreme Court building around 9:30 a.m. ET, USCP deputy chief Jason Bell said at a press conference later Tuesday morning.
When officers arrived, the man refused to communicate with them, though he said something to the effect of "the time for talking is done," Bell said.
Officers then "backed off" and a crisis negotiator was called in, but the suspect still refused to talk, Bell said.
The USCP closed down multiple streets on Capitol Hill as they investigated the suspicious vehicle. They advised people to stay away from the area.

Police set off a flash bang to force the man out of the vehicle, NBC News reported.
Before doing so, they reportedly issued a warning that "a loud bang may be heard in the area," but "there is no cause for alarm, and no action needs to be taken by Congressional Staff."
And as if by circumstance: 'The suspicious vehicle investigation also came just hours before a court hearing for a man, Floyd Ray Roseberry, who in August parked his pickup truck in front of the Library of Congress and claimed to be possessing explosives. The threat forced the evacuation of the Supreme Court and other buildings on Capitol Hill.'
A major source/instigator of that violent shit was the subject of a Senate hearing this morning — Facebook.
Former Facebook data scientist Frances Haugen, a whistleblower on the social media platform bullshit, told Senators what a lying, piece of shit is FB, and in no uncertain terms, too.
Per the Guardian:
Democrat Richard Blumenthal, chair of the Senate commerce subcommittee, gaveled the session in and argued that Facebook knows that its products are addictive, like cigarettes.
"Tech now faces that big tobacco jaw-dropping moment of truth," he said.

He added: "Our children are the ones who are victims. Teens today looking in the mirror feel doubt and insecurity. Mark Zuckerberg ought to be looking at himself in the mirror" — but instead, he noted, Zuckerberg was going sailing.

Haugen was a compelling witness. "I joined Facebook because I think Facebook has the potential to bring out the best in us," she said.
"But I am here today because I believe Facebook's products harm children, stoke division and weaken our democracy."

She described Facebook's lack of transparency and said it shows the need for congressional oversight.
"Almost no one outside of Facebook knows what happens inside of Facebook. The company intentionally hides vital information from the public, from the US government and from governments around the world."

The hearing was taking place just a day after an extraordinary technical glitch put Facebook offline and, somewhat humiliatingly, forced it to communicate via Twitter.

Haugen observed: "Yesterday we saw Facebook taken off the internet. I don't know why it went down, but I know that for more than five hours, Facebook wasn't used to deepen divides, destabilize democracies and make young girls and women feel bad about their bodies."

She agreed with the big tobacco analogy, noting that Facebook's own research into Instagram found children saying that it made them feel bad but they could not give it up and always craved the next click.
She also warned that Facebook's engagement-based ranking system is "fanning ethnic violence" in Ethiopia and other countries.

The mood could hardly have been more different from when Zuckerberg himself has testified before Congress, offering robotic answers that exposed members' lack of digital savvy.
Haugen observed: "There is no one currently holding Mark to account. The buck stops with Mark."

She argued that company should declare "moral bankruptcy" if it wants to seek healing and reconciliation.
Doubt that will happen.
And like the T-Rump, Zuckerburger's reality is way-self centered:
Here we are, once again…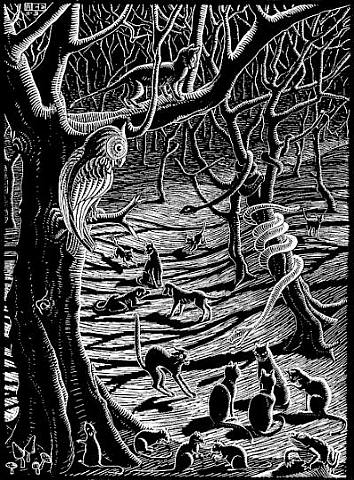 (Illustration out front: M.C Escher's 'Scholastica,' found here)