Nice early-autumn, late-afternoon Sunday here in California's Central Valley with warm sunshine and cool shade. Out in the backyard a few moments ago doing a B&M (Wine, wood-tip) break, and the ambiance comforting with family/children noises from neighbors around about, though, none all that close, but still a kind of musical normalcy.
A sense rare felt nowadays.
Weekends seem to be a run-in-place time, where shit pretty-much shuts down for a couple of days. Stuff still happens, but beyond natural disasters, Friday night thru Monday morning is a quiet zone. And in the face of the constant barrage of horror shit, maybe that's a good thing.
Yesterday I felt a bit overwhelmed and stayed off media for most of the day. Reading of chaos and calamity in real-time can get a bit depressing and disheartening, especially with climate change. There's no fucking way mankind can do much about our collapsing environment. It's going to be some big, real-bad shit probably well within a decade.
Anyway, how about some illustrious music to create a shelter from nefarious storms.
Guided by the great Annie Lennox, first teamed with the late great David Bowie in an animated rehearsal setting of Queen's "Under Pressure" — I love this version for some reason and used to listen to it at least once a day, but just heard it again yesterday after months and months. Just enjoy the vibe (original here):
That's the terror of knowing
What this world is about.
Watching some good friends screaming,
"Let me out!"
Up next, Annie's with longtime partner, Dave Stewart, in an emotional, acoustic version of their song, "Here Comes The Rain Again" — and with this one, too, listened to it a lot for a while, but then didn't. Just this morning heard it for the first time in months.
Throbs with feeling — Annie does have some pipes:
Here comes the rain again
Raining in my head like a tragedy
Tearing me apart like a new emotion
Finally, a song from one of my most-favorite groups, Enigma, and "Beyond The Invisible" — back during my coffee-shop days in the 1990s (also as a barista), I was introduced to them somewhere along the way and fell in love with their sound. Concepts of love, fantasy, and design:
Close your eyes,
Just feel and realize,
It is real and not a dream,
I'm in you and you're in me.
It is time,
To break the chains of life,
If you follow you will see,
What's beyond reality.
Meanwhile, and once again, here we are…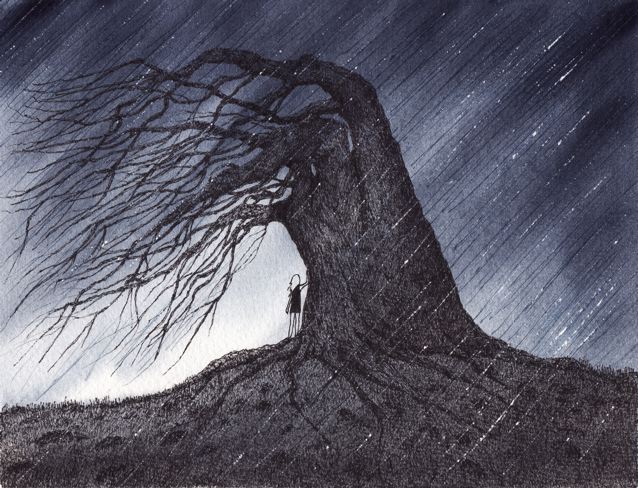 (Illustration out front: 'Shelter in the Storm," found here).