Everything is now embedded in a horrid Friday news dump — in this case today, a dump on anxiety levels from so many different angles it's shitty to contemplate.
Even in handling sorrow:
Thinking about the enormous amount of Grief we've absorbed https://t.co/IUar3edb9H

— Molly Jong-Fast (@MollyJongFast) November 5, 2021
Chad Broughton, an instructional professor in public policy at the University of Chicago, examined at The Atlantic this past Tuesday 'grief' and holding down a job while mourning the shitload of Americans who have died from the pandemic — a federal employment law emotional let-down:
The extent of our collective bereavement in the United States today is staggering. With more than 740,000 Americans dead from COVID-19, the country is grappling with an onslaught of grief.
Some 72-percent of Americans say they know someone who has been hospitalized or died from COVID-19.
And each of these deaths affects, on average, nine people, according to one study, suggesting a "bereavement burden" that could touch more than 6.6 million people.
This new reality has brought into focus how ill-equipped the American workplace is to offer support systems for those who are mourning.

The U.S. has some of the most stringent social norms of any country regarding grief, according to Alan Wolfelt, the founder and director of the Center for Loss and Life Transition.
Wolfelt calls this the "North American resolution wish," or the idea that grief can be linear, quick, and efficient. After people have only a few days off, he told me over the phone, it's time to go back to work, "buck up and carry on and keep your chin up."
And that's if a company even offers bereavement leave, which for many employers is unpaid. As a result of the pandemic, some experts forecast that the incidence of prolonged-grief disorder — grief that is persistent, pervasive, and interferes with a person's functioning—could rise dramatically.
"For many people," Wolfelt said, processing their loss has "only just begun in that first 12 months."
Yet without federal protection in the form of a standard, paid bereavement policy, grieving American workers are subject to the whims of state legislatures and individual companies.
…
Access to paid-leave benefits has also grown more inequitable over the past decade — the result of an inconsistent patchwork of policies that the pandemic has laid bare. Among the lowest 10-percent of wage earners in the country, only about 19-percent say they can access paid funeral leave if needed, according to the Bureau of Labor Statistics.
And though no one is exempt from the effects of grief — which can manifest physically and disrupt cardiovascular function, the gastrointestinal system, and concentration—low-income workers are more likely to have to work while weathering these symptoms.

President Joe Biden's "Build Back Better" plan initially proposed a national comprehensive paid-leave program, including three days for bereavement, but this provision was cut.
Cold-Coal Joe Manchin's dirty work. One turd's story amongst a shitload dropped in a Friday dump.
Song of the moment:
Nothing you would take
Everything you gave
Hold me 'til I die
Meet you on the other side
Here we are, yet once again…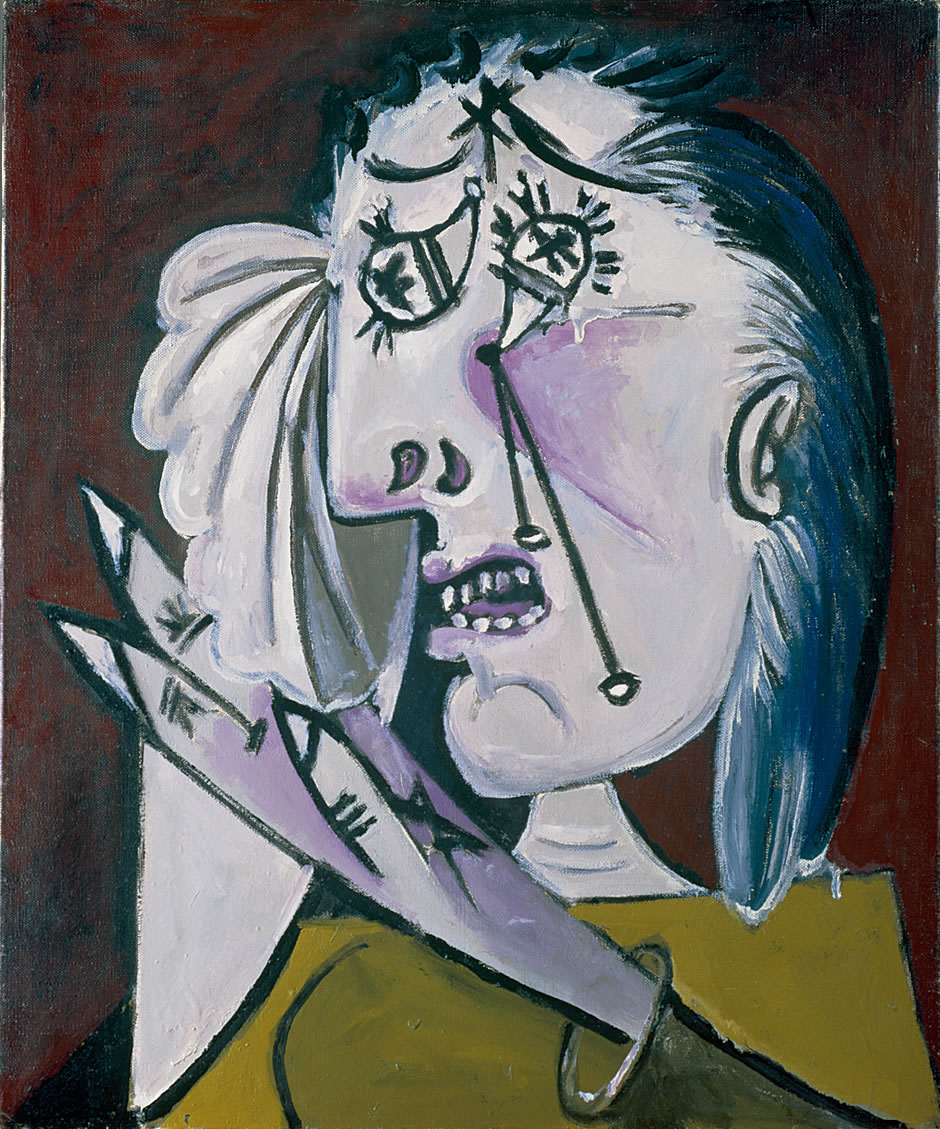 (Illustration out front: Pablo Picasso's 'The Weeping Woman [La Femme qui pleure],' found here)