Dark overcast this late-afternoon Monday here in California's Central Valley — rain maybe tonight and in the morning.
Barack Obama spoke today at the COP26 climate summit in Glasgow, Scotland, and despite being enthusiastically applauded, even he sounded a bit pessimistic, though, history was working against him.
Obama's appearance marks the years:
Global views of U.S. leadership sunk to a nadir after Trump took office in 2017, setting record lows in every one of the 13 countries polled during that period by the Pew Research Center.
So far, Biden's presidency has reversed that negative trend, but the current president still lags behind Obama in almost every nation Pew polled; 93-percent of Germans said they had confidence in Obama in his first year in office, and only 78-percent said the same of Biden now.
And the failing UN conference didn't help, neither did Obama's successor:
"Humanity has done hard things before."

During a visit at the climate conference #COP26 in Glasgow, former US President @BarackObama encouraged delegates to rise to the challenge of the climate crisis. pic.twitter.com/BfTuXSF7eK

— UN Climate Change (@UNFCCC) November 8, 2021
Obama's appearance was way-well received — story via The New York Times this afternoon:
"To be honest with ourselves, yes, this is going to be really hard," said Mr. Obama, who was welcomed with sustained applause by delegates from nearly 200 nations.
"The thing we have going for us, is that humanity has done hard things before. I believe we can do hard things again."

Mr. Obama noted that the Paris agreement, signed by 197 countries in 2015, created a framework for climate action, but nations, including the United States, failed to follow through on their commitments to keep global warming within relatively safe margins.

"Important work was done there, and important work is being done here," he said.
"That is the good news. Now, for the bad news. We are nowhere near where we need to be."

Mr. Obama's appearance at the summit was greeted with enormous enthusiasm, with a large crowd straining to catch a glimpse of the former president, phones held aloft to snap a photo as he walked into the hall.
He received a standing ovation after his address.

At each of several events, Mr. Obama emphasized the power of activism, particularly from young people, in pushing countries and companies to address the climate crisis.

"The most important energy in this movement is coming from young people," he said.
"And the reason is simple. They have more at stake in this than anybody else."

He said he understood the psychic weight carried by younger generations, and the anger that many feel about inheriting a world where storms have become more ferocious and frequent, heat waves more deadly, where species are disappearing and the future feels frightening.

"I'm the father of two daughters in their early 20s," he said.
"It's not always easy being young today. For most of your lives, if you're in that generation, you've been bombarded about what the future will look like if we don't do anything about climate change. And you've grown up watching the adults either act like the problem doesn't exist or don't do anything about it. It's a real source of anxiety and some of you no doubt wonder if you'll be safe."
He also pricked the T-Rump prick, too, and lashed out at shitheads (CNN):
But as much as Obama expressed regret for former President Donald Trump's "four years of active hostility towards climate science" and the climate denialism which defines the modern Republican Party, he expressed a deeper, broader worry that politics all over the world is falling short of what needs to be done to save the planet.
"I recognize that we're living in a moment when international cooperation has atrophied — in part because of the pandemic, in part because of the rise of nationalism and tribal impulses around the world, in part because of a lack of leadership on America's part for four years on a host of multilateral issues," Obama said.
…
Obama said that the US is reengaging with the world on climate, and he sought to convince the world that the US has stayed on track, even during the Trump years, as questions persist at the conference over how the US plans to make up for lost time.
"Of course, back in the United States, some of our progress stalled when my successor decided to unilaterally pull out of the Paris Agreement in his first year in office. I wasn't real happy about that," Obama said.
…
The former President pleaded that climate change should be the one issue which transcends politics. And Obama said he has his own doubts this is possible, which he tries to fight back.
"We are nowhere near where we need to be yet. For starters, despite the progress that Paris represented, most countries have failed to meet the action plans they set six years ago," he said.
"As I'm sure is true for all of you, there are times when I feel discouraged, when the future seems bleak, and I am doubtful that humanity can get its act together before it's too late," Obama said "And images of dystopia start creeping into my dreams. And yet, whenever I feel such despondency, I remind myself that cynicism is the recourse of cowards. We can't afford hopelessness."

Obama's appearance at an international conference is already an unusual move for a former president, as is his public criticism of "my successor" — the closest Obama came to saying Trump's name.
Also unusual is his criticism of current foreign leaders, as he called out Chinese President Xi Jinping and Russian President Vladimir Putin for skipping the COP 26 entirely.
He called that decision "particularly discouraging," adding "their national plans reflect what appears to be a dangerous absence of urgency, a willingness to maintain the status quo, on the part of both those countries."
If nothing else, it sounded good, and at least in the past few years, America had a president the world really digs.
Here's the speech:
Yet once again, here we are…
And a whisper of an Obama look-alike: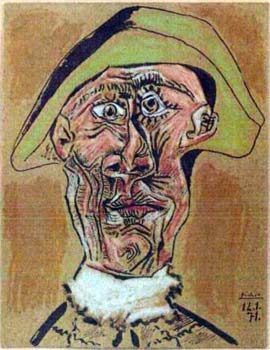 (Illustration out front: Pablo Picasso's 'Harlequin Head,' found here),