Thick overcast and looking like rain this mid-day Tuesday here in California's Central Valley — we had some last night, but none so far today, though, it appears ready to unleash a torrent at any time.
Whether how to weather the weather is the big question.
Meanwhile, way-back East and the DC circus — I'm sure you've seen this already:
In any other industry everyone involved in making and promoting this video would be fired but not in congress https://t.co/26xp1vwIrE

— Molly Jong-Fast (@MollyJongFast) November 9, 2021
Gosar is a total asshole. Even his own family can't stand the shitheel: '"I consider him a traitor to this country. I consider him a traitor to his family," Gosar's brother, Dave, a Wyoming attorney, said. "He doesn't see it. He's disgraced and dishonored himself."'
In the latest with AOC, Gosar gets worse than dangerously creepy –update via NPR this afternoon:
Critics are slamming Republican Rep. Paul Gosar of Arizona for sharing an altered anime video in which he kills Rep. Alexandria Ocasio-Cortez and swings swords at President Biden.

Gosar shared the video from both his personal and professional Twitter accounts Sunday, writing, "Any anime fans out there?" in the latter. Twitter has not removed the tweets but instead hid them from view, with users required to click on a label in order to see it.

"This Tweet violated the Twitter Rules about hateful conduct," reads the label. "However, Twitter has determined that it may be in the public's interest for the Tweet to remain accessible."
The 92-second clip appears to be an edited version of the opening credits of the Japanese manga series Attack on Titan.
AOC punched back — tweeting yesterday: '"So while I was en route to Glasgow, a creepy member I work with who fundraises for Neo-Nazi groups shared a fantasy video of him killing me … And he'll face no consequences bc [House Minority Leader Kevin McCarthy] cheers him on with excuses. Fun Monday! Well, back to work bc institutions don't protect woc."'
And then one last good, righteous jab:
This dude is a just a collection of wet toothpicks anyway.

White supremacy is for extremely fragile people &sad men like him, whose self concept relies on the myth that he was born superior because deep down he knows he couldn't open a pickle jar or read a whole book by himself

— Alexandria Ocasio-Cortez (@AOC) November 9, 2021
Bravo!
Further: Martin Pengelly writing at the Guardian's live blog this morning:
A last word, for now, on Alexandria Ocasio-Cortez and the video tweeted by Paul Gosar in which the Arizona Republican is seen, as a mocked-up anime character, to hit her, in the same form, in the back of the neck with a sword.

Joanne Freeman is a Yale historian and the author of The Field of Blood, an extremely well-regarded history of violence in Congress before the civil war.

She has become a popular talking head in the media in the last couple of years, not least around the deadly attack on the US Capitol on 6 January.

Tensions and enmities in Congress itself have not reached the pitch or depths of the 1850s, when congressmen fought duels and a senator, Charles Sumner*, was viciously attacked by a southerner in his chair in the chamber, as the US tore itself apart over slavery. But parallels are there to be found and historians like Freeman are there, on Twitter, to comment.

Regarding Gosar's tweet, Freeman wrote: "Threats of violence lead to actual violence. They clear the ground. They cow opposition. They plant the idea. They normalize it. They encourage it. They maim democracy. And run the risk of killing it."
And add this as a contextual coincident:
(Illustration: 'A supporter of Donald Trump carries a Confederate flag in the US Capitol;' Saul Loeb/AFP/Getty Images; and found here).
Pengelly continues on the pix:
*By the by, seeing as we're talking history: in the now infamous picture below (above), which shows a Capitol rioter with a Confederate battle flag in the Capitol on 6 January, the portrait looking on from the right is of Sumner, the senator from Massachusetts who was a passionate opponent of slavery.
And, as it happens, the fellow portrayed at the left is John C Calhoun, vice-president, senator from South Carolina, passionate champion of slavery and, and this is true, possible model for Captain Ahab in Herman Melville's Moby-Dick…
So there you go.
And the crazy isn't just in organized groups, like the Oath Keepers, and whatnot, but individual assholes (like Gosar) — Philip Bump at The Washington Post this morning examined the run-of-the-mill conspiracy crazies embedded within our population — main snips:
"[C]ourt records show that the vast majority of the roughly 650 people federally charged in the riot were not part of far-right groups or premeditated conspiracies to attack the Capitol. Rather, many were an array of everyday Americans that included community leaders, small-business owners, teachers and yoga instructors," that report explains.
It continues: "About 573 have no known affiliation with an extremist group, according to a Post analysis of court filings and public records as of Nov 3."

That's the pattern: people who've been misled, over and over tipping over into violence actions or language.
The mob mentality displayed at the Capitol has a mirror online, where Trump supporters and Trump himself stoke similar fury and encourage similar anger.
A PRRI poll released this month found significant overlap of belief in Trump's false claims about fraud and support for using violence to "save our country": Among the 3 in 10 Americans who think the election was stolen (a group that includes most Republicans), nearly 40-percent think that political violence might be required. That's about 1 in 9 Americans overall.
Supposedly, about 25 million people.
Shitty scary.
And here we are, once again…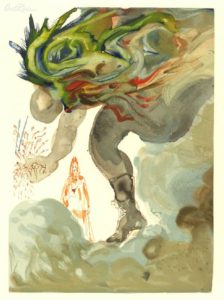 (Illustration out front: Salvador Dali's 'Hell Canto 2: Giants,' found here).