Enough shit is going on it boggles the mind, and beyond a ton of political news, I spied this tweet which seems to epitomize how we stand right now with the ludicrous game of sane vs the cruelly insane:
Is this a failure of leadership? https://t.co/LTqSvrXhiH

— Molly Jong-Fast (@MollyJongFast) November 11, 2021
In contextual leanings: Yesterday, a federal judge overturned Texas Gov. Greg Abbott's executive order prohibiting mask mandates in the state's public schools, ruling the order violated the Americans With Disabilities Act. The judge's decision came in response to a lawsuit filed in August by Disability Rights Texas (DRTx):
Kym Davis Rogers, litigation attorney at DRTx, said her organization is "thankful that school districts can now take the steps necessary to protect these students."

"No student should be forced to make the choice of forfeiting their education or risking their health," added Rogers, "and now they won't have to."
As I pondered that dumb-ass shit, Miss Emily Dickinson responded — "I felt a Funeral, in my Brain, (340)"
I felt a Funeral, in my Brain,
And Mourners to and fro
Kept treading – treading – till it seemed
That Sense was breaking through –

And when they all were seated,
A Service, like a Drum –
Kept beating – beating – till I thought
My mind was going numb –

And then I heard them lift a Box
And creak across my Soul
With those same Boots of Lead, again,
Then Space – began to toll,

As all the Heavens were a Bell,
And Being, but an Ear,
And I, and Silence, some strange Race,
Wrecked, solitary, here –

And then a Plank in Reason, broke,
And I dropped down, and down –
And hit a World, at every plunge,
And Finished knowing – then –
Well written — and speaking of dark humor, my favorite MAGA-hat slap of idiocy with a possible side-effect includes death:
Here we are, yet once again…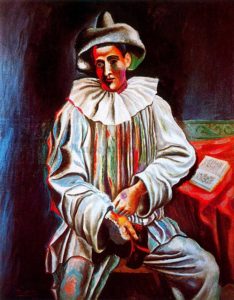 (Illustration out front: Pablo Picasso's 'Seated Pierrot,' found here).