Insane our current place in history although a time of great knowledge — a dangerous, highly-infectious disease is surging around the world and, for reasons beyond real understanding, is especially gushing here in the US (CNN this afternoon): 'They come as doctors expect the holiday coronavirus surge, driven by the highly contagious Omicron variant, to get worse following New Year's Eve. The average number of daily US Covid-19 cases on Tuesday reached 265,427 — a new pandemic high, according to data from Johns Hopkins University.'
Also as of this morning, and also from Johns Hopkins, the total US COVID deaths so far in the nearly two-year pandemic is now 821,722 (worldwide: 5,419,305) and counting onward and upward without hesitation. The surge is everywhere, even out here on the Left Coast: 'Over the weeklong period ending Sunday, California reported an average of 11,914 new coronavirus cases per day — a 73-percent jump from two weeks ago, according to data compiled by The Times.'
This COVID shit is getting serious — The New York Times, also this morning:
The World Health Organization warned on Wednesday that the ongoing circulation of the Delta variant and the emergence and rapid spread of Omicron could create a "tsunami" of infections that could overwhelm health care systems, even as top American health officials emphasized that early data showed Omicron infections producing milder illness.

"Delta and Omicron are now twin threats driving up cases to record numbers, leading to spikes in hospitalization and deaths," Dr. Tedros Adhanom Ghebreyesus, the W.H.O.'s director-general, said at a news conference in Geneva.
"I am highly concerned that Omicron, being highly transmissible and spreading at the same time as Delta, is leading to a tsunami of cases."
Scary beyond just being ominous, which leads to this chilling, way-unbelievable clip — a scenario and scene from a disaster/sci-fi movie and not real people talking monster-villain talk:
This thread ? ?? https://t.co/awodivZ9n2

— Molly Jong-Fast (@MollyJongFast) December 29, 2021
As Miss Jong-Fast recommends, click on the tweety bird to show the thread, which gets into the underbelly of a crazy, nonchalance approach to a horrible subject, as if they were bullshitting about some petty item and not a virus that's killed so freaking many people, and completely screwed-up the lives of way-so-many-more freaking people — it's disheartening and horribly terrible.
Quick nutshell via Raw Story, again this morning:
Independent reporter Talia Jane shared a video of Stephanie Denaro appearing slightly out of breath as she attends the rally in New York.

"Danny's in the hospital with Covid… I have it too," Denaro tells another person in the video.
"Why is he in the hospital?" the friend asks.
"Because he didn't go to the doctor and get it taken care of," Denaro replies.
"He's an idiot."

The friend then suggests taking ivermectin as a remedy for Covid-19.
Denaro previously gained attention earlier this year for shouting racial slurs at a bakery employee who was enforcing mask mandates.
And thus one wonders at how the brain operates in such a person — but yet it's there all along: "He's an idiot." She's talking about her husband there — not thinking at all of something like this:
How do we continue to feel empathy for such people like Stephanie Denaro? One knucklehead at a time, I guess.
Anyway, once again here we are…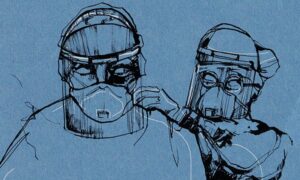 (Illustration out front: 'This Is Why Nurses Do What They Do,' by visual journalist Emily Thomas, and found here)