Life is getting a bit on the mental-breakdown side of the fencepost:
This is a stunning statistic that shows the toll of the pandemic two years in: Nearly 9 in 10 registered voters believe the US faces a mental health crisis, according to a USA TODAY/Suffolk poll https://t.co/sV1ogJtUCa via @mgroppe @sarahbishi

— Caren Bohan (@carenbohan) January 8, 2022
Details via Yahoo News this morning:
An overwhelming majority of Americans believe the U.S. is in the grips of a full-blown mental health crisis, according to a new USA TODAY/Suffolk University poll.

Nearly two years into the COVID-19 pandemic, which brought a rise in depression, anxiety, stress, addiction and other challenges, almost nine in ten registered voters believe there's a "mental health crisis" in the nation, the poll found.

While it may be rare to find such unanimity in a nation divided over so many issues, mental health experts said they're not surprised.

Shelli Avenevoli, deputy director for the National Institute of Mental Health, said mental health is top of mind for people. Even if someone isn't experiencing problems themselves, they know someone who is, she said.
"I think people are recognizing that this is more serious than just some mild feelings of depression and anxiety among a few people," Avenevoli said.
"This is pretty significant and pretty pervasive in the community."

Jared Skillings, chief of professional practice for the American Psychological Association, said the USA TODAY/Suffolk University poll shows that the mental health crisis is no longer just a discussion among academics or in elite policy circles.
"This is regular folks," he said.
He hopes that widespread concern will provide the political pressure to go beyond the short-term fixes he said have been offered so far.
"We have not seen the kind of reform and the kind of really overt prioritization that we need to see," Skillings said.
…
Robert Caraballo, a 21-year-old community college student from Massachusetts, described the past year as chaotic.
After getting COVID despite being vaccinated, Carabello felt like he was at a breaking point.
"Mentally, it was awful," said Caraballo, one of the respondents to the USA TODAY/Suffolk University poll.

He's not alone.

In 2021, more people around the world Googled "how to maintain mental health" than ever before.
Queries surged nearly 70-percent between April and May, according to Google.
…
America's mental health system has been inadequate and under-resourced for decades before rising to the level of public awareness shown in the USA TODAY/Suffolk University Poll, said Rachel Garfield, a vice president at the Kaiser Family Foundation.
She said it is "remarkable" that nearly nine out of ten adults now see mental health as a major concern for the country.
The pandemic's exacerbation of mental health issues, combined with the increased public discussion of everything from anxiety to languishing, could create a window of opportunity to address a longstanding public policy issue, Garfield said.

In the Kaiser Family Foundation's November tracking survey, more than half (53-percent) of adults continued to say the pandemic has had a negative impact on their mental health, a rate that only slightly improved as more people got vaccinated against COVID-19.
Women and younger adults have reported disproportionate impacts.

David Paleologos, director of Suffolk's Political Research Center, who had not expected such a strong response to the mental health crisis question, said elected officials would be smart to take notice — both for the good of the public and for their own political health.
"It's really a no-lose issue for our politicians and political parties," Paleologos said, "because of how strongly people across all parties believe that it's a crisis."
I don't know about the Republican side of the street — from all indications they'd rather die than get vaxxed, or show a mental breakdown of any kind. They're the twister in the toilet bowl for everything.
Yet Paleologos goes with the data (USAToday this morning): 'In this week's national poll of registered voters, 80-percent of Republicans, 91-percent of Democrats, and 93-percent of Independents said that there is a mental health crisis in the United States. I purposely used the word "crisis" in this question to only capture respondents who felt that our country's mental health situation was in dire straits — not just those who considered it another issue among many. And yet the response in the poll was still overwhelming.'
Even with those numbers, the culprits here are still Republicans — being unvaxxed in a virus-infested world will make any sane person crazy. And create anxiety attacks on the level of a Pearl Harbor.
Anyway, just let it shine down, please:
Give me a word
Give me a sign
Show me where to look
Tell me, what will I find?
What will I find?

Lay me on the ground
And fly me in the sky
Show me where to look
Tell me, what will I find?
What will I find?
Meanwhile once again, here we are…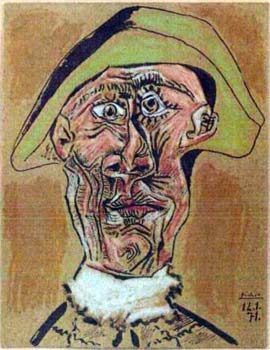 (Illustration out front: Pablo Picasso's 'Harlequin Head,' found here),