In the genre of 'no wonder,' Adam Kinzinger this morning revealed what he'd tell his newborn son about the T-Rump: '"That's going to be something I think in 5 or 10 years is going to be hard to explain, if you're not on the side of truth … I'm going to tell him he was the worst president the United States of America ever had … He was a liar. He was a charlatan … a man with a more fragile ego than anybody I've ever met … walks around like the tough guy, but he's the one that gets more offended and wounded and sad than anybody I know."'
Remember, Kinzinger along with Liz Cheney were censured last Friday by the RNC for conduct unbecoming a GOPer. Democracy aside.
Principal motion right now, however, is how deeply-embedded Republicans are into one of the worse human beings who ever lived. A terrifying, cruel and totally-illegal person. One of only two political parties in this country has morphed into nothing more than a criminal enterprise — the RNC doesn't have any kind of legislative agenda, or even a sketchy platform, unless if maybe getting power/staying in power and making money are items on the program.
T-Rump doesn't give a shit about anything except himself, and does what he wants:
Trump's habit of illegally tearing up documents was far more widespread and indiscriminate than previously known and — despite admonishments — extended throughout his presidency.

Some records were lost forever.

"It is absolutely a violation of the act."https://t.co/gmF1sEY5Wd

— Kyle Griffin (@kylegriffin1) February 7, 2022
He did it four-long years, despite being informed it was illegal:
President Donald Trump tore up briefings and schedules, articles and letters, memos both sensitive and mundane.
He ripped paper into quarters with two big, clean strokes — or occasionally more vigorously, into smaller scraps.
He left the detritus on his desk in the Oval Office, in the trash can of his private West Wing study and on the floor aboard Air Force One, among many other places.
…
And he did it all in violation of the Presidential Records Act, despite being urged by at least two chiefs of staff and the White House counsel to follow the law on preserving documents.

"It is absolutely a violation of the act," said Courtney Chartier, president of the Society of American Archivists.
"There is no ignorance of these laws. There are White House manuals about the maintenance of these records."
He thinks/believes he's above and way-beyond rules and regulations, or law.
And this morning, The Washington Post reported the T-Rump smuggled records out of the White House as he slithered away to Flordia. Idiot-criminal in charge:
The National Archives and Records Administration last month retrieved 15 boxes of documents and other items from former president Donald Trump's Mar-a-Lago residence because the material should have been turned over to the agency when he left the White House, Archives officials said Monday.

The recovery of the boxes from Trump's Florida resort raises new concerns about his adherence to the Presidential Records Act, which requires the preservation of memos, letters, notes, emails, faxes and other written communications related to a president's official duties.

Trump advisers deny any nefarious intent and said the boxes contained mementos, gifts, letters from world leaders and other correspondence.
The items included correspondence with North Korean leader Kim Jong Un, which Trump once described as "love letters," as well as a letter left for his successor by President Barack Obama, according to two people familiar with the contents.
…
"The Presidential Records Act is critical to our democracy, in which the government is held accountable by the people," Archivist of the United States David S. Ferriero said in the statement.
"Whether through the creation of adequate and proper documentation, sound records management practices, the preservation of records, or the timely transfer of them to the National Archives at the end of an Administration, there should be no question as to need for both diligence and vigilance. Records matter."
…
The Archives has struggled to cope with a president who flouted document retention requirements and frequently ripped up official documents, leaving hundreds of pages taped back together — or some that arrived at the Archives still in pieces.
Some damaged documents were among those turned over to the House select committee investigating the Jan. 6, 2021, attack on the U.S. Capitol by a pro-Trump mob.

"The only way that a president can really be held accountable long term is to preserve a record about who said what, who did what, what policies were encouraged or adopted, and that is such an important part of the long-term scope of accountability — beyond just elections and campaigns," presidential historian Lindsay Chervinsky said.
…
Rep. Stephanie Murphy (D-Fla.), a member of the Jan. 6 committee who did not have knowledge of the Mar-a-Lago transfer, said the overall records situation reflected the "unconventional nature of how this White House operated."

"That they didn't follow rules is not a shock," Murphy said.
"As for how this development relates to the committee's work, we have different sources and methods for obtaining documents and information that we are seeking."
Such an asshole.
And yet once again, here we are…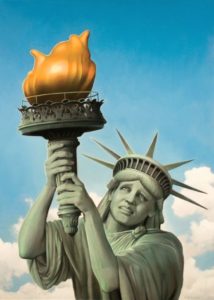 (Image out front by illustrator and portrait painter, Tim O'Brien, and can be found here).