From Agence France-Presse this morning:
North Korean troops opened fire Friday at a South Korean army post near their tense border and the South's soldiers shot back, Seoul's military said, heightening tensions of next month's G20 summit.
The North fired two bullets at a frontline guard post at 5:26 pm (0826 GMT) and South Korean soldiers immediately fired three shots in return from a machine gun, the Joint Chiefs of Staff said.
"There were no more shots afterwards.
We are now closly watching their movements," a spokesman told AFP.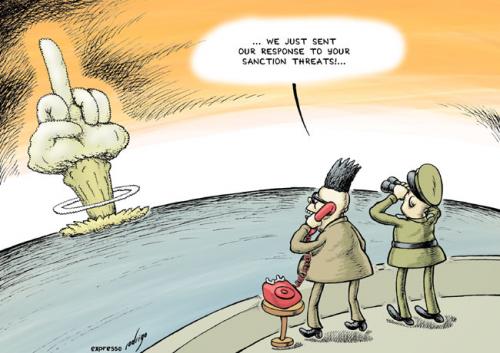 (Illustration found here).
All we need right now on this stressed-out, boiling planet is an outbreak of actual, prolonged fighting between these two freakish countries — one a progressive member of the modern world, the other a closed-nose of a military encampment belonging more to the war-like medieval ages than the right now.
This incident is part-and-parcel of a nasty on-going 50-year bickering between the two countries, but due to the sinking of a South Korean ship last March, which killed 46 sailors, the latest dust-up could get out of hand pretty quick.
And if war does break out, it would be a mess: North Korean army defectors have described how soldiers take naps in the afternoon instead of training because there is so little to eat, revealing how the country's chronic food shortage affects not just the civilian population but also the fighting forces.
On top of that, in two weeks Seoul will host the G-20 economic summit where world leaders, including U.S. President Barack Obama, will discuss the shitty state of world financial affairs.
One of the most-outlandish countries in all of history, North Korea is a complete military state, an entire country like a Middle Age castle standing alone in a field of ripen wheat — if you want, see a strange, odd-sounding video of a North Korean army parade here.
The shooting does come at an interesting time.
From the AFP story:
The first inter-Korean military talks for two years ended without progress in September after Seoul demanded an apology from Pyongyang for the warship sinking.
Pyongyang refuses to accept the findings of a multinational investigation that blamed the tragedy on a North Korean night-time attack. It says it is the victim of a smear campaign.
The communist state's military offered to hold a second round of talks on October 22. But the South rejected the offer, citing no change in the North's attitude.
The rejection of dialogue "precisely meant confrontation and war", the North's military said in a statement, adding it would "no longer feel any interest in dialogue and contact."
The term "garlic eaters," from what I gather is a derogatory term used by Japanese for Koreans.
I would call my son a 'garlic eater' because he loves the shit.
No offense intended.