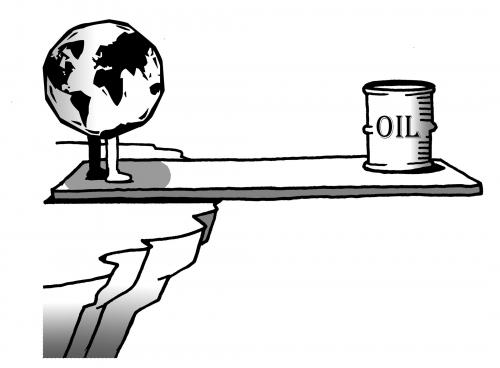 A few days ago, I put another $20 worth of gas in the old Jeep, and this time the pump price had dropped six cents since the last gas-station visit, down to $3.83 a gallon for regular.
Although prices here in northern California have dipped a bit, it's still freakin' high compared nationwide — the national average for regular this week is $3.258 a gallon, still more than 20 cents higher than the same time last year.
Meanwhile, in California the statewide average hit $3.576, up 2 cents since Dec. 19, according to the Energy Department's weekly survey of service stations. That shattered — by 28.9 cents — the old record of $3.287 a gallon set in December 2007 and was tied in December 2010.
(Illustration found here).
The price of oil — beyond the natural-technical problems — has been influenced by more swinging bullshit centered around Iran, which, in the face of new efforts by the US and the European Union to halt Iran's nuclear program, has threatened to close the most-vital Strait of Hormuz if the shit gets too deep.
Some experts Iran is bullshitting.
Maybe not — the two-mile-wide strait is much closer to Iran than just the physical: After boasting yesterday: "Shutting the strait for Iran's armed forces is … easier than drinking a glass of water," Iran's navy chief Admiral Habibollah Sayari said: "Today, we don't need [to shut] the strait because … it is completely under the control of the Islamic Republic of Iran."
A nasty set of circumstances, though, it doesn't seem to ruffle many feathers.
The US, however, will not be intimidated, and pooh poohed the possible action as an empty gesture:
However, playing down the threat, State Department spokesman Mark Toner called it as nothing more than mere "bluster."
According to Toner, this was just another attempt by Iran to draw attention away from the key issue, that of their habitual "non-compliance with international nuclear obligations," he added.
A lot of drama is being played out with this Iranian deal — the US claims it has certain "red lines" (kind of like those famous, 'line in the sand' routines) that if crossed would justify a preemptive strike on Iran's nuclear facilities, and then, the shit would really hit the fan.
Israel is the most concerned.
Jason Ditz at antiwar.com:
Officially, of course, both sides would insist such an attack was about Iran's nuclear program.
But since both nations have been claiming Iran is within striking distance of acquiring nuclear weapons since the mid-1980s, the excuse isn't going to really fly internationally, so both nations are hoping to settle on something which could be the "trigger" for the attack.
This 'trigger' ain't no horse on some happy trail.
Bluster or not…
From liveoilprices: In London, Brent crude oil futures for February 2012 delivery was trading at $107.90 a barrel, 08.03 GMT this morning on the ICE Futures Exchange.
And WTI: US Light crude oil futures for February 2012 delivery was trading at $99.53 a barrel, 07.42 GMT this morning in electronic trading on the NYMEX.
The quickly approaching new year signals even higher prices to come.
Humanity is fatally blind.
Seeking oil for energy is akin to eating poison — it tastes good and makes us feel good all over, but will kill us in a horrible, twitching death.
Talk about bat-shit crazy — the intake of this crude is making an environment already stunned near-beyond recovery even worse and apparently the glutton forces are stronger than self-preservation.
Even the so-called 'saving grace' of the Canadian tar sands oil creates a horrible future:
Extraction of Alberta's energy-intensive tar sands has expanded steadily in recent years, with about 232 square miles now exposed by mining operations.
That expansion is expected to double over the next decade, which could mean the destruction of 740,000 acres of boreal forest and a 30 percent increase in carbon emissions from Canada's oil and gas sector.
And in perspective (via DeSmogBlog): The latest tally (2008) puts Canada's GHG emissions at "only" 1.8 per cent, which is swell as long as you don't think about Canada's population amounting to just 0.004 per cent of the world's total. That makes Canada the fourth worst polluter per capita. It also makes our 34 million inhabitants the seventh largest source of CO2 among all the countries in the world – that's seventh from a list of 216 countries and jurisdictions.
And the end result?
From TreeHugger:
A new study in the Journal of Glaciology shows that the glaciers in Peru's Cordillera Blanca mountain range are melting so quickly that the water they supply to the arid region is being threatened 20-30 years earlier than expected.
Lead researcher Michel Baraer, from McGill University, told IPS News that the time needed for the region to adapt to the coming water shortages, previously thought to be decades off, "those years don't exist."
Baraer said that the glaciers feeding the Rio Santo watershed are now too small to maintain past flows of water.
During the dry season water availability is expected to be 30 percent lower than historic levels.
In the 1930s glaciers in the Cordillera Blanca covered 850 square kilometers.
Today they cover less than 600 sq km.
In a global context, the World Glacier Monitoring Service recently has said that 90 percent of the glaciers studied in its latest Glacier Mass Balance Bulletin are losing mass.
In the Himalaya, 75 percent of the glaciers there are melting; the USGS fully puts the blame on this on global warming and not other factors.
My underline for some way-emphasis — and that, my friends, ain't bluster.