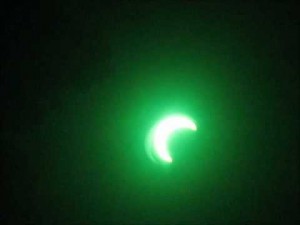 As if on cue late yesterday afternoon, a thick, moist portion of coastal fog descended upon my little stretch of northern California coastline and eliminated any view of the rare annular solar eclipse which swiped across these parts on its course from Asia.
In the quick descending fog, which filled a sunlight sky in a flash — I was watching Mick Jagger on SNL (via HULU) and loving the Jeff Beck picking-blues song cutting Mitt Romney's hair — and when I stepped out back, seemingly the show was over before it even started.
Ah, well, there's always this coming November and reportedly another solar eclipse expected to be visible over northern Australia.
Beyond the sky-bound 'ring of fire,' there were fireworks enough on ground level all over the globe during the weekend, from the posturing G8 knuckleheads/NATO wankers in the US to a 6.0 earthquake in Italy and the eruption of Fuego, or Fire, volcano in Guatemala, to Will Smith bitch slapping a Borat-like reporter who tried to give him a kiss at the Moscow premiere of Men in Black III: "He's lucky I didn't sucker punch him," Smith told his handlers, before immediately regaining his smoothest-guy-in-the-room composure.
Well, life goes on — or it ends.
Two deaths were noted this weekend — one famous and beloved, the other infamous and not-so loved.
The first was Robin Gibb, one third of the 1970s Bee Gees, who finally succumbed to cancer — and with the passing last week of Donna Summer, the last golden age of life on this planet came to an abrupt conclusion.
In retrospect, the 1970s were the last of the cool, calm and collected decades, no matter what anyone says — when Ronald Reagen beat Jimmy Carter in 1980 the '70s officially ended and we started the death-march to the nowadays.
If I'd known that in 1977 I would have — what?
The other death ain't so pretty — Abdelbaset Ali al-Megrahi, the only person convicted in the downing Pan Am Flight 103 over Lockerbie, Scotland, four days before Christmas 1988, killing all 259 people aboard and 11 others on the ground.
He was released in 2009 on "compassionate grounds" after it was found he had terminal prostate cancer.
Noted journalist Robert Fisk says although a lot of the evidence against al-Megrahi was circumstantial, he was was still a "scoundrel," adding: Cliché time: his secret dies with him.
Who gives a shit — al-Megrahi was a murderous asshole, and his boss died a most-ignoble death last year.
The best Bee Gees song for me is from their beginning, well-before the Disco era — 'I've Gotta Get A Message To You.'
I told him I'm in no hurry,
but if I broke her heart, won't you tell her I'm sorry.
And for once in my life I'm alone,
and I've got to let her know just in time before I go.
Sad, but most timely.
Happy Monday.