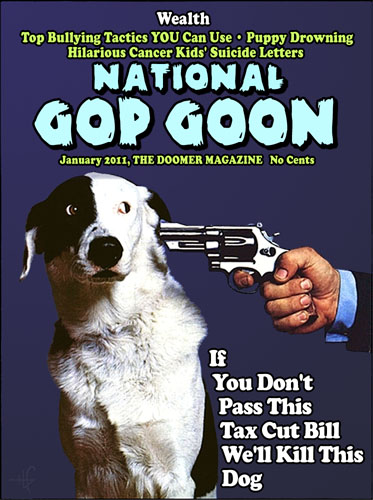 Another Monday, folks!
Up here along the northern California coast another foggy and chilly early morning with the good possibility of maybe some sunshine later on the day — weather here is unpredictably predictable.
Not so just a short space south of us where two new forest fires are threatening more than 3,500 homes and forcing thousands to evacuate Sunday night.
Just a few miles south or east, away from the coast and wham/bam, another environment all together — high temperatures and dry brush.
Not much burns where I'm located, 'cept maybe a doobie.
In the far outside world of US politics, the fires are being cooked by the GOP — they asshole together one week from today with their convention in Tampa, Fla., and talk about a nasty, lying group suck, there's nothing at all to be found there, except hypocritical hot air.
(Illustration found here).
Meanwhile, this morning the InterWebs are aflame with more Republican nasty, big-yap bullshit — Missouri's Todd Akin tied himself in fits yesterday by blubbering that it's rare fo women to get pregnant after rape: "If it's a legitimate rape, the female body has ways to try to shut that whole thing down," Akin continued. He did not provide an explanation for what constituted "legitimate rape."
WTF!
I sure don't want to see any kind of illegitimate rape!
And, of course, Akin did the infamous walk-back:
"In reviewing my off-the-cuff remarks, it's clear that I misspoke in this interview and it does not reflect the deep empathy I hold for the thousands of women who are raped and abused every year," Akin wrote.
"Those who perpetrate these crimes are the lowest of the low in our society and their victims will have no stronger advocate in the Senate to help ensure they have the justice they deserve."
I do hope Akin gets the justice he most-rightly deserves.
Akin faces Democratic Sen. Claire McCaskill in November's general election — one hopes his ass is whipped bad and then mis-speaks his way into oblivion.