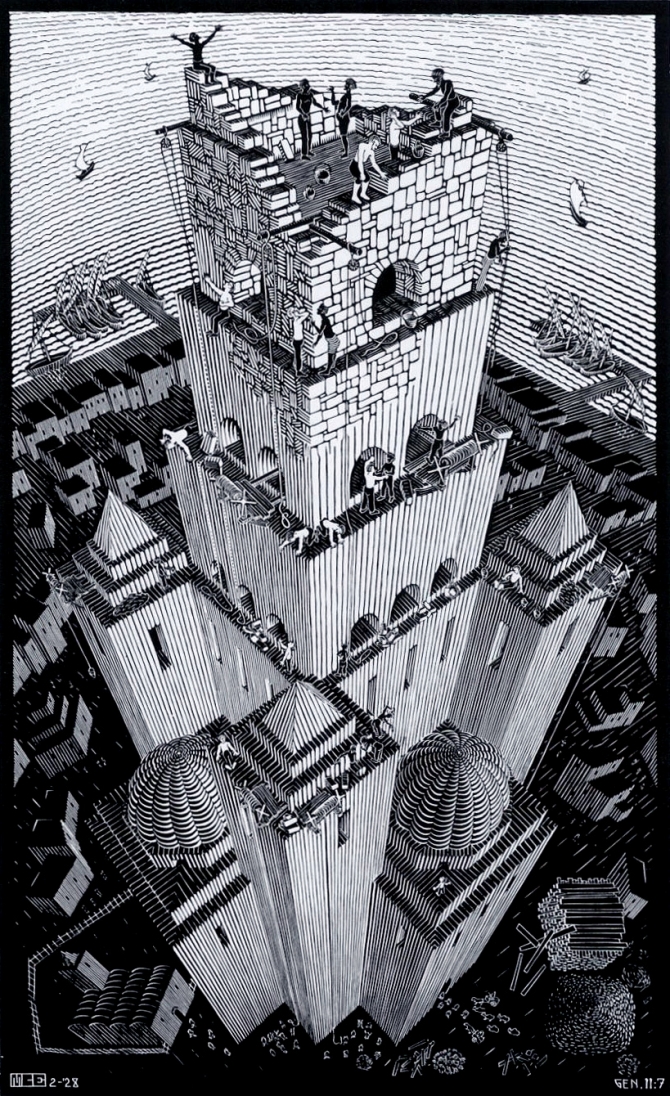 Damp, dense fog this Monday afternoon — seeming the last few days have been imbedded within a gray, gloomy blanket-like, life-portrait painted with faded light, mixed in cold air.
Weather-wise, too, our home and hearth heating warmer. Last week, the NWS revealed this has been Humboldt County's warmest winter in its recorded history. So likewise and should be no surprise, California statewide also just recorded its warmest winter ever — and into the immediate future; '"The state is already off to a large head start compared to last year…"'
Warmth off our drought seemingly continues, too, as also from last week, a study from Standford University with a keynote-takeaway of dry heat (via ArsTechnica): 'This analysis found that the statewide warming in California occurs in climate models that include both natural and human factors, but not in simulations that only include natural factors. It's a difference with a very high (0.001) level of statistical significance.'
(Illustration: MC Escher's 'Tower of Babel,' found here).
Actual real-time 'significance' is life or death.
As far as I'm concerned, as far as I can tell, climate change is one big, unrelenting motherfucker, which has been approaching in plain sight for many years, yet very few paid little if any attention until just recently — I myself didn't grasp 'significance' until 2007, just eight years ago — and not much has been done to really address the heavy-duty shit required to halt/mitigate/slow down, or whatever, the most-horrid aspects of global warming.
And thusly, humankind has now found itself jawed into one totally-fucked predicament — reality vs some dangerous bullshit.
Naomi Klein is a fairly-well known journalist, social activist and environmental writer, and a lengthy extract of her newest book, "This Changes Everything: Capitalism vs. the Climate," appeared Sunday in the Guardian, and this a noteworthy bit:
'That problem might not have been insurmountable had it presented itself at another point in our history.
But it is our great collective misfortune that the scientific community made its decisive diagnosis of the climate threat at the precise moment when those elites were enjoying more unfettered political, cultural, and intellectual power than at any point since the 1920s.'
Klein, also author of the popular, "The Shock Doctrine: The Rise of Disaster Capitalism," from a few years ago, really attempts to jostle around the most-likely scenario of mankind being fucked, though, she does recognize 'increasingly brutal disasters are headed our way no matter what we do' — optimism prevails over the land — and ponders mostly the inapt question of humanity, 'What's wrong with us?'
And thusly ended Guardian piece: 'Can we pull it off? All I know is that nothing is inevitable. Nothing except that climate change changes everything. And for a very brief time, the nature of that change is still up to us.'
She's exact-o right, though, about the really dangerous people blowing smoke — not only do Americans have to face actual, real-life climate change in their daily lives through increasingly weird weather, but also the added 'great collective misfortune' of sorry-ass, asshole Republicans blocking action.
And blowing nasty, mean-spirited shit into the collective fan.
A prime example of this nefarious public danger came this weekend on report of how Florida's state government will/has handled climate change — the term doesn't exist, so therefore, climate change doesn't exist.
The story from the Tampa Bay Times on Saturday:
"We were told not to use the terms 'climate change,' 'global warming' or 'sustainability,' " said Christopher Byrd, an attorney with the Florida Department of Environmental Protection's Office of General Counsel in Tallahassee from 2008 to 2013.
"That message was communicated to me and my colleagues by our superiors."
Kristina Trotta, a former DEP employee in Miami, said her supervisor told her not to use the terms "climate change" and "global warming" in a 2014 staff meeting.
"We were told that we were not allowed to discuss anything that was not a true fact," she said.
This unwritten policy went into effect after Gov. Rick Scott took office in 2011 and appointed Herschel Vinyard Jr. to lead the approximately 3,200-employee agency, with a budget of $1.4 billion, according to former DEP employees.
Vinyard resigned in November.
Neither he nor his successor, Scott Steverson, would comment for this report.
"DEP does not have a policy on this," Tiffany Cowie, department press secretary, wrote in an email.
Scott spokeswoman Jeri Bustamante wrote in an email: "There's no policy on this."
But former DEP employees from offices around the state say the order was well known.
"It's an indication that the political leadership is not willing to address these issues and face the music when it comes to the challenges that climate change presents," Byrd said.
…
Jim Harper was a consultant with the DEP's Coral Reef Conservation Program in Miami in 2013, writing educational material about protecting the reefs north of Miami.
"We were told not to use the term climate change," Harper said.
"The employees were so skittish they wouldn't even talk about it."
…
Trotta left her position as a field and administrative assistant in January.
She confirmed to FCIR that she was told about the policy during a staff meeting held by regional administrator Joanna Walczak in 2014.
"We were instructed by our regional administrator that we were no longer allowed to use the terms 'global warming' or 'climate change' or even 'sea level rise,'" Trotta said.
"Sea level rise was to be referred to as 'nuisance flooding.' . . . The regional administrator told us that we are the governor's agency and this is the message from the governor's office."
Climate change is indeed horribly ironic — Florida, a way-prime sea-level rise location, among other environmental maladies.
In the wild card of our 'great collective misfortune,' sarcasm of the noodle does entice dramatic irony, which works well with tragedy — in the classic sense, of course.
(Illustration out front found here).