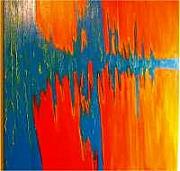 Fracturing the ground again this early evening — a little threesome-swarm of earthquakes. .
One of those was a 4.3 on the Richter scale, though, measured to be buried 6.2 miles down and about 170 miles south, southwest of where I'm sitting watching Netflix, I didn't feel shit.
Then 25 minutes later, a 3.1, centered about 60 miles southwest, but only 3.1 miles down. Apparently to get the ball rolling, a 2.9 quake about half an hour before the big one — about 10 miles closer, too, and way-down, measured at nearly 13 miles deep. (Via the USGS).
(Illustration: 'Earthquake,' by Jakara Art, found here).
Checking the earthquake site seems to help the fright — I hate quakes. And they're too close to everywhere now. On Saturday, one of the strongest quakes ever experienced in Michigan, a 4.2 and centered southeast of Kalamazoo, was felt as far away as Cleveland and Chicago.
Meanwhile, in Mississippi Saturday night, two earthquakes, a magnitude 3.2 and a second magnitude 3.0, occurred about 30 minutes apart south of Canton — there were no reports of damage or injuries, but this from journalism teacher, Terry R. Cassreino: '"My dining room table rattled."'
A rare rattle.
Although not so rare for the location, still a mother of a rattle — on Sunday, folks in the Bay Area got jolted by five earthquakes, one of those, and the swarm starter, was a 4.0 near Concord, and less than an hour later, four tiny shakers rippled the region.
From UPI:
Also Sunday, about 400 miles to the south, a 3.9-magnitude quake struck near Los Angeles just after 4 a.m. local time.
"Anyone else in LA get woken up by the earthquake at around 4am? I thought I was dreaming!" one resident tweeted.
The Los Angeles Fire Department said it briefly went into "earthquake mode" Sunday morning, performing a series of safety checks and surveys for nearly 500 square miles around the city.
No damage and no injuries were reported.
Quake talk gives me the shakes, and bit of a rattle, too…