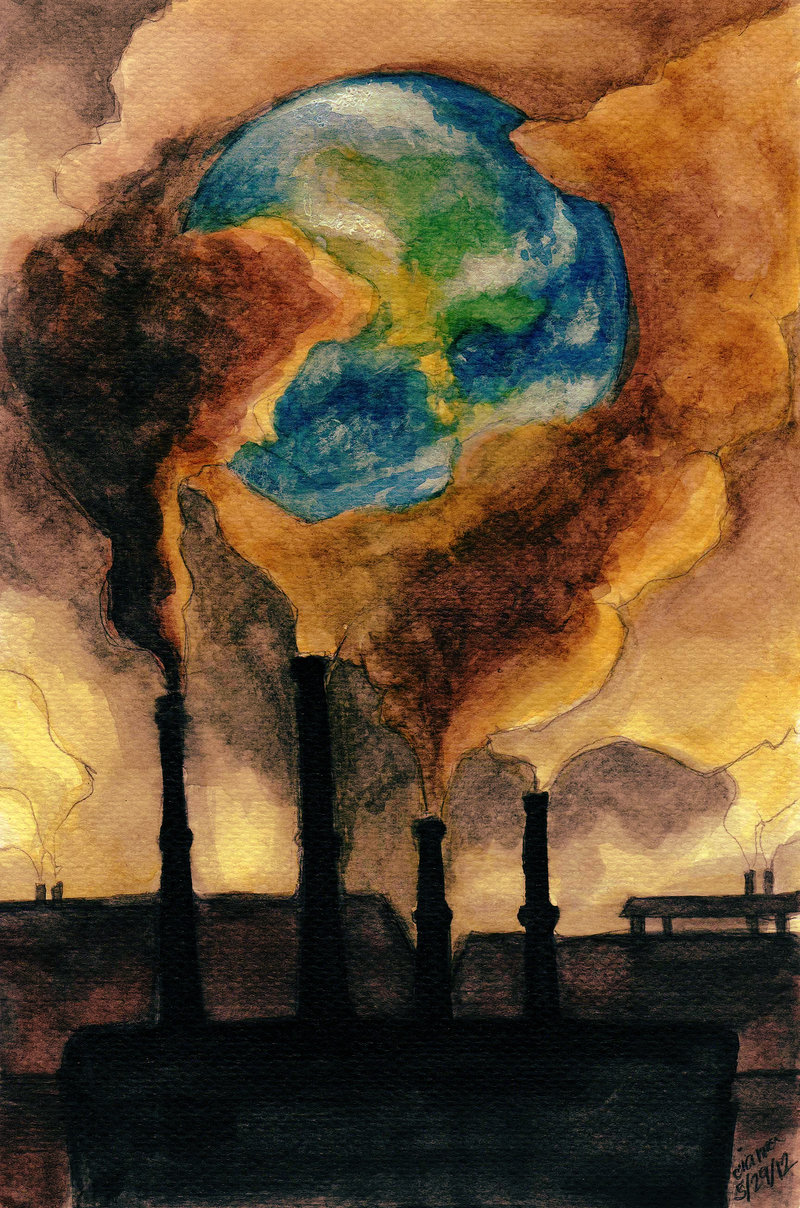 A drizzle-feel in the air this Monday morning on California's north coast, a moist marine layer that appears fairly thick coats the shoreline — from appearances earlier, a light bit of rain maybe fell during the night.
Although the NWS forecast 'this week is going to be very hot with high temperatures across interior Northwest California ranging from the upper 90s to 110,' the coast is still scheduled for the high-60s/low-70s at the same time — geography, weather and location.
And noting of which, SCOTUS giveth and SCOTUS taketh away (via the Guardian): 'The US supreme court struck down new rules for America's biggest air polluters on Monday, dealing a blow to the Obama administration's efforts to set limits on the amount of mercury, arsenic and other toxins coal-fired power plants can spew into the air, lakes and rivers.'
(Illustration found here).
Furthermore:
The 5-4 decision was a major setback to the Environmental Protection Agency (EPA), and could leave the agency more vulnerable to legal challenges from industry and Republican-led states to its other new carbon pollution rules.
The justices embraced the arguments from the industry and 21 Republican-led states that the EPA rules were prohibitively expensive and amounted to government overreach.
Except maybe not so fast — Emily Atkin this morning at Climate Progress:
However, that doesn't mean the rule is gone.
In fact, it's still in place at this very moment.
Right now, power plants are still required to limit their emissions of mercury, arsenic, chromium, and other toxins.
A spokesperson for the EPA confirmed this to ThinkProgress.
What the Supreme Court's ruling does is send the current mercury rule to the D.C. Circuit court for further consideration.
The D.C. Circuit could very well invalidate the rule.
But it could also uphold it, if the court finds more harm than good would be done by repealing it, or if the agency can offer a reasonable explanation of why costs weren't included early on in the administrative record.
The D.C. Circuit has often left rules in place under similar circumstances, according to Jim Pew, an attorney at Earthjustice who worked on the case.
"It's a narrow decision, that's a really important point," Pew told ThinkProgress by phone on Monday.
"It leaves the rule in place. It doesn't throw it out. And it leaves EPA with a lot of discretion."
Just another opening for the bat-shit crazy GOP to work their agenda against everybody…