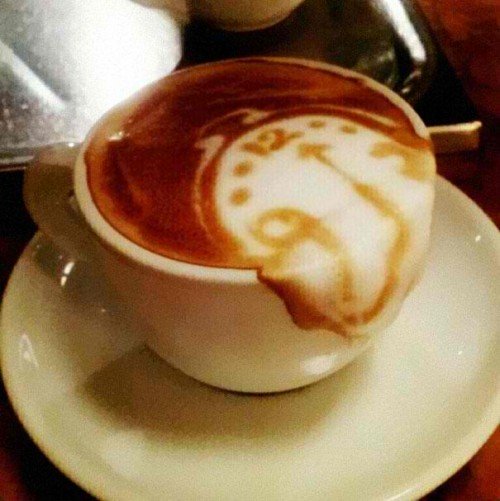 Bright sunshine and warm air this early Wednesday on California's north coast in a one-day heat wave — we might/could hit 80 degrees today, supposedly.
I doubt it, we have a shoreline wind that always keeps the temperatures down — strong indications for some decent rain and cooler by Friday.
A morning lift — coffee perks robust health, too.
From CTV News last Friday: 'A new U.S. study has found more evidence for the health-giving properties of coffee, finding that more than 2.5 cups of coffee a day can significantly decrease your risk of colorectal cancer.'
(Illustration: 'Surrealist Cup,' by Japanese Latte Artist Kazuki Yamamoto, found here).
In just the last couple of years, the old morning rouse has shifted to a more medical/health plain, beyond other being 'the' early-morning crank to the system. Research has shown caffeine aids human health, in a wide variety of places, from Type 2 Diabetes, Parkinson's disease, and dementia, the end result of '"…moderate coffee consumption can be incorporated into a healthy dietary pattern."'
Details on the latest and the advantages from coffee and colon cancer — via CancerNetwork yesterday:
In fact, compared with those who had less than 1 serving of coffee a day, participants in the study who had more than 2.5 servings had a 54 percent reduction in the odds of developing colorectal cancer, according to Stephanie L. Schmit, PhD, MPH, of USC Norris Comprehensive Cancer Center in Los Angeles, and colleagues.
"This large case–control study provides evidence of an inverse, dose–response association between coffee drinking and the odds of colorectal cancer, colon, and rectal cancer incidence," Schmit and colleagues wrote.
"The health risks of coffee consumption are low, but additional evidence is warranted before advocating for coffee consumption as a nutraceutical approach to reduce the risk of colorectal cancer."
One point in the study, though, was location:
The study took place in Northern Israel and included ethnic subgroups of Arabs, Ashkenazi Jews, and Sephardic Jews.
Participants completed a questionnaire that asked about the frequency with which they consumed coffee, decaffeinated coffee, boiled black coffee, espresso, instant coffee, or filtered coffee 1 year prior to diagnosis or the control patient interviews.
On average, participants consumed 2 servings of coffee a days.
Arab participants had the highest consumption with 3.3 servings per day, followed by Sephardic Jews with 2.1 servings, and Ashkenazi Jews with 1.8 servings.
After adjusting for known risk factors, the researchers found that coffee consumption was associated with a 26 percent decreased risk for colorectal cancer (odds ratio [OR], 0.76 [95 percent CI, 0.64–0.86]; P < .001) compared with people who did not drink coffee.
Still most-excellent news…
And keeping with coffee talk, a most-excellent 48-seconds of wonderful perk-up-ness — at a Starbucks this morning in Gainesville, Fla., where I attended the University of Florida way-long ago, a woman jumps the shit out of Gov. Rick Scott, himself a humongous heap of shit.
Via FloridaPolitics:
"You cut Medicaid so I couldn't get Obamacare," the woman, identified as former Lake Worth City Commissioner Cara Jennings, yells at Scott.
"You're an asshole. You don't care about working people. You should be ashamed to show your face around here."
…
When Scott responded that he created 1 million jobs, Jennings was less than impressed.
"A million jobs?" she answered incredulously while looking around.
"Great, who here has a great job? I was looking forward to finishing school. You really feel you have a job coming up?"
Jennings then scolded the governor for stripping money and assets of public health care.
"Shame on you Rick Scott," she added.
"We depend on those services. Rich people like you don't know what to do."
As Scott walked out the door, Jennings called him an "embarrassment to our state."
You must see the video, but probably have already — last wonderful word, apparently from someone sitting behind the woman, maybe the guy filming: '"Sweet."'
Caffeine and political cancer…