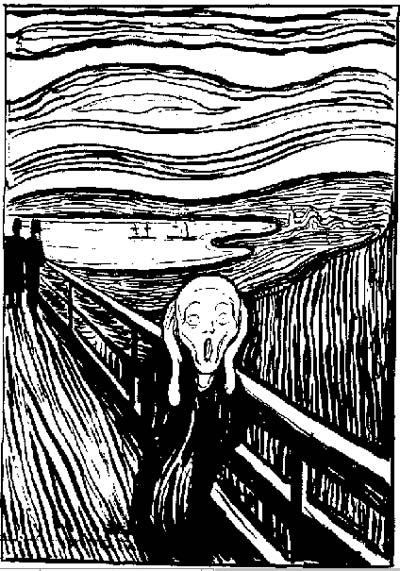 Raining again this afternoon, and again, dark and gloomy.
This morning for a spell was really nice — I was able to walk to-and-from Safeway, plus take my youngest daughter's Borgi, Kuru, for a full-blown walk (not the 'abbreviated' ones we have to take during storms), leaving both of us happy.
Now a return to the dark, Gothic goings-on in DC — even beyond the GOP's horrid ACA-replacement debacle (the Washington Post yesterday afternoon):
The Trump administration, searching for money to build the president's planned multibillion-dollar border wall and crack down on illegal immigration, is weighing significant cuts to the Coast Guard, the Transportation Security Administration and other agencies focused on national security threats, according to a draft plan.
Blind-sided by self-centered sense and sensibility…
(Illustration: Edvard Munch's 'The Scream,' lithograph version, found here).
An idiot's plan was hatched by T-Rump's version of the Office of Management and Budget (OMB), and not only the Coast Guard and TSA being gutted, but the Federal Emergency Management Agency (FEMA) — fuck me!
In the Coast Guard cuts, a security unbalance.
Further from the Post:
The Coast Guard cuts include deactivating Maritime Security Response Teams, which carry out counterterrorism patrols in ports and sensitive waterways, and canceling a contract with Huntington Ingalls Industries to build a ninth national security cutter, with a potential savings of $500 million.
Rick "Ozzie" Nelson, a former Navy helicopter pilot and national security expert with the Center for Strategic and International Studies, said that the decisions would effectively sideline the service in missions in which it could be the most effective.
"If they're not there to do it, who is there to do it?" Nelson said of port security.
"We're not going to put destroyers and frigates off the coast to protect those ports. That's a Coast Guard mission and capability."
And with the climate fucking with the weather, T-Rump is snipping nearly 20-percent off the National Oceanic and Atmospheric Administration's budget — wobble minded.
Via Scientific American, also yesterday:
The NOAA cuts, at least as they are initially laid out by the administration, would be devastating to the agency's scientific research across multiple areas, said Erika Spanger-Siegfried, a senior analyst in the climate and energy program at the Union for Concerned Scientists.
She said NOAA's satellites provide information for storm warnings, extreme weather preparation, sea-level-rise predictions and basic weather forecasting essential to the agriculture, real estate and energy industries.
She said that when an agency like NOAA absorbs substantial cuts, it could have a reverberating effect throughout all of its functions.
In sum, the horror explained by Charles P. Pierce at Esquire this afternoon:
This would be madness even under a government that wasn't so full of people invested in denying what's going on with the planet.
The climate crisis is going to bring us more bad storms, so let's gut FEMA and the Coast Guard.
The climate crisis—and the globalized society—already has produced dangerous epidemics, one of which reached as far as Houston, so let's shred the CDC, and especially the program designed to fight that very phenomenon.
And let's do it secure in the knowledge that this president thinks the climate crisis is a Chinese hoax, and that he will sign anything in front of him because he doesn't know dick about anything and because it will give him a big, beautiful wall in front of which to pose.
These really are the fcking mole people.
And we're in deep shit…