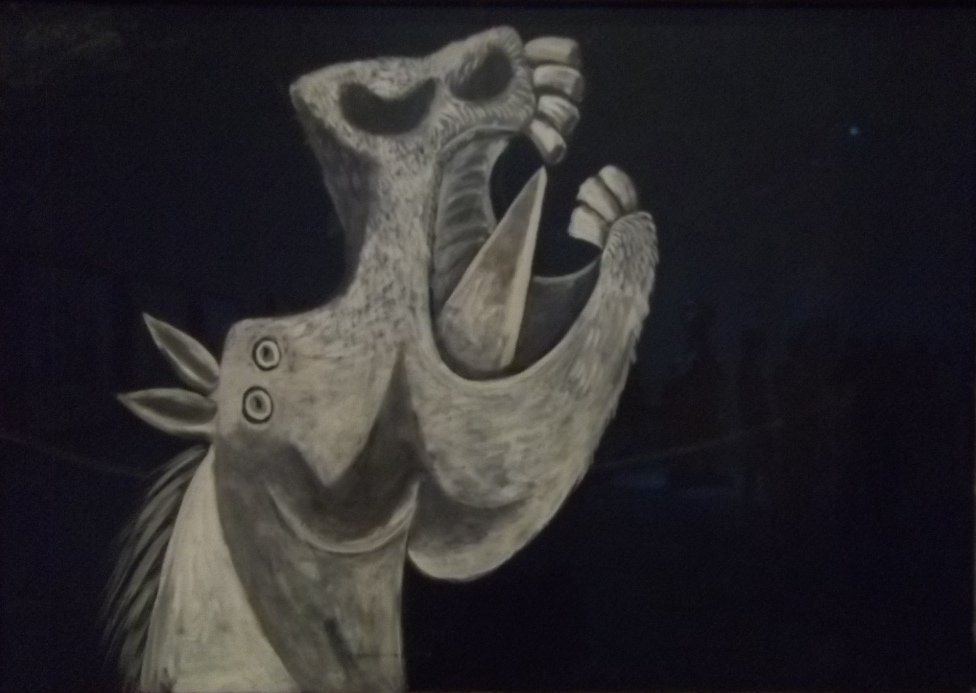 Overcast and gray this late-afternoon Friday on California's north coast — no sunshine around here today.
Although the NWS is calling for heavy-warmth this weekend (60s-to-lower-70s along the shoreline, 70s-to-lower-90s, inland), fog embedded clouds keeps us at the beach mostly-cool.
Which be cool…
Seemingly nowadays, the news cycle has become insane. And even on the notorious Friday news dump, bombs away…
(Illustration: Pablo Picasso's 'Agonizing Horse,' found here).
Current occupants of the West Wing apparently attempted some kind of foreign dumb-fuckery, as all the evidence is pointing to some serious shenanigans between the T-Rump's in-law, Jared Kushner, and the Russkies — maybe espionage.
In context of the wide-entire 'Russia thing,' a bombshell this afternoon again from the Washington Post:
Jared Kushner and Russia's ambassador to Washington discussed the possibility of setting up a secret and secure communications channel between Trump's transition team and the Kremlin, using Russian diplomatic facilities in an apparent move to shield their pre-inauguration discussions from monitoring, according to U.S. officials briefed on intelligence reports.
Ambassador Sergei Kislyak reported to his superiors in Moscow that Kushner, son-in-law and confidant to then-President-elect Trump, made the proposal during a meeting on Dec. 1 or 2 at Trump Tower, according to intercepts of Russian communications that were reviewed by U.S. officials.
Kislyak said Kushner suggested using Russian diplomatic facilities in the United States for the communications.
The meeting also was attended by Michael Flynn, Trump's first national security adviser.
…
Kushner's apparent interest in establishing a secret channel with Moscow, rather than relying on U.S. government systems, has added to the intrigue surrounding the Trump administration's relationship with Russia.
And a late punch in the Post's story via the last two graphs:
In addition to their discussion about setting up the communications channel, Kushner, Flynn and Kislyak also talked about arranging a meeting between a representative of Trump and a "Russian contact" in a third country whose name was not identified, according to the anonymous letter.
The Post reported in April that Erik Prince, the former founder of the private security firm Blackwater and an informal adviser to the Trump transition team, met on Jan. 11 — nine days before Trump's inauguration — in the Seychelles islands in the Indian Ocean with a representative of Russian President Vladimir Putin.
Cable news is eating the story alive — seems all kinds of angles from all kinds of panels on all the news outlets.
A good, near-nostalgic take on T-Rump's 'Russia thing' comes from Marvin Ott, professor at Johns Hopkins University and a Public Policy Scholar at the Woodrow Wilson Center of the Smithsonian Institution, writing today at The Ellsworth American — Read the whole thing, though, this the key: 'The strangest and arguably most ominous aspect of the current administration is the President's bizarre, determined embrace of the Kremlin.'
Most-likely in anticipation of the shitstorm/clusterfuck coming off the 'Russia thing' — this afternoon via Reuters: 'Trump's advisers are planning to establish a "war room" to combat mounting questions about communication between Russia and his presidential campaign before and after November's presidential election, while bringing new aides into the White House, administration officials and persons close to Trump told Reuters.'
Freaky-strange times…