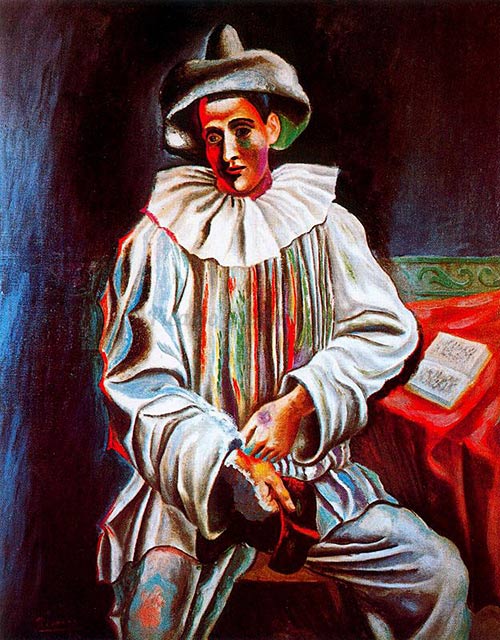 Bright and windy this late-afternoon Thursday on California's north coast, a typical weather episode this time of year — overcast-moist and chilly until late morning, then followed by another gorgeous afternoon, though, a bit blustery..
I'd like to figure, maybe this be 'early summer' (has the earmarks), but only time will forecast the future.
The T-Rump in-law, Jared Kushner, thus described (Politico): '"We're talking about a guy who isn't particularly bright or hard-working, doesn't actually know anything, has bought his way into everything ever (with money he got from his criminal father), who is deeply insecure and obsessed with fame (you don't buy the NYO, marry Ivanka Trump, or constantly talk about the phone calls you get from celebrities if it's in your nature to 'shun the spotlight'), and who is basically a shithead."'
(Illustration: Pablo Picasso's 'Seated Pierrot,' found here).
Just one of a bunch of similar stories in the Politico piece — quoted above was Harleen Kahlon, a digital-media expert hired in 2010 by Jared at the New York Observer, which he owns. He's since gutted the operation, and the 'newspaper' now is found only online.
The boy does make a good T-Rump in-law.
And this afternoon, NBC News reported the 'shithead' has come under FBI scrutiny in the Russia investigation, citing multiple U.S. officials — further:
Investigators believe Kushner has significant information relevant to their inquiry, officials said.
That does not mean they suspect him of a crime or intend to charge him.
The FBI's scrutiny of Kushner places the bureau's sprawling counterintelligence and criminal investigation not only on the doorstep of the White House, but the Trump family circle.
And that's shit on this side of the Atlantic — daddy-in-law was shaming Americans in Europe.
In his speech today at a summit with NATO allies in Brussels, the T-Rump mostly lectured representatives and acted the asshole — '"Putin will be thrilled..," said Tom Wright, the director of the Center on the United States and Europe and a fellow in the Project on International Order and Strategy at the Brookings Institution. "Unimaginable under any other president."'
The entire T-Rump saga, just a 100-plus days in, is a cringe-worthy theater of the absurd — and with a shitty, nasty-mean spirit.
A prime example was the roll-out this week of the T-Rump's budget, which in its horror, as reported, is a horrifying and cruel piece of shit.
And to focus on the reality, one of my most-favorite commentators, the always-pointed Gail Collins this morning in the New York Times nails the shit — sample snip:
We're being run like a bad Atlantic City casino.
It's only a matter of time before the government will be trying to make ends meet by selling its name to golf course developers and marketing USA Steaks.
The budget came out while Trump was overseas, talking about peace with Pope Francis, who occasionally looked as cheerful as if he was watching his car being towed away.
Meanwhile at home, the detailed presidential spending plan was being unveiled, like the magic show at a mismanaged gambling house tottering toward bankruptcy court.
There were a few, um, flaws.
For one thing, the budget appeared to count the same $2 trillion twice. We hate when a government does that.
It also presumes that a country with an aging population is going to spur economic growth by battling immigration.
And the big tax-cutting plan that is the basis of said explosive growth is still just that one-page summary the administration handed out to catcalls last month.
And it has two names.
"Well, it's called the New Foundation for American Greatness, but I wanted to call it the Taxpayer First Budget," said budget director Mick Mulvaney at the rollout.
Which do you prefer, people?
I am imagining a salesman urging his customer to buy extra supplies "so you'll be ready for the New Foundation for American Greatness."
Maybe we could just call it by the nickname it has already acquired in the outside world, Thing that Won't Add Up (TWAUP).
I sort of like TWAUP.
It sounds like a dyspeptic frog.
Read the whole thing — understated gallows humor of our current weird, dangerous age…
In leaving/passing — subject matter of Picasso's artwork above was inspired from absurd melodrama (Wikipedia): 'Pierrot Lunaire, Op. 21 ("Moonstruck Pierrot" or "Pierrot in the Moonlight"), is a melodrama by Arnold Schoenberg. It is a setting of 21 selected poems from Otto Erich Hartleben's German translation of Albert Giraud's cycle of French poems of the same name.'
Supposedly, the story of a lonely pantomime's plight as he struggles to find his way and place in the world.
And this particular set:
Pierrot of the waxen countenance
Stands musing and thinks: how shall he make-up today?
Shoves aside the rouge and the Orient green
And paints his face — sublime style
With one phantastical moonbeam.
Odd…