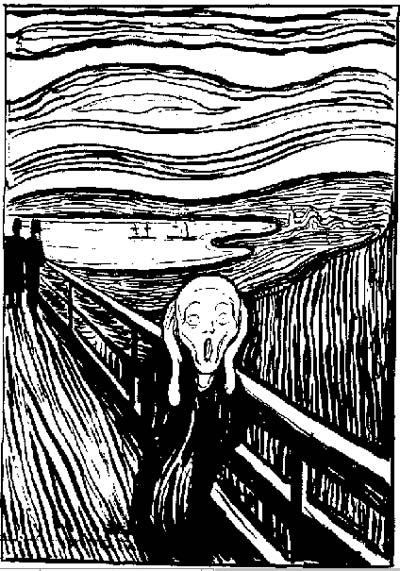 Sunny with a chilled wind this Tuesday afternoon on California's north coast — the summer's beat continues.
This morning, a short visit from an old, longtime friend, one I hadn't seen, or maybe not even talked to in more than two decades, and the experience was way-pleasant.
Odd the years, how fast they pass, and in some aspects even without your knowledge. Age creeps and then leaps.
Everyone has a narrative, a plot-line they've followed, be it good, be it bad, and the calendar doesn't wait, or even hesitates, for no man.
I haven't blogged much the last couple of months, one reason or another. One could be age, of course, that's the energy-burner in life, but yet as expressed by Miss Emily Dickinson, 'We turn not older with years, but newer every day,' comforts in the future, if you know.
Eternity coming quickly…
(Illustration: Edvard Munch's 'The Scream,' lithograph version, found here).
And flashbacks are a cornerstone of making it through that 'every day.'
One to understand growing old while retaining an ability know all kinds of shit was George Carlin, who's been dead now more than nine years — he was a reflective-commentator on the freakish stains of life.
In most-likely the 'last Interview' for Carlin, Psychology Today, June 23, 2008, came this observation on age and being aged:
I'm 71, and I've been doing this for a little over 50 years, doing it at a fairly visible level for 40.
By this time it's all second nature. It's all a machine that works a certain way: the observations, the immediate evaluation of the observation, and then the mental filing of it, or writing it down on a piece of paper.
I've often described the way a 20-year-old versus, say, a 60- or a 70-year-old, the way it works.
A 20-year-old has a limited amount of data they've experienced, either seeing or listening to the world.
At 70 it's a much richer storage area, the matrix inside is more textured, and has more contours to it.
So, observations made by a 20-year-old are compared against a data set that is incomplete.
Observations made by a 60-year-old are compared against a much richer data set. And the observations have more resonance, they're richer.
Hindsight is indeed the real teacher…