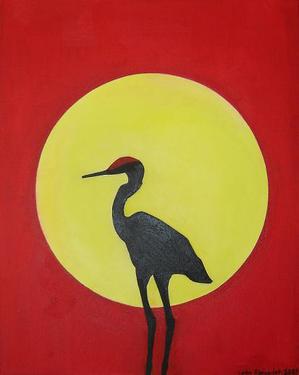 Sunshine, and Whoa! Mid-morning Saturday finds this little stretch of the northern California coast sitting at 91.1-degrees, at least according to the WunderBlog's local weather thingy, and for us, that's a-boiling.
Or just weird: the NWS has us along the shoreline under a rare 'Heat Advisory' until 7 PM today. The weather guys also suggested staying in 'an air-conditioned room,' which would be hard to find in these parts, outside a store or business.
Added attraction this coming week, maybe this season's first rain — a 35-percent forecast set right now for Wednesday.
Heat everywhere — yesterday, San Francisco hit 106-degrees, hottest day there in more than 140 years. NWS forecaster Steve Anderson noted: '"The fog, it's been obliterated, shunted about 300 miles offshore."'
(Illustration found here).
Local is always the everything — from politics to weather. Earlier this morning, taking Kuru on her AM potty run, I could tell already today would be a sweat-box. Warm with a warm breeze.
And although warmish here, just a few miles inland and the temperature is in triple-digits, and it's been that way for awhile. Records for high-temps set all over the southwest US.
Even more repugnant — the situation won't ever get better.
Good overview at San Jose's Mercury News from yesterday afternoon — main ingredients:
But climate change — the steady warming of the Earth from the burning of fossil fuels, which traps heat in the atmosphere — is making them worse.
And brutally hot weather like this weekend's heat wave is almost certain to become more commonplace in the coming decades.
"This is expected behavior. It's not some vast scientific surprise," said Ben Santer, a climate scientist in San Ramon and member of the National Academy of Sciences.
"We know that by burning fossil fuels we are increasing heat-trapping gases in the atmosphere, and that's warming the lower atmosphere and Earth's surface. The expectation has been that we are going to see more heat records, and that's what we are seeing."
The hot days are increasing:
"The fact that the Earth is warming is the most solid thing we know about climate change," said Adam Sobel, a professor of physics at Columbia University and director of its Initiative on Extreme Weather and Climate.
"So heat waves have a significant increase in probability. They are being made more probable and more intense by climate change."
California has warmed about 1.5 degrees Fahrenheit since 1895.
…
"It's like you've got a ball that's rolling down a bowling alley, and if you release it closer to the right-hand gutter, you are more likely to get a gutter ball," said Chris Field, director of Stanford University's Woods Institute for the Environment.
"We are closer to the gutter now. Sometimes you'll still get a strike, but we are tilting the tables so that we are more and more likely to get a gutter ball — in other words, more likely to get the extremely hot temperatures and less and less likely to get the cold extremes."
And at the current rates of warming, things begin to look rather alarming, experts say.
And a wrap of the reality.
In the space between writing the lede and until now — near noon — we're at 92.6-degrees.
Hot tomorrows…