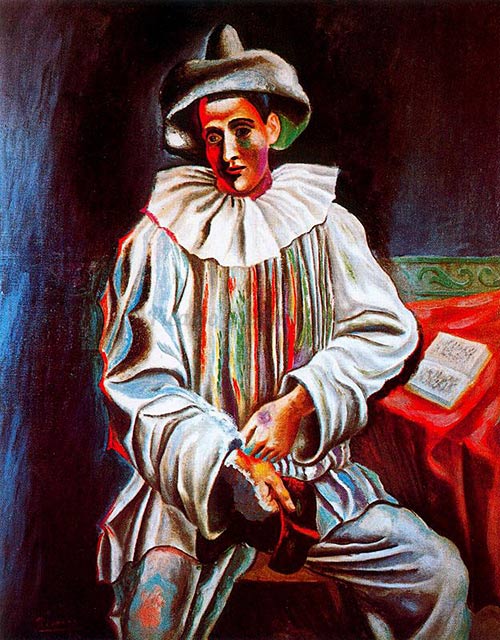 Illustration: Pablo Picasso's 'Seated Pierrot,' found here).
A small, tiny post this afternoon at one of my favorite sites, 'Lawyers,Guns&Money,' made me sad:
In the recesses of the internet, there are still people plugging away on blogs.
We are one of them!
But as one of the few independent blogs with actual readership still in existence, we know we are an endangered species.
Since no one reads blogs anymore, no one discovers what is still out there.
Online journals (blogs) were not the main topic — the above just a way of introduction: '.That's why I want to highlight this daily blog on water history. Not only is water history really important — we can't live without it after all! — but people illuminating little known parts of our past online deserve some attention. So check it out! It's pretty cool.'
Just a quick memory now as next month, 'Compatible Creatures' here will be 12-years-old — first post, April 24, 2007:
And here we are, 2,938 posts later in a way-different world of the T-Rump — a way-different 'word,' back then, too — in 2007, a three-letter one, 'war.'
Just three months earlier: 'In a nationally televised address, 'President Bush announces an additional 20,000 troops will be deployed to Baghdad to try to stem the sectarian fighting. He also says Iraq will take control of its forces and commit to a number of "benchmarks," including increasing troop presence in Baghdad and passing oil-revenue-sharing and jobs-creation plans.'
Although US casualties declined in the second half of 2007, 'The year was the deadliest for the U.S. military since the 2003 invasion, with 899 troops killed.'
'War' was topic A.
And 12 years ago, blogs were 'happenings.'
This reminiscent at Wired in December 2007:
In the 10 years since the first site known as a "weblog" went online, the blog has matured from a geek niche to the internet's dominant publishing paradigm.
Blogs have come a long way since Dec. 17, 1997, when Jorn Barger coined the term "weblog" to describe the list of links on his Robot Wisdom website that "logged" his internet wanderings.
In the decade hence, blogs have come to dominate the net, from 100 million personal diaries to the breaking news sections of the august The New York Times.
"It's the easiest, cheapest, fastest publishing tool ever invented," said Jeff Jarvis, news blogger, media pundit and director of the interactive journalism program at the City University of New York's Graduate School of Journalism.
"The people have a voice they didn't have before."
There are more than 100 million active blogs, according to Technorati — a monumental leap forward from the relative handful of geeks posting online just a few years back.
The expanding chorus of voices is shaping what we read and how we read it.
Blogs are re-shaping not just news and entertainment, but also publishing, politics and public relations.
Some blogging stats from January 2019:
According to Ahrefs, people search Google for "How to start a blog" 121,000 times per month worldwide.
That's nearly 4,000 people who consider starting a blog every day.
In fact, in the United States alone there are already over 30 million active bloggers posting at least once per month.
And that number is expected to grow to nearly 32 million by 2020. (2018, Statista)
Over 2 billion blog posts are being published each year worldwide.
That's 5,760,000 per day and 4,000 published each minute. (2018, Internet Live Stats)
And online nutcases: 'Internet users scroll through 300 feet of content per day on their social media feeds — the same height as the Statue of Liberty. (2017, American Marketing Association)'
I couldn't find any information on blog readership per se, so I don't know where the data came in that LG&M post, though, most-likely it's correct, except for the big, well-known blogs, like Daily Kos, or Balloon Juice, or Hullabaloo, or maybe Driftglass.
Except my little blog, Compatible Creatures, which is hidden in plain sight. My biggest problem is me. I don't really advertise anywhere, and I don't engage in the comments section of those blogs mentioned right above, which would increase my readership totals. I'm trying to be a loner on the InterWeb, which is ludicrous, and not getting the readers I'd like.
Writing more than journalism, a wordsmith, but dumber…
And yes indeed, that daily water blog is exceptional — This Day in Water History.