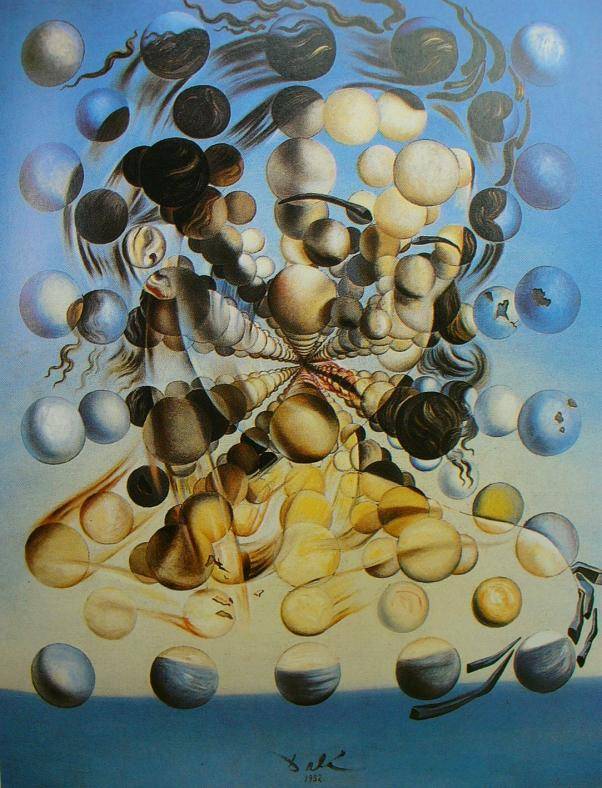 Illustration to the left, Salvador Dali's 'Galatea of the Spheres' (found here), seems appropriate for our times, a surreal DNA scattering, '…creating the illusion of three dimensions.'
A consequence of flying-apart molecules leads to becoming pissed and sad: 'According to the 2019 World Happiness Report, negative feelings are rising around the world — and the United States is particularly hard hit with an "epidemic of addictions."'
Or historical addictions just now peculating to the surface — racism, just regular-old hatred, graft, corruption, and lying, a wind-blown scattering of the supposed national DNA.
Antics of the entire T-Rump experience, wide-ranging in scope as it really is, does influence the level of any sort of 'happiness.' The US ranked 19th worldwide in that report, dropping a notch from the previous year.
Here this early-evening Tuesday on California's north coast it's bright and way-breezy. A trip out to Little River State Beach about mid-day was short, but robust — the wind fairly-gusty with a bit of chill, too, at least to me.
I'd been working on this post for awhile, with a subject I figured would be the dominating item of the day. However, as the case of late, a friend called and gave me a heads-up about another more interesting break, and a major development in the narrative, which had popped-up in late afternoon.
Via the New York Times:
Robert S. Mueller III, the special counsel, wrote a letter in late March to Attorney General William P. Barr objecting to his early description of the Russia investigation's conclusions that appeared to clear President Trump on possible obstruction of justice, according to the Justice Department and three people with direct knowledge of the communication between the two men.
The letter adds to the growing evidence of a rift between them and is another sign of the anger among the special counsel's investigators about Mr. Barr's characterization of their findings, which allowed Mr. Trump to wrongly claim he had been vindicated.
Barr is scheduled to testify tomorrow before the Senate Judiciary Committee on the whole operation, but that appointment is not set in stone — and on a similar note (Politico):
Democratic Senators called on the Justice Department's inspector general to investigate Attorney General William Barr's handling of the Mueller report.
In a Tuesday letter, led by Senate Judiciary Committee member Sen. Mazie Hirono (D-Hawaii), Democrats accused Barr of misleading the public when he issued a four-page summary of special counsel Robert Mueller report's on Russian interference in the 2016 election before releasing the full report.
Sparks are finally flying. Also the second-rated news feature of the day was one that maybe-hopefully be the first of many such cases to follow (press release this afternoon, House Intelligence Committee):
Today, the House Permanent Select on Intelligence formally referred Erik Prince to the Department of Justice for consideration of a potential criminal prosecution for false testimony that Prince provided to the Committee in 2017 as part of its investigation into Russian interference in the U.S. political process.
The report of the Special Counsel strongly indicates that Prince's testimony before the Committee was materially false.
…
In the letter to Attorney General William Barr, Chairman Adam Schiff writes:
"Special Counsel Robert S. Mueller, III's March 2019 Report on the Investigation into Russian Interference in the 2016 Presidential Election strongly indicates that Erik Prince knowingly and willfully provided materially false testimony to the House Permanent Select Committee on Intelligence in connection with the Committee's duly authorized investigation into Russian interference in the U.S. political process. …
"Mr. Prince's false statements hindered the Committee's ability to fully understand and examine foreign efforts to undermine our political process and national security, develop appropriate legislative and policy remedies to counter future malign influence operations targeting campaigns and presidential transitions, and inform the American public, as appropriate."
Prince's sister is Education Secretary Betsy DeVos — so being a shit is apparently a family problem — and has been in the ugly side of war news for a long while — some background via BusinessInsider from last week:
Blackwater founder Erik Prince's new company is reportedly operating in Iraq, a country from which his former company was banned for killing civilians.
A subsidiary of Frontier Services Group (FSG), a security and logistics company Prince founded in Hong Kong, has set up shop in Basra, Iraq, BuzzFeed News reported Saturday, citing official documents.
The subsidiary, the Dubai-based Frontier Logistics Consultancy DMCC, has officially registered as a foreign company with Iraq's Ministry of Trade, an official document from last year shows.
…
Prince, a former Navy SEAL, founded FSG with Chinese funding in 2014 after resigning as the CEO of the infamous private military company Blackwater in 2009.
Blackwater, which already had a bad reputation for suspected misconduct and fraud, was banned from Iraq in 2007 after contractors open fire on unarmed civilians in Baghdad's Nissour Square.
The team killed 14 Iraqi civilians.
And Prince's current lying spasm to Congress, in light of the Mueller Report — per the Daily Beast:
Prince said he didn't know who he was meeting on his trip to a remote Indian Ocean island in January 2017, just days before the inauguration of President Trump.
Not true.
Prince said the meeting with Kirill Dmitriev, the head of one of Russia's sovereign wealth funds, the Russian Direct Investment Fund, was a chance encounter.
Not true.
Prince said they talked mostly about minerals and energy.
Not true.
Prince denied he was acting as a Trumpworld emissary when he met with Dmitriev.
Mueller's report seems to indicate that is also not true.
…
"I didn't fly there [to the Seychelles] to meet any Russian guy," Prince insisted during his November 2017 testimony.
In an interview with CNN's Erin Burnett, Prince added that he was "there on business meeting with Emirati officials," adding that he did not remember the name of the "fund manager" he met on the island.
But Prince did know about Dmitriev before his meeting in the Seychelles, the Mueller report shows.
Days before the Seychelles meeting, Prince went to New York for "lunchtime and dinner meetings" with George Nader, an emissary of the UAE and, later, a witness in the Russia investigation.
"Nader and Prince discussed Dmitriev," the Mueller report said.
"Nader sent Prince a link to a Wikipedia entry about Dmitriev."
And, of course, creating the illusion of intelligence…