An old word badly needed for the nowadays, one I'd never heard before today, "hatriot" — this from two years ago, which went unnoticed by just about everybody:
New word suggestion: Hatriotism (HATE-TREE-A-TISM). -n.- Spreading vitriol and bigotry under the guise of national pride, Also see: hatriot.

— Aparna Nancherla (@aparnapkin) February 15, 2017
As explained at the Guardian this afternoon by Samuel G Freedman, author of eight books, a former New York Times columnist and currently a journalism professor at Columbia University.
Apparently working on another book, Freedman says he came across "hatriot" while conducting research on an old racist asshole named Gerald LK Smith:
For the mercifully uninitiated, Smith was a kind of proto-Trump in the 1930s and 1940s.
An all-purpose racist, antisemite, and Red-baiter, Smith founded the America First political party and espoused a "Christian Nationalist Crusade."
One biographer described his speeches as "a combination of high school pep rally and a Klan cross burning."
In an episode that anticipated Trump's recent rhetoric treating representatives Ilhan Omar, Alexandria Ocasio-Cortez, Rashida Tlaib, and Ayanna Pressley as disloyal foreigners and telling them to "go back home" — even though all are American citizens and all but Omar were born here — Smith told a whooping crowd, "If the Jews don't like our country, they can go back where they came from!"
As I slogged through such muck, I found a 1945 article from the New York Herald Tribune.
It recounted Smith and similarly minded demagogues trying to crash a United Nations conference in San Francisco.
Describing Smith's crew, both the headline and the story used the word "hatriots."
That term, a pithy conflation of "hate" and "patriots," struck me as perfectly suited to our current moment.
Read in the context of Smith's divisive career, the word clearly referred to people who wrap toxic intolerance in the perfumed cloak of patriotism.
…
"Hatriots" fell out of common parlance beyond the 1950s.
Despite the rising tide of Islamophobia, antisemitism and racism over the past decade, as documented by hate-crime statistics, "hatriot" has re-emerged only sporadically to characterize the contemporary right.
…
The time is overdue for the return of "hatriot" to the political vocabulary.
Words are weapons, and "hatriot" is a weapon that neatly names and describes some of the most dangerous forces on the American landscape.
Rightwingers have long known how to name-and-shame their opponents.
Think of "libtard", "feminazi" and "snowflake".
Progressives need similar ammunition.
Consider how much impact the snarky nickname and hashtag MoscowMitch has already had on Senator McConnell, providing both a slogan and a platform for trying to defeat him in 2020.
The historically accurate descriptors of the Trump movement — "white nationalism," for instance — just don't have the necessary zing.
And correctly referring to the president as racist is almost taken as a compliment by some elements of his base, proof that only Trump can speak the unutterable truth.
So it is time to revive "hatriot" and make it go viral.
"It's useful to be able to name a phenomenon, like the politics of Trump, that combines two ideas into a toxic mix," said Kenneth Stern, director of the Bard Center for the Study of Hate.
"'Hatriotism' is the perfect shorthand."
Heat-up the shit.
And horribly, a near-immediate example:
A Montana man allegedly slammed a boy's head to the ground at a county fair because the 13-year-old kept his hat on during the national anthem, a witness told local news outlets.
In a news release, Mineral County Sheriff Mike Boone said witnesses identified the suspect as 39-year-old Curt James Brockway.
Brockway was apprehended at the fairgrounds, located in the western Montana town of Superior, and charged with assault on a minor — a felony.
…
The woman said she heard a "pop," and turned to see the boy writhing on the ground.
"He was bleeding out of his ears, seizing on the ground, just not coherent," Henneck told The Missoulian.
As startled spectators closed on Brockway, Hennick said he offered a simple defense for his actions.
"He said (the boy) was disrespecting the national anthem so he had every right to do that," she added.
Police say the child was rushed to a hospital Saturday then flown to Sacred Heart Children's Hospital in Spokane, Washington.
KPAX, a CBS-affiliated news station, reports the boy suffered temporal skull fractures in the incident.
His mother told the station her son's ears bled for six hours after the alleged assault.
…
Controversy surrounding the national anthem dates back to 2016, when then-NFL star Colin Kaepernick called attention to police brutality and racial injustice by kneeling as the song played before games.
The silent protests were largely condemned by many on the political right, including President Donald Trump — who in September 2017 encouraged teams' owners to fire players who knelt during the anthem.
It was not clear whether Brockway had an attorney, though he was scheduled to be released on his own recognizance Tuesday.
The Missoulian reports that he was charged with assault with a weapon in 2010, resulting in a 10-year probation sentence.
Another "hatriot" to the resue…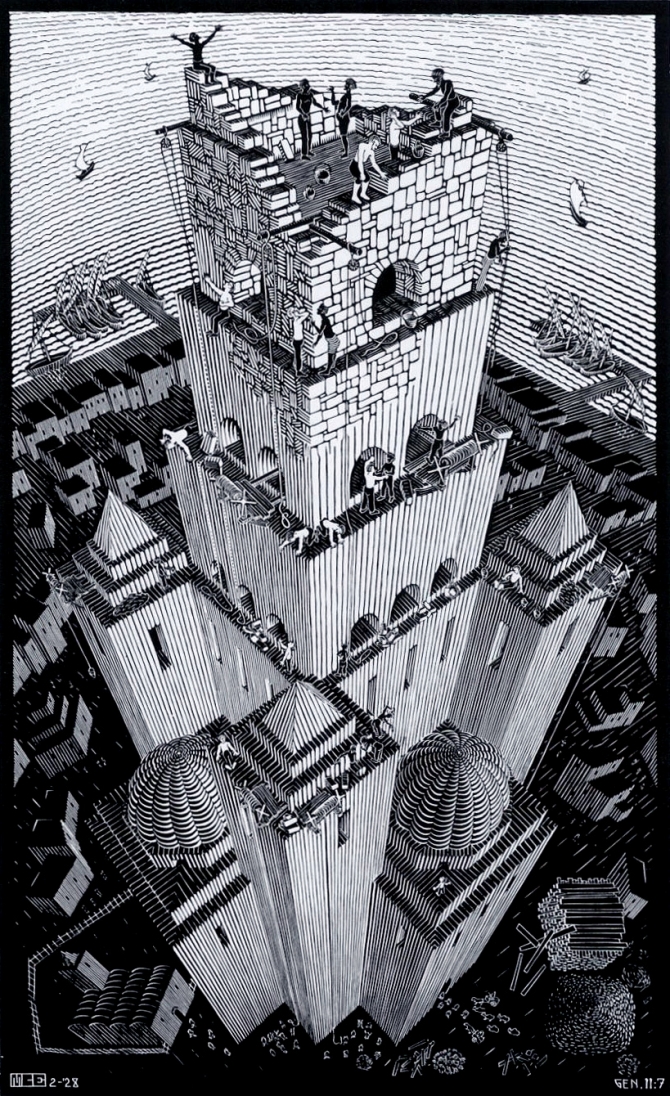 (Illustration: M.C. Escher's 'Tower of Babel,' found here).