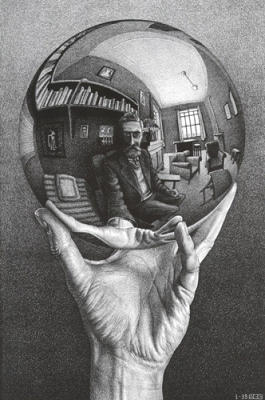 Gorgeous Wednesday here on California's north coast — a dog run at Little River State Park in the AM was picture-perfect with just a hint of mist north-and-south far-off down the beach.
Warm today, too, bordering on hot, at least for us along the shoreline.
Heavy news the last couple of days, a spark of invention in correcting the horror of the T-Rump, who is politics right now, and politics is making us sick:
Nearly 40-percent of Americans surveyed for the study said politics is stressing them out, and one in five are losing sleep.
These responses and others show many in the United States believe their mental and physical health has been harmed in some way by exposure to politics.
And this: '31.8-percent said exposure to media outlets promoting views contrary to personal beliefs had driven them crazy.'
My sense in a clip of anything off Fox News.
(Illustration above: M.C Escher's 'Three Spheres II,' found  here).
The whistleblower shit storm has flooded the airwaves, as it should, and quickly — in less than a short week, after reports the T-Rump tried to Mafia-persuade Ukraine's president, Volodymyr Zelenskiy, to dig up dirt on Joe Biden, events have unfolded to the point of impeachment, finally.
Dramatic to say the least.
Tomorrow, acting DNI Joseph Maguire, who handled the whistleblower's complaint, will appear before the House Intelligence Committee, and this evening, CNN reported the whistleblower he/she-self has tentatively okayed testimony..
And within that short time frame, maybe a shift in the narrative (Law&Crime this afternoon:
The U.S. Senate on Wednesday voted to overturn President Donald Trump's declaration of a national emergency on the U.S.-Mexico border.
Eleven Republicans joined the vote forced by Senate Democrats to pass the revocation by a vote of 54-41.
The measure is a bid to de-fund construction of the controversial and much-promised border wall by stopping the White House from using money originally allocated to military construction budgets.
The Trump Administration began diverting such funds earlier this month.
…
That earlier vote passed with 12 Senate Republicans voting in favor of revoking the emergency declaration–largely out of the fear that such a precedent would set if and when a Democratic president assumes the White House.
The first revocation vote was ultimately sent to the gallows by a presidential veto which Congress was unable to defeat by the required two-thirds majorities in each chamber.
President Trump is widely expected to veto Wednesday's bill as well.
Yet an action we wouldn't have seen just a couple of weeks ago.
Maybe not so crazy now…